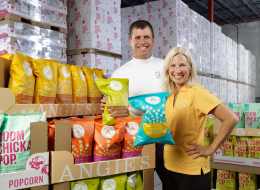 One of the reasons I started my website is that I wanted a place for women to come together and dream. We women need to know that we don't have to hang on to an old dream that has stopped nurturing us -- that there is always time to start a new dream. This week's story is about a couple that wanted to make some extra cash to start saving for their kids' college funds. Angie and Dan set up a kettle corn stand and concocted a few delicious variations on the popular snack. The rest is history -- Angie's Popcorn is now worth $50 million, and the Bastians aren't worrying about their kids' college expenses anymore! -- Marlo, MarloThomas.com
By Lori Weiss
Sometimes a bright idea just pops into your mind. That was the case for Angie Bastian, a mother of two who was simply hoping to put some extra money in her kids' college funds. What she couldn't have known was that her kernel of an idea would explode into a $50 million business.
"My husband, Dan, and I came across an ad," Angie explained, that said, 'Make thousands of dollars every weekend.' It was for kettle corn equipment and the idea was to sell it at local functions. Popcorn was an every Sunday event in my home growing up, and my mother was very particular about the way she made it, so I thought we can do this."
"Dan was a school teacher and I was a nurse practitioner, but we thought we could set up a little stand in the evenings and on weekends. And Dan had all summer off, so we bought the kettle and I started experimenting with flavors in my backyard."
The couple certainly wasn't the first to think about selling treats in their spare time, but Angie was convinced that if she could get her neighbors to try her special recipe, Aunikah, 5, and Tripp, 3, would be on their way to college.
Article continues below slideshow
It Ain't Over: Angie Bastian
Angie's Popcorn started as a casual side business and transformed into a huge company that has created 150 jobs and is worth $50 million.

Angie and Dan got engaged in 1993 and 20 years later, the couple runs a $50 million business. Their engagement photo used to appear on the back of every package of Angie's Popcorn.

Angie and Dan began to grow their business by spending weekends camped out in front of their local Home Depot. Hungry shoppers were eager to try the tasty snack food!

In the early days, the Bastians brought their kids along to amateur baseball games where they sold kettle corn to players and fans. They'd set up a little bed under the table with a portable TV and VCR tapes so the kids could camp out.

Angie worked as a nurse practitioner for 28 years. She was reluctant to give up her career when she and her husband first started their business, but in 2010, she left to work at Angie's Popcorn full-time. Here she is on a medical mission trip in Guatemala during her nursing days.

Once Angie's Popcorn built a positive reputation, they approached the Minnesota Vikings to ask if they could sell their product outside of the training camp. They gifted 120 bags of popcorn to the team and before they knew it, they became the team's official popcorn!

Father and son celebrate when Tripp's baseball team won the 11-year-old state championship. Even though the Bastians were busy with their business, Dan always found time to coach his son's baseball team.

Each year, Angie and her daughter, Aunikah, plant an organic garden as a mother-daughter project.

Angie and Dan won Ernst & Young's Entrepreneurs of the Year Award in 2005.

Sports fans love Angie's Popcorn! The treat premiered at Target Field, and soon after, it was the official kettle corn of the Minnesota Twins.

The Angie's Popcorn team took on Chicago with their very own custom car! They passed out samples at the Blackhawks Victory Parade, Wrigleyville and Michigan Avenue.

Angie's Popcorn introduced a new look at Natural Products Expo West in Baltimore. It was a success -- they won best package!

The Angie's crew gives out samples at Costco.

Angie has her own one-of-a-kind kettle! The company's maintenance supervisor, TR, helped to engineer it.

2012 marked the 10th anniversary of Angie's Popcorn! Angie and Dan had a photo shoot in their organic garden to celebrate the occasion.

Tory Johnson invited Angie to be a keynote speaker at her Spark and Hustle event in St. Paul, MN. It was an honor!

Angie's Popcorn teamed up with the University of Minnesota to fund an organic popcorn research project in 2012.

Angie's Polar Plunge Team raised money for the Special Olympics by jumping into freezing cold water at the St. Peter Plunge.

Angie and Dan often turn their work travels into family time. Here they are on a family road trip during the summer of 2012. They covered 4,200 miles!

Angie's dad was so proud of his daughter and her husband -- every time he checked out at the grocery store, he told the cashier that he was the father of the creator of Angie's Popcorn. Here he is with Angie's aunts and uncles before he lost his battle to cancer in June 2013.

When Angie and Dan started their business, their children were 3 and 5 years old. Now their kids are looking at colleges! Northwestern University was one of their first stops.
"The real challenge was not coming up with the recipe," Angie laughed, "it was getting someone to let us set up a stand outside their store! But we convinced the Rainbow Grocery to let us put up a tent the night before Thanksgiving. The Department of Agriculture came out and inspected everything and made sure we had the right hand-washing stations. Then I put up some twinkly lights and we were in business. In three hours, we made $300!"
That was enough to convince the couple that they could expand their operation to amateur baseball games, and weekends in front of the local Home Depot where vendors were known to serve up snacks to hungry shoppers.
"We'd bring the kids along," the kettle corn entrepreneur continued, "and set up a little bed and a portable TV with VCR tapes under the table. And by the time Aunikah was six, she was working the stands at neighborhood games."
As word began to spread about the kettle corn that customers could only find on street corners, the Bastians decided to step up their game. They approached the Minnesota Vikings and asked for permission to sell outside their training camp. But it was what they did when they got there that was game changing.
"We wanted to get the team's attention, so we gifted the players and coaches 120 bags, so they'd have snacks while they were watching their practice films. Players started coming around asking about it and it wasn't long before their marketing people asked if we wanted to become their official popcorn!"
But that wasn't as easy as it sounds. Becoming the official popcorn of a major league sports team requires a sponsorship, and in this case an $8,000 investment -- something the Bastians had to max out their credit cards to accomplish. It was also 2002, the year in which the NFL banned anything other than clear containers in stadiums, but Angie and Dan weren't going to drop the ball on the opportunity they'd just been handed. They filled thousands of clear bags and labeled them with a simple Angie's Popcorn sticker, and once they were in Viking's fans hands, they were asking for seconds.
"Everyone wanted to know where they could buy it!" Angie said. "And that's when we got an appointment with a local specialty chain. But it's also when we learned the difference between being an outdoor vendor and becoming a manufacturer. We needed a UPC code and nutritionals -- things we hadn't considered. That's when we realized that one of us was going to have to give up our full-time job."
"Dan is more of a risk taker, so he gave up his teaching job and we rented a commercial kitchen in the back of a grocery store. The first retailer we met with was ready to place an order for twenty stores, but we asked if we could just start with three until we could figure out how we were going to deliver all over town. In the meantime, I learned how to use Quick Books so I could take care of the finances once I got the kids to sleep."
But it wasn't long before Angie's Popcorn was adding on drivers and distributors and moving into a building of their own. As their customer base grew they added 50 kettles, and their staff expanded from a few retired teachers and graduate students to 150 employees. What remained the same, though, was the way the special treat was made -- no more than six to ten bags in a batch, straight from the kettle into the bags. Except now they had a twenty-foot-high bagging machine.
Six years from the time the couple set up their first tent, they were in their own 20,000-square-foot facility. And they were not only selling at sporting events and grocery stores, they were on the shelves at Costco and Target.
"It was interesting because the snack industry really seemed to miss the gourmet 'ready to eat' popcorn trend. Everyone was producing microwave popcorn, but manufacturers thought 'ready to eat' was too labor intensive and too expensive. That's what opened the door for us as a small start-up. We were willing to do things the big guys chose not to."
By 2010, the Bastians were approached by private equity partners, who offered to help grow the business and Angie, feeling a little less risk-averse, left her nursing career and immersed herself in innovation. Today, the company produces more than 80,000 bags of popcorn a day and is available in nine different flavors, including two that were selected by fans at the 2011 Minneapolis Food and Wine Show, where Angie held a taste test -- Dark Chocolatier Sea Salt and White Chocolatier Peppermint.
"I remember having a dream way back in the beginning," Angie recalled. "It was like watching Willy Wonka, only with a popcorn factory. And now that's what we've got -- all the bells and whistles I saw in that dream minus the Oompa Loompas, of course!"
"At the time I had no idea what a $50 million business looked like. It's not something I could have ever imagined, but that's what I saw in the dream and that's what Angie's Popcorn has become."
As the business has grown, so have the Bastion children. Aunikah is now 17 and Tripp is 15, and it's safe to say that their college education is covered.
"I remember when Tripp was about five," Angie said with a smile, "he asked us why we had this kettle corn business and we explained that it was something that he might want to take over one day. He said, 'No way, I'm going pro!' Even at the age of five, he had his own dream. And that's what we hope our kids have learned by watching us grow this business -- that they can pursue any dream they believe in."
Add Marlo On Facebook:
Follow Marlo on Twitter:

Weekly Newsletter

Sign up to receive my email newsletter each week - It will keep you up-to-date on upcoming articles, Mondays with Marlo guests, videos, and more!

Sign up here