Miley Cyrus has been running through an exhaustive checklist of provocative clothing over recent months. Thigh-high boots? Check. Bras as tops? Check. No clothes at all? Yep, check. But somehow, she hadn't yet gotten to celebrities' favorite head-turning style: pasties. (Hard to believe, right?)
Cyrus checked that final sartorial statement off the list on Saturday, when she took the stage at iHeart Radio Music Festival in Las Vegas. Her performance costume consisted of a white mesh minidress with white furry "gorilla sleeves" attached, strappy black and white undies that might as well have been swimsuit bottoms and studded black ankle boots... and the black pasties. (UPDATE: The dress, we now know, is by Maria ke Fisherman and can be yours at Opening Ceremony.)
The 20-year-old singer has been using her outfits to shock for the past year (since we got over the lesser shock that was her haircut); but as Lil' Kim can tell you, stick-on nipple covers are one accessory no one will ever forget.
PHOTOS: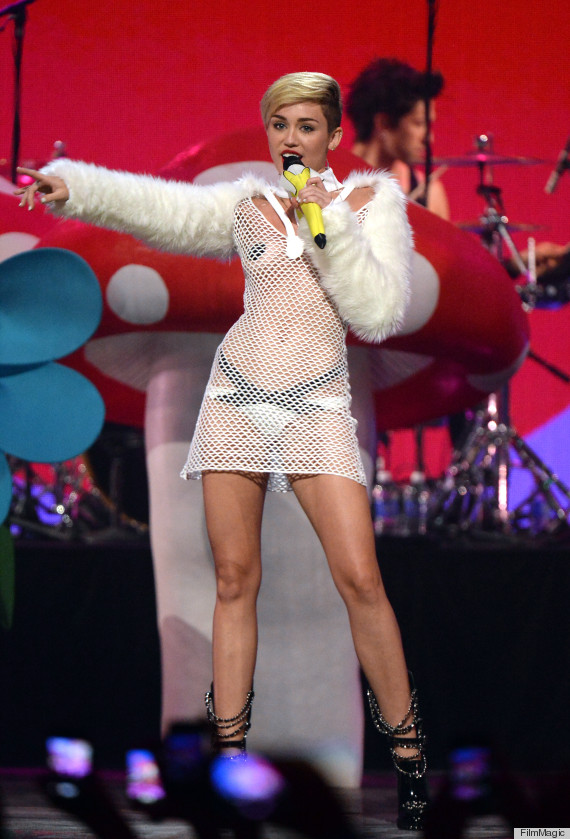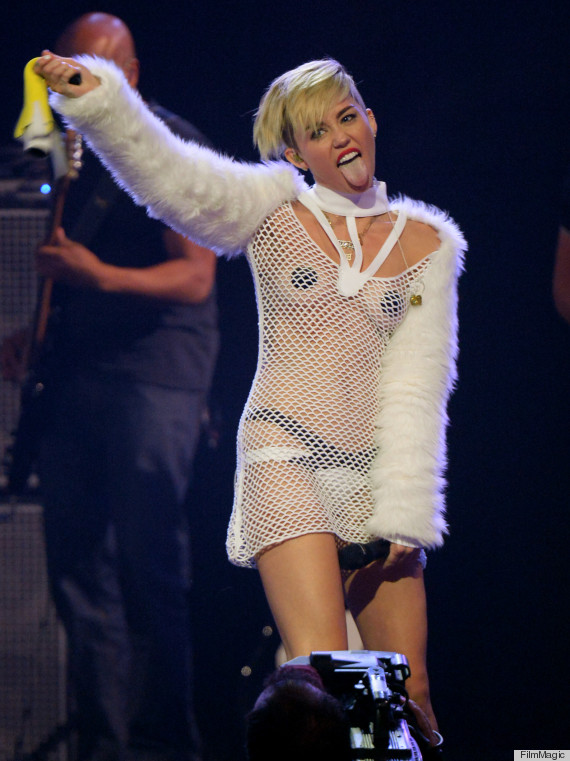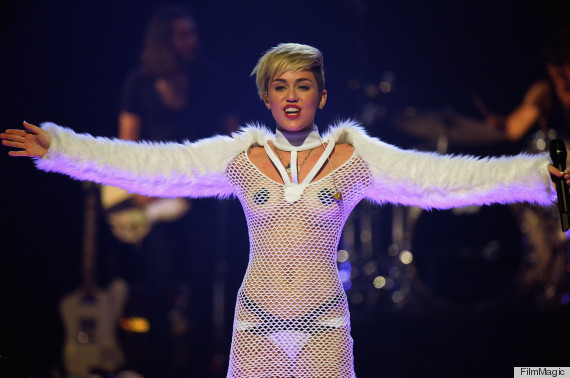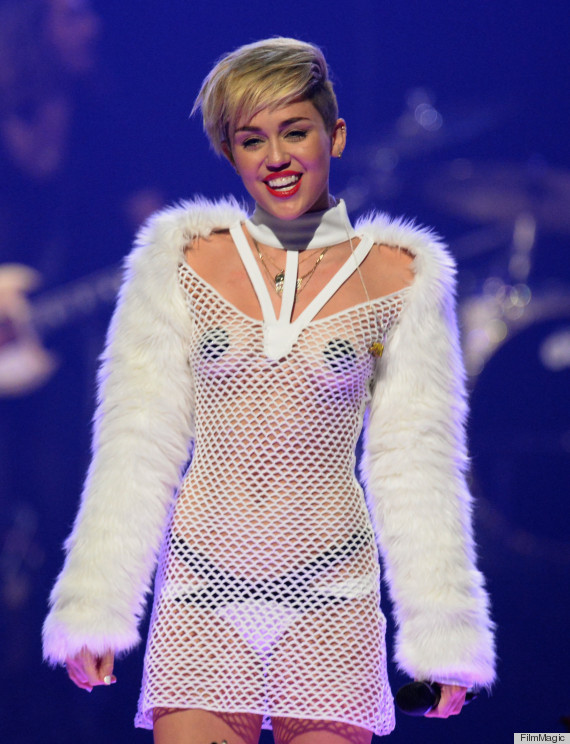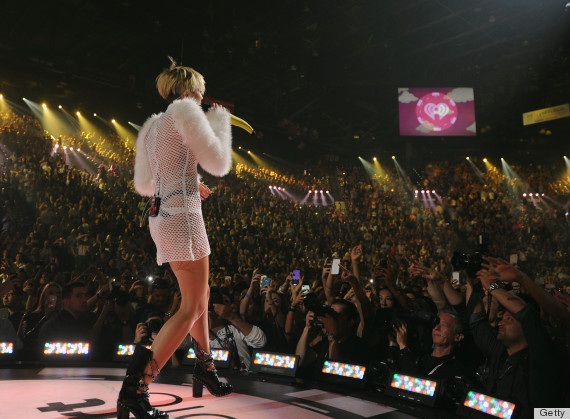 Miley joins the esteemed club:
The singer made these flower-shaped pasties a part of her 2012 tour. Do you think they add a nice touch to her already extravagant costumes?

The brazen singer decided to wear some duct tape pasties when in July 2012 when she decided to announce her new album.

She wore prominent flower-shaped pasties with a lot of her costumes during tour.

The singer is known for her love of pasties, pairing them with sheer outfits or wearing them by themselves for coverage on stage. (Photo by George Pimentel/WireImage)

The most infamous pasty photo of all time... That is all. (Photo credit HENNY RAY ABRAMS/AFP/Getty Images)

Lady Gaga is never one to shy away from making serious fashion statements. She definitely did not keep it demure last Halloween when she wore these aptly-placed weed pasties.

The singer wore these interesting pasties at a press conference.

Britney opted for some black tassels coverage during her Circus tour in New Orleans. (Photo credit: WireImage)

Janet may be wearing a nipple ring -- as we all found out -- and not a pasty, but we still think she makes the list. After all, millions of people witnessed her nipple slip during the 2004 Super Bowl and billions more after since the moment has been frozen in time on the Internet. (Photo by Donald Miralle/Getty Images)

Following the 2004 Super Bowl, comedian Rob Schneider took it upon himself to reenact the half-time show incident with Jay Leno. (Photo by Paul Drinkwater/WireImage)

Rihanna rocked the pasty look twice in July 2009. Once on July 4th and again, here, on the street in New York City. Most recently, Rihanna had a heated argument about pasties over the phone in a behind-the-scenes clip for her music video "Where Have You Been." (Photo by Christopher Peterson/BuzzFoto/FilmMagic)

The adventurous singer performed acrobatic stunts with a pasty on her left boob during the 2009 MTV Video Music Awards in New York City. (Photo by Kevin Mazur/WireImage)

Wearing a sheer flowy blouse, the former "Will & Grace" star opted for some extra coverage with nude pasties. (Photo by J. Merritt/FilmMagic)

"Fish Tank" actress Kierston Wareing attended the photo call for the film at the 2009 Cannes Film Festival with two extra accessories. (Photo by Dominique Charriau/WireImage)

At the 2003 Smashbox Fashion Week in Los Angeles

Pasties hit the runway in 2002 during John Richmond's showing of his 2003 spring/summer women's collection in Milan. (Photo by Franco Origlia/Getty Images)

August 2005

October 2005

The "Gossip Girl" actress and singer pulled down her shirt and flashed her black "X" pasties while performing on stage in New York City. (The video clip is censored).
Want more? Be sure to check out HuffPost Style on Twitter, Facebook, Tumblr, Pinterest and Instagram at @HuffPostStyle.