A dog mummy has revealed the first archaeological evidence of bloodsucking parasites plaguing Fido's ancestors in Egypt during the classical era of Roman rule.
The preserved parasites discovered in the mummified young dog's right ear and coat include the common brown tick and louse fly — tiny nuisances that may have carried diseases leading to the puppy's early demise. French archaeologists found the infested dog mummy while studying hundreds of mummified dogs at the excavation site of El Deir in Egypt, during expeditions in 2010 and 2011.
"Although the presence of parasites, as well as ectoparasite-borne diseases, in ancient times was already suspected from the writings of the major Greek and Latin scholars, these facts were not archaeologically proven until now," said Jean-Bernard Huchet, an archaeoentomologist at the National Museum of Natural History in Paris. [See Photos of Dog Mummy Infested with Parasites]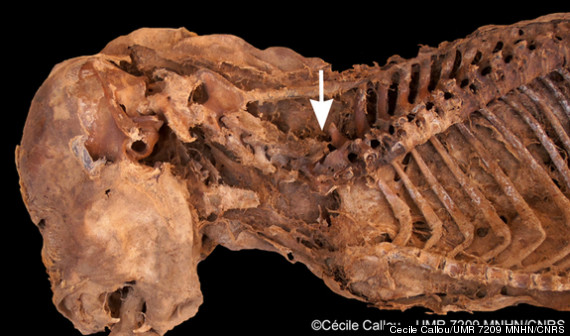 Close-up of the post mortem vertebral dislocation located between the sixth and seventh cervical vertebrae of the mummified dog discovered at the excavation site of El Deir in Egypt.
Mentions of dog pests appear in the writings of ancient Greeks and Romans such as Homer, Aristotle and Pliny the Elder, and a painting of a hyenalike animal in an ancient Egyptian tomb dated to the 15th century B.C. shows what is likely the oldest known depiction of ticks. But evidence of ticks, flies and other ectoparasites that infest the outside of the body has been scarce in the archaeological record — until now. (The only other known archaeological evidence of ticks comes from fossilized human feces in Arizona.)
Counting the bloodsuckers
The infested dog mummy was discovered in one of many tombs surrounding a Roman fortress built in the late third century A.D. Most of the main tombs were built during a period dating from the fourth century B.C. to the fourth century A.D. — a treasure trove for archaeologists, despite the condition of many of the mummies. The French team detailed its findings in the August online issue of the International Journal of Paleopathology.
Huchet and his colleagues, led by Françoise Dunand and Roger Lichtenberg of the University of Strasbourg in France, found the remains of the parasite-ridden pup among more than 400 dog mummies.
"Among the hundreds of dog mummies studied, [many] of them were either skeletonized or still wrapped with bandages," Huchet told LiveScience. "Moreover, most of the dog remains were seriously damaged by looters."
The infested young pup stood out with 61 preserved brown dog ticks still clinging to its coat and nestled in its left ear. Such ticks have spread worldwide by feeding on domesticated dogs. They can also infect their hosts with a variety of potentially fatal diseases.
Archaeologists also discovered a single bloodsucking louse fly clinging firmly to the dog's coat. But the team hypothesizes a tick-borne disease such as canine babesiosis — a condition that destroys red blood cells — likely caused the young dog's premature death.
Origins of dog mummies
Hardened skin remains of maturing fly larvae suggested the dying or dead dog had attracted two species of carrion flies before Egyptian handlers mummified the corpse. [See Images of Egyptian Mummification Process]
Ancient Egyptians commonly mummified animals such as dogs, cats and long-legged wading birds called ibis. The dog mummies from the El Deir site almost certainly represented offerings to a jackal-headed Egyptian god such as Anubis or Wepwawet.
"Several reasons have led Egyptians to mummify animals: to eat in the afterlife, to be with pets, etc.," said Cecile Callou, an archaeozoologist at the National Museum of Natural History in Paris. "But above all, animals were considered as living incarnations of divine principles and, therefore, associated with deities."
But many questions remain about the mummified dogs of El Deir. Researchers still want to know where the dogs came from, whether they were domestic dogs, whether they had owners and how they died. Callou pointed out that the ancient Egyptians had cat farms where cats were bred to be sacrificed and mummified — could the same have been true for dogs?
Digging deeper into history
The French archaeologists hope to find answers to a different set of questions by searching for more preserved ticks and flies among the mummified dogs of El Deir. Such archaeological evidence could show how diseases originated throughout history, provide clues about the geographical spread of parasites, and reveal more about the relationship between parasites and both human and animal evolution.
Specialized lab equipment could yield even more findings from the infested dog mummy and its companions. The French team conducted most of its work on-site at El Deir and completed the examination with highly magnified photos at the National Museum of Natural History in Paris but hopes to eventually get permission to take some mummified samples back to the lab.
"The main problem will be to get the authorization to export mummified samples from Egypt for DNA analysis, since this country does not allow any exportation of archaeological material — even tiny samples such as skin fragments and hairs," Huchet said.
Follow us @livescience, Facebook & Google+. Original article on LiveScience.
Copyright 2013 LiveScience, a TechMediaNetwork company. All rights reserved. This material may not be published, broadcast, rewritten or redistributed. ]]>
Also on HuffPost:
Loading Slideshow
Mummies To Treat Tuberculosis?

A collection of 265 mummies, buried between 1731 and 1838 in Vac, Hungary, may be useful to scientists for <a href="http://www.huffingtonpost.com/2012/08/05/mummies-medical-research-tuberculosis-hungary_n_1743719.html?ir=Science">tuberculosis research</a>. "Their immune system was likely better than ours. If we could locate some gene sections and discover why they were more resistant to tuberculosis than us, then that could be of great assistance to modern medical science," noted Ildiko Pap, head of the Department of Anthropology of the Hungarian Natural History Museum.

Ancient Murder Mystery Solved

CT scans of Egyptian pharaoh Ramses III revealed that the famous king was <a href="http://www.huffingtonpost.com/2012/12/18/ramses-iii-mummy-murder-great-pharaohs_n_2323397.html">likely murdered</a>. The evidence? A deep cut, nearly to the bone, at Ramses' throat. The wound had been concealed by bandages ever since the mummy had been dug up.

Scans Reveal Mummy's Gross Teeth

CT scans of a young man mummified in Thebes around 1900 BCE show evidence of extremely poor dental care, which would have been very painful. There is evidence that an <a href="http://www.huffingtonpost.com/2012/10/10/mummys-sinus-infection-tooth-ct-scans_n_1953918.html">ancient dentist tried to relieve his pain</a>, but a sinus infection that resulted from his unpleasant condition likely killed the young man.

Siberian Mummy's Intricate Tattoos

A <a href="http://www.huffingtonpost.com/2012/08/17/siberian-mummy-tattoos-photo-video-_n_1796105.html">mummy with remarkable tattoos</a> was put on display at Russia's Republican National Museum. The woman, who was mummified around 2,500 years ago, is known as the Ukok princess, and displays what one researcher called "a phenomenal level of tattoo art."

When 'Bodies Littered The Earth'

A combination of shallow burial and arid climate in ancient Chile's Atacama desert may have created an environment in which "<a href="http://www.huffingtonpost.com/2012/08/14/chinchorro-mummies-chile-atacama_n_1775033.html">bodies littered the earth</a>." Researchers contend that this encouraged intentional mummification in subsequent generations of the Chinchorro people living in the area.

Maiden Mummy's Ill Health

Researchers analyzed a the remains of a well-preserved Incan teenager known as the <a href="http://www.huffingtonpost.com/2012/07/26/maiden-inca-mummy-lung-infection_n_1704154.html">Maiden Mummy</a>, and found that she suffered from a lung infection.

Mummified Man's Rare Disease

Medical imaging shows that this man, mummified around 2,900 years ago, had Hand-Schuller-Christian disease, a cancerlike condition of the skin. The disease, which can be treated today, would have been invariably fatal in ancient Egypt. Scientists have taken a keen interest as this finding feeds a longstanding debate over <a href="http://www.huffingtonpost.com/2012/04/27/ancient-egyptian-mummy-hand-schuller-christian-disease_n_1459929.html">whether cancer was common in antiquity</a>.

Ötzi's Disease

Ötzi is the name given to a well-preserved mummy found in the Alps around 20 years ago. Recent investigation of the 5,300-year-old mummy revealed evidence of <a href="http://www.huffingtonpost.com/2012/02/28/otzi-the-icemans-genome-reveals_n_1307532.html#slide=736087">Lyme disease</a>, making "The Iceman" its oldest known victim.

Investigating Ötzi

Scientists <a href="http://www.huffingtonpost.com/2012/02/28/otzi-the-icemans-genome-reveals_n_1307532.html">mapped Ötzi's genome</a>, and found evidence of the bacteria that cause Lyme disease. Despite the discomfort the disease may have caused Ötzi survived it and was likely killed by an arrow wound.

Ötzi In The Flesh

A modern <a href="http://www.huffingtonpost.com/2012/02/28/otzi-the-icemans-genome-reveals_n_1307532.html">reconstruction of Ötzi</a>.

Mummy's Surgical Blunder

Removing the brain was a standard part of the mummification process, but <a href="http://www.huffingtonpost.com/2012/12/15/mummy-brain-removal-tool-egyptian_n_2301802.html">something went wrong</a> in the case of a 2,400-year-old female mummy from Egypt. New scans of the mummy showed evidence that a brain-removal tool had been left in the corpse's cranial cavity by an embalmer. Oops!

Mummy's Got A Lot In Her Head

This photograph depicts the mummy who had a brain-removal tool left in <a href="http://www.huffingtonpost.com/2012/12/15/mummy-brain-removal-tool-egyptian_n_2301802.html">her cranial cavity</a>.

Largest Sarcophagus

The <a href="http://www.huffingtonpost.com/2012/12/06/largest-ancient-egyptian-sarcophagus-valley-kings_n_2253514.html">largest ancient Egyptian sarcophagus</a> known was in ruins when archaeologists found it, but now they are re-assembling the mammoth object. It measures more than 13 ft long, 7 ft wide and more than 8 ft high.

'Frankenstein' Mummies?

Bronze Age mummies are extremely rare in the British Isles, but a new study in Archaeological Science identifies something even more unusual: <a href="http://www.huffingtonpost.com/2012/07/09/frankenstein-mummies-bog-corpses_n_1659965.html">'Frankenstein' mummies</a>. The bodies, discovered in 2001 on an island off the west coast of Scotland, are so named because they appear to have been assembled from bones of several different people.

Ancient Egyptian Singer's Tomb

This mummy was found in an Egyptian tomb, in the Valley of the Kings, but she's no pharaoh. She was a singer who died around 900 C.E., and her tomb is the only one for a <a href="http://www.huffingtonpost.com/2012/01/15/rare-tomb-of-woman-found-in-egypts-valley-of-kings_n_1207930.html">non-royal Egyptian woman</a> ever found in the region.