Could it be that we have new poster children for the "hipster" entry in Urban Dictionary?
Millennials were the topic du jour on many panels at the Clinton Global Initiative and Mashable Social Summit this week in New York. But we noticed that at these two gatherings, both aimed at finding solutions for critical global issues, Bill and Melinda Gates themselves actually morphed into millennials -- which yes, have become synonymous with hipsters.
We spliced together some video screenshots of Melinda Gates wearing this plaid shirt at Mashable, and Bill, who traded in his thinner frames for some oversized Warby Parker-esque glasses at CGI.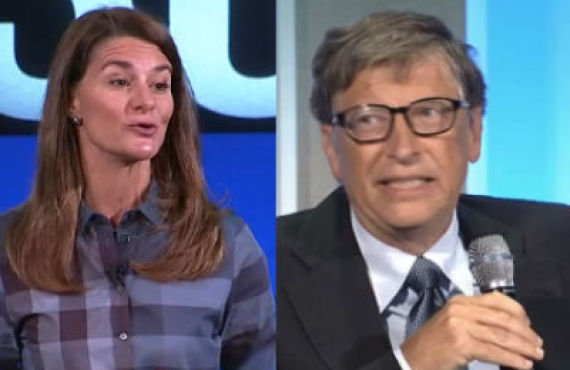 Notwithstanding effortlessly cool panelist attire, Mashable was all about Gen-Y in general, highlighting initiatives such as flash mobs that spread awareness about global health and even a video game created by Linkin Park that underscores the importance of renewable energy. And even amid a sea of suits, Clinton Global Initiative felt pretty young this year. HuffPost attended a special roundtable with Chelsea Clinton focused on millennial engagement (more on that to come).
Bill and Melinda Gates, whose foundation was a partner at Mashable, talked mostly about the usual suspects -- the power of technology in improving global health and the business sector's responsibility to reach into its deep pockets to help tackle social problems.
But after it was all over, we have to wonder if the Gates skipped the Midtown after-parties for beers in Williamsburg -- to be sure, South 'Burg, not North.
Also on HuffPost:
Loading Slideshow
George Lucas

Hollywood director George Lucas is passionate about education. He has worked to foster positive growth in the education sector through, <a href="http://www.edutopia.org/" target="_hplink">Edutopia</a>, the George Lucas Education Foundation. Lucas plans to donate the majority of his fortune to this end.

Paul G. Allen

Microsoft co-founder Paul Allen has supported his namesake, the <a href="http://www.pgafoundations.com/" target="_hplink">Paul G. Allen Family Foundation</a>, for more than 20 years, as well as helped advance nonprofit scientific research through the Allen Institute for Brain Science. Allen has already given hundreds of millions of dollars to charity through his foundation, and has expressed his commitment to give the <a href="http://www.huffingtonpost.com/2010/07/15/paul-allens-charity-promi_n_648142.html" target="_hplink">majority of his fortune</a> after his death.

David Rockefeller

The Rockefeller family has historically been involved in philanthropic efforts supporting University of Chicago, <a href="http://www.rockefeller.edu/" target="_hplink">The Rockefeller University</a>, the Museum of Modern Art, and the <a href="http://www.rbf.org/" target="_hplink">Rockefeller Brothers Fund</a>. David Rockfeller, the current heir, has pledged the majority of his wealth to charity.

Michael Bloomberg

Mayor of New York City Michael R. Bloomberg plans to give away the majority of his wealth during his lifetime, explaining that it is a better way to ensure a <a href="http://givingpledge.org/#michael+r.+_bloomberg" target="_hplink">better future for his children</a> than leaving them to inherit his fortune. According to Bloomberg, his <a href="http://www.mikebloomberg.com/index.cfm?objectid=B96D19BD-C29C-7CA2-F72C5EDC3BEDFA6A" target="_hplink">foundation</a> is currently working to find ways to prevent early deaths caused by tobacco use and traffic accidents.

Barron Hilton

Barron Hilton (left) plans to immediately pledge over $1 billion to the <a href="http://www.hiltonfoundation.org/" target="_hplink">Conrad N. Hilton Foundation</a>, which provides funds for nonprofits addressing a variety of issues, including homelessness, access to clean water and disaster relief. Hilton also plans to follow an example set for him by his father, donating the remaining 97 percent of his wealth in the future.

Jon and Karen Huntsman

After losing his mother to cancer, businessman Jon Huntsman felt called to found the <a href="http://www.hci.utah.edu/" target="_hplink">Huntsman Cancer Institute</a> and use his fortune to find a cure for cancer. Huntsman plans to leave his entire estate to his foundation and other cancer-related charities.

Ted Turner

In 1998, media mogul Ted Turner donated $1 billion to start the <a href="http://www.unfoundation.org/about-unf/" target="_hplink">United Nations Foundation</a>. Turner plans to continue giving, saying that his fortune should be almost completely distributed to charity at the time of his death.

Alfred Mann

In 1985, businessman Alfred Mann founded the <a href="http://www.aemf.org/" target="_hplink">Alfred Mann Foundation</a> to fund scientific research in the field of medicine. Mann has joined the ranks of the 'Giving Pledge,' planning to commit 90 percent of his estate to his foundation and other causes.

Eli and Edythe Broad

Billionaire businessman and real estate mogul Eli Broad and his wife, Edythe, have pledged to give away 75 percent of their fortune within their lifetimes. The <a href="http://www.broadfoundation.org/" target="_hplink">Broad Foundation</a> supports arts organizations, funds advancements in medical science and advocates for education reform.