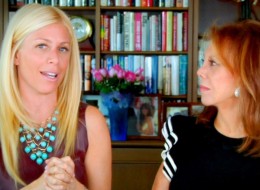 Can you really look stylish at an outdoor sporting event in February? Style Expert and New York Times Best-Selling Author Jill Martin said "yes" when she dropped by Mondays With Marlo this week. It's all about the layers -- wear your team T-shirt over a long sleeve tee and layer a team zip-up over that. Complete your look with a puffy vest, and you're all ready for the big game!




Click here for the full interview.
Look your best with Jill's fall and winter style advice:
Jill Martin's Fall And Winter Style Advice
Don't listen to the antiquated rule about not wearing white after Labor Day. Winter whites are clean and crisp. This winter, you should also get back to the basics -- wear classic patterns like leopard print, pinstripes and houndstooth. Over-the-knee boots and turtlenecks are also in this season.

If you're desperate for a makeover, don't change everything all at once! Take it slowly. Start with your face – that's the first thing everyone sees. Go to the drugstore and buy a great new lipstick. Then, flip through magazines and figure out which color you'd like your hair to be.

Since we're always on display with social media, it can be hard to repeat fancy dresses. If you don't have the cash to buy a new dress for every event, try RentTheRunway.com, where you can rent top designer dresses for a bargain. They'll send you the dress in two sizes, along with fashion tape. When you're done, just send it back!

This fall, dark, berry red lipsticks are in. They may look better on brunettes, but there are shades that women with lighter hair can wear too. Make sure to go light on the eye makeup when you're wearing a berry lip color – the focus should be on your lips.

You can show off a nice bustline without pouring out of your top! Wear a statement necklace, which will draw eyes to your cleavage in a subtle way. If your legs are your best assets, wear a skirt that shows them off, paired with a turtleneck.

For the most part, men can keep their clothing choices simple. A button-down shirt with jeans and a pair of loafers is a stylish look, even at a cocktail party. You can also tuck that same button-down into slacks. If you want a dressier outfit, try wearing a suit with no tie, or just wear a suit jacket with jeans.

You see a lot of trends on the runway that regular people (non-models) really don't wear. Adjust the trends you like to fit your body and skip the ones you don't like. Highlight the best parts of your body. If you've got a belly, don't wear crop tops. Instead, opt for peplum and wear Spanx to help conceal your midsection.

If you're wearing a tight shirt, there are little nipple covers called NippIts that you can wear instead of a bra. Similarly, a NuBra is backless and can be taped onto your breasts for coverage. For seamless underwear, a company called Commando makes undergarments that have no texture, and won't show embarrassing panty lines.

If you have large hips, flared jeans will streamline your body. Peplum is also a great look. For those with a smaller waist, a long, chunky sweater is great to wear in the fall. Just don't wear skinny pants – they'll draw unwanted attention to your hips.

If you're shopping for a special occasion, go to the store prepared! Wear the correct undergarments and the shoes that you're planning on wearing with the outfit. You can also do your hair and makeup to get a better idea of exactly how you'll look on the big day.

Everyone should have one great pair of jeans. Bootcut jeans work great on almost everyone, because they will streamline your body. Get a great coat – you can choose one with embellishments so you'll always look dressed up. A pair of crisp, nude heels are another wardrobe must – they'll make your legs look longer and you can wear them with anything.

There are so many ways to mix and match the clothes in your closet during the cooler months. Try wearing a button-up cardigan over a tank top and throwing a blazer on top. You can also experiment with wearing a hoodie under a blazer, and a puffy vest as the top layer.
Add Marlo On Facebook:
Follow Marlo on Twitter:

Weekly Newsletter

Sign up to receive my email newsletter each week - It will keep you up-to-date on upcoming articles, Mondays with Marlo guests, videos, and more!

Sign up here