Three UFOs were videotaped over Wittenberge, Germany, on the night of Sept. 18, and reportedly clearly captured on a camera using full zoom and night sight capability.
While the person who came up with the video remains anonymous, the video was posted online by UFOFilesTV, which describes itself as "a new kind of UFO agency on YouTube. Our goal is to upload real UFO sightings because with today's modern computer technology, you can fake many things."
Watch the Germany video here.
Clearly visible in the video are three objects, two of which are triangular-shaped and the third object is circular. As they move in relation with each other, the two triangles appear to individually rotate, and when they first approach each other, they seem to be repelled, as if they are opposite ends of a magnet or the way objects in early video games used to "bounce" away from each other.
The video has no clearly defind reference points, like the appearance of ground, trees, hills, buildings and, even, stars. At the end of the video -- and to the apparent surprise of the videographer -- one of the triangles takes off at incredible speed.
Is this a legitimate night vision video showing unexplained objects in the sky? Just because someone claims that night vision equipment was used to produce evidence of unknown aircraft, does that mean we should accept it as fact?
"The video has signs of night vision fakery," according to former FBI special agent Ben Hansen. "It looks like they added a night vision video effect with a green tint and even some 'grainy noise' -- the sparkling pixels which are common when night vision is shot in near complete darkness."
Hansen, the lead investigator of the Syfy Channel's "Fact or Faked: Paranormal Files" series, told The Huffington Post in an email that the triangular objects in the Germany video "are too defined. Although the latest night vision technology is very good, when we film in near total darkness, the most intensely lit objects typically give off a slight 'halo' or 'blooming' effect.
"Even if they were using older night vision technology, I would also expect the sky to be brighter and have more information for analysis."
Hansen provided HuffPost with the following example of what night vision should look like when filming aircraft or bright stars.
"Even with the best technology, a slight halo effect is detected," said Hansen. "All of this is consistent with a CGI effect being added [to the Germany video], instead of filming with true night vision."
And then there's this: Hansen found a second version of the "green" night vision footage showing the supposed UFOs at the same location and on the same date. These are seen on the right side of the image below.
According to Hansen, "It's the same video, but with a different audio track, zoomed in, and with a night vision software effect added. We're most likely dealing with the same hoaxer because they probably had access to the original CGI video in order to prevent significant video generation loss. I'm guessing they were conducting a little test to see which version received the most views."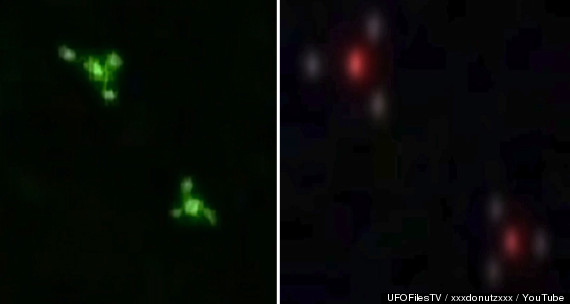 With all the technology readily available to the public, the problem of how to tell what's real or faked when it comes to UFO pictures or videos is growing. Hansen suggests another obstacle with UFO credibility issues on the Internet.
"Perhaps the trickiest aspect about the proliferation of alleged UFO evidence online is that many of them choose to remain anonymous," he said.
"Not only are they nameless 'witnesses', but the videos get reposted by so many users that it's sometimes impossible to determine the identity of the original videographer. This often makes the Internet a hoaxer's amusement park. They don't have to answer questions. They don't have to provide further details.
"This means they don't have to be very good liars."

Also on HuffPost:
Loading Slideshow
Kentucky UFO -- Oct. 16, 2012

Amateur astronomer Allen Epling captured video and images of a cylindrical object in the sky above his Virgie, Ky., home on Oct. 16, 2012. This is one of the images he took, which led many to believe the object was a high-flying solar balloon.

Sky Lanterns Mistaken For UFOs

Chinese or sky lanterns are often misidentified as UFOs. These three were part of a large group of lanterns that was the main event of the 2013 Pingxi Sky Lantern Festival in Taiwan on Feb. 24, 2013.

More Chinese Lanterns, aka UFOs

These candle-lit Chinese lanterns can rise high into the sky and are often mistaken for UFOs.

Melbourne, Australia, Feb. 2013

This is a composite image of how three alleged UFOs maneuvered about in the sky over Melbourne, Australia, in early February, 2013. The final verdict isn't in yet on whether they're birds, aircraft, balloons, bugs or something truly unidentified.

Exploding Weather Balloons, Not UFOs

On Dec. 20, 2012, a bright, circular object (pictured at the top of this composite image) was videotaped exploding in the skies above Sacramento, Calif. It wasn't immediately identified, resulting in speculation that it was either an alien spacecraft, military top secret weapon, runaway planet, North Korean satellite, among others. Within a short period of time, it became apparent that this was a weather balloon. The bottom part of this image shows such a balloon as it ascended over Tampa Bay, Fla., on July 2, 2012, and exploded in an identical manner as the Sacramento object, probably much to the dismay of all true ET believers out there.

Boomerang UFO composite images -- 10-5-12

This is a composite of images shot by two eyewitnesses of a boomerang-shaped UFO they reported seeing over their Burbank, Calif., home on Oct. 5, 2012. Mutual UFO Network photo/video analyst Marc Dantonio concluded the object was likely "a balloon, floating on the wind that has collapsed in half."

Changing UFO Pattern -- Warren, Mich. 1-10-13

This four-image series of lights in the sky was recorded over Warren, Mich., on Jan. 10, 2013. The lights were seen changing into several patterns. The most logical explanation for these types of UFOs is a series of balloons or lanterns.

UFOs Over Earth

This composite image shows four different times that alleged UFO were photographed above Earth by either space shuttles or the International Space Station. The big question is whether or not they are truly unidentified objects or if they are more likely reflections from spacecraft windows, meteors or fast-moving spacecraft-generated debris.

Pink UFOs Or Lens Flares?

What appear to be pink-red UFOs are actually lens flares from the Google Earth street view camera as it snapped images in Texas (left) and New Mexico (right).

Lens flares Arizona

These two flying saucer-shaped, pink-colored lens flares were created by the Google Maps camera as it drove through locations in Sedona, Ariz. (left) and Flagstaff, Ariz. (right). The images were snapped in April 2009. Submitted to HuffPost by trenna.

Lens flare Whiteriver, Ariz.

This skybound lens flare was created by a Google Maps camera in June 2008 over Whiteriver, Ariz. Submitted to Huffington Post by Cheryl Weeks.

Lens flare Gulfport, Miss.

This very Earthbound lens flare was created by a Google Maps camera in November 2007 at Gulfport, Miss. Submitted to Huffington Post by Jenni Parker.

Lens flare Eureka Springs, Ark.

This seemingly grounded lens flare was created by a Google Maps camera in January 2008 at Eureka Springs, Ark. Submitted to Huffington Post by SE.

Lens flare Escanaba, Mich.

This lens flare appears to be following a car. The Google Maps image was created in October 2008 at Escanaba, Mich. Submitted to Huffington Post by Mary Robinson.

Cincinnati Skydivers NOT UFOs Sept. 28, 2012

On the night of Sept. 28, 2012, a group of strange-looking lights appeared in the sky near Cincinnati, Ohio. First there was one, then, two, then three lights, slowly descending. It turns out, however, that these lights were originating from a group of skydivers performing a pyrotechnics jump at the La Salle High School homecoming event.

Weather Phenomenon

Some UFO sightings may be due to a natural phenomenon known as sprites, like this one shown from 2006. "Lightning from [a] thunderstorm excites the electric field above, producing a flash of light called a sprite," said geophysicist Colin Price.

Clouds

Clouds: Saucer-shaped or "lenticular" clouds that form at high altitudes have been confused with UFOs.

Blimps or Advertising Balloons

Blimps or advertising balloons: These can look like flying saucers from some angles, especially at night.

Sunken Ship in the Baltic Sea

On June 19th the Swedish-based diving company Ocean Explorer discovered something they've never quite seen before. They were exploring in the Baltic Sea between Sweden and Finland looking for sunken treasures when a very unusual image suddenly appeared on the sonar. A 197 feet diameter cylinder shaped object was discovered at the depth of approximately 275 feet which resembles the Millennium Falcon from the movie Star Wars.

Baltic Sea UFO 1

An image released on June 15, 2012, shows a close-up view of the unidentified object sitting on the bottom of the Baltic Sea.

Baltic Sea UFO 2

Close-up of rock bed that forms the Baltic Sea UFO, which still mystifies researchers.

Baltic Sea UFO 3

One of several odd stone circle formations, sitting on top of the unidentified object at the bottom of the Baltic Sea.

Antarctic UFO -- Aug. 10, 2012

A circular UFO hovers above the Neumayer-Station III research facility in Antarctica on Aug. 10, 2012. Theories ranging from a simple weather balloon to a more elaborate ship from another planet have run the Internet gamut. The next slide shows a closeup of the object.

Antarctic UFO Closeup -- Aug. 10, 2012

This is a closeup of the UFO from the previous slide. No official explanation has been offered about the object.

Manufactured UFO -- 2011

Pictured is a quad copter -- a deliberately manufactured UFO created by special effects wizard Marc Dantonio for a National Geographic special, "The Truth Behind: UFOs," which aired in December 2011. On the left is what the small device looks like resting on the ground, measuring 4 feet in circumference. At right, is how it appeared behind a tree in the night sky.

Meteors

Meteors: Space debris can create a spectacular light show when it burns through the Earth's atmosphere, and sometimes reported as UFOs.

Civilian or Military Aircraft

Civilian or military aircraft: Planes can look mysterious at night or in certain light conditions, thus confusing an observer.