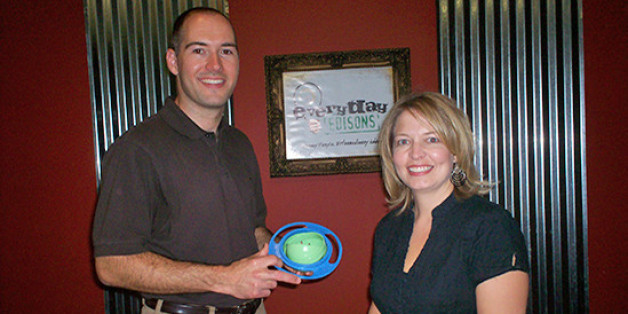 One of the reasons I started my website is that I wanted a place for women to come together and dream. We women need to know that we don't have to hang on to an old dream that has stopped nurturing us -- that there is always time to start a new dream. This week's story is about a mom who was fed up with picking her toddler's treats off the floor. She teamed up with her husband to create a spill-proof bowl and with the help of PBS producers, they brought their invention to market. Today, they're receiving six-figure checks in the mail and their product is on the shelves of major stores around the country. -- Marlo, MarloThomas.com
By Lori Weiss
As any parent knows, the "Uh-Oh" stage of a toddler's life means a lot of "Oh No's" for Moms and Dads. That was the case for Melinda Shepard, as her young son, Aidan, would carry his snack bowl around the house and she'd find herself slipping on wet Cheerios everywhere she stepped.
"There are a lot of parents," Melinda said, "who won't let their kids leave the kitchen table with a snack, but I picked my battles and that wasn't one of them. So instead of finding money under the sofa when I was cleaning, I'd find Aidan's snacks. And unfortunately, sometimes the bugs found them too. Everywhere Aidan went, there was pretty much a trail of little treats."
Melinda was convinced that there had to be a better way for her to give her son the freedom he craved, but relieve herself of the constant clean up. So, she went where most of us go these days when we need information -- to the Internet -- in search of what seemed like the impossible, an unspillable snack bowl.
"I searched and searched," she recalled, "but at the time, there was nothing out there. My husband, Brad, would come home at night and see how frustrated I was. He's an engineer and he likes to tinker, so he decided he was going to create something."
Article continues below slideshow
PHOTO GALLERIES
It Ain't Over: Melinda And Brad Shepard
The community college in their hometown of Wilmington, North Carolina, had just acquired a piece of equipment that allowed students in their engineering technology program to create 3D images of their ideas. So Brad decided to approach them and for a small donation, they helped him bring Melinda's vision to life. They even assisted in creating a prototype. Really, the Shepards just wanted one bowl, but when Brad came home with something that even Aidan couldn't topple over, the couple realized they were onto something.
"The prototype was big and bulky, so we really couldn't use it every day. But we could see that the concept worked. It was a bowl within a bowl and even if Aidan was walking with it and swinging it around, it would just close itself and keep the snacks inside. Even when he dropped it and it landed upside down, those Cheerios were safe."
But like most people with a million-dollar idea, the Shepards didn't know where to begin to get it manufactured and even if they had, they weren't willing to risk their well-being on a snack bowl.
"So basically, we just kept it on the shelf and showed it to our friends when they came over," Melinda laughed. "They thought it was really cool, but we thought that was the end of it. But then Brad heard about a casting call for "Everyday Edisons," a program on PBS for inventors. It was their first season, so we couldn't find much out. He wasn't so sure about the idea, but I wanted to get out of the house!"
By that point, there was another little potential spiller in the house. Melinda had given birth to their second child, Cate. So, they packed up their car, with four-year-old Aidan and their infant daughter in tow and began the five hour drive to Columbia, South Carolina for an open casting call.
"We drove at night, hoping the kids would sleep. But halfway there, we got a flat tire. It was hot, there were mosquitoes and the kids were crying in the back seat. At that point, I began to question our sanity."
But Melinda's doubts subsided when they found themselves in front of the judges, who were not only charmed by Aidan's antics, but intrigued with the concept of a spill-resistant bowl. Months later the couple got the call they'd been hoping for -- they'd been selected to be part of "Everyday Edisons."
As part of the show, experts helped Melinda and Brad refine their product. They consulted with them on design and took the couple through the process of finding a manufacturer. And on their final day of taping, the producers took them on a road trip. But this time, it wasn't in the darkness of night or with two young children in the back seat. It was to a local Bed, Bath & Beyond where they saw their product, the Gyro Bowl, on store shelves.
"It was pretty amazing!" Melinda recalled. "But what was really exciting was the day I was out shopping with my daughter and she spotted a child in a stroller using one!"
As part of their partnership with the producers of the show, Edison Nation, the Shepards didn't have to invest a dime. Edison Nation brought their product to market and for the length of their twenty year contract the couple will receive a 15% royalty on every Gyro Bowl sold.
"By the time we were in stores, both of our kids had grown out of that "Uh Oh" stage, but we knew that there were lots of parents that could use some help. So we thought we were going to be millionaires! But there were skeptics. Our parents definitely had their doubts. They kept asking, so have you seen those checks yet?"
It wasn't long before royalty checks really did begin rolling in. They weren't quite the seven figures the Shepards had imagined -- maybe closer to four figures -- but as Melinda puts it, "still better than a big green bowl sitting on a shelf." What the Shepards didn't know was that Edison Nation had bigger plans. They decided to relaunch the product with infomercials and suddenly, the Gyro Bowl's sales spun out of control. It was not only selling on TV and at Bed, Bath & Beyond, but also at Walmart, Target, Walgreens and Toys "R" Us.
To date, 1.4 million Gyro Bowls have been sold. They've been licensed to Disney, so now kids can have their snacks with Minnie Mouse, fairy princesses and their favorite characters from movies like "Toy Story" and "Cars." And with countless clips on YouTube of people trying to outsmart the spill-resistant bowl, the Gyro Bowl has become part of pop culture.
While the Shepards aren't millionaires yet, since the infomercials began to air, those yearly checks have exploded into six figures.
"We're both still working," Melinda said with a smile, "but we're more comfortable now. I'm driving a nicer car, we've been able to do some upgrades to the house, take some nice vacations and we have a financial advisor that we didn't have before! But most importantly, we feel like we can pay for college now."
"A lot of people ask whether we regret not doing this on our own and giving away so much of the profit, but if it weren't for Edison Nation, that bowl would still be sitting on a shelf. We couldn't have taken the risk. Everyone has an idea, but not everyone has the resources, so you need to find a way to move forward in any way you can. If you want to win, you've got to find a way to play."
Add Marlo On Facebook:
Follow Marlo on Twitter:

Weekly Newsletter
Sign up to receive my email newsletter each week - It will keep you up-to-date on upcoming articles, Mondays with Marlo guests, videos, and more!