Far from upset, financial markets actually seem to be happy about a government shutdown. But they might just be saving up their panic for when they really need it, in a couple of weeks.
Stock indexes around the world rose in the first hours of trading on Tuesday, the first day of the first U.S. government shutdown in 17 years. At about 11:00 a.m. ET, the Dow Jones Industrial Average was up about 60 points, while the broader Standard & Poor's 500-stock index was up about 0.7 percent. Earlier Tuesday morning, stocks in Europe and Asia were also mostly higher. (Story continues after charts, courtesy of Yahoo Finance.)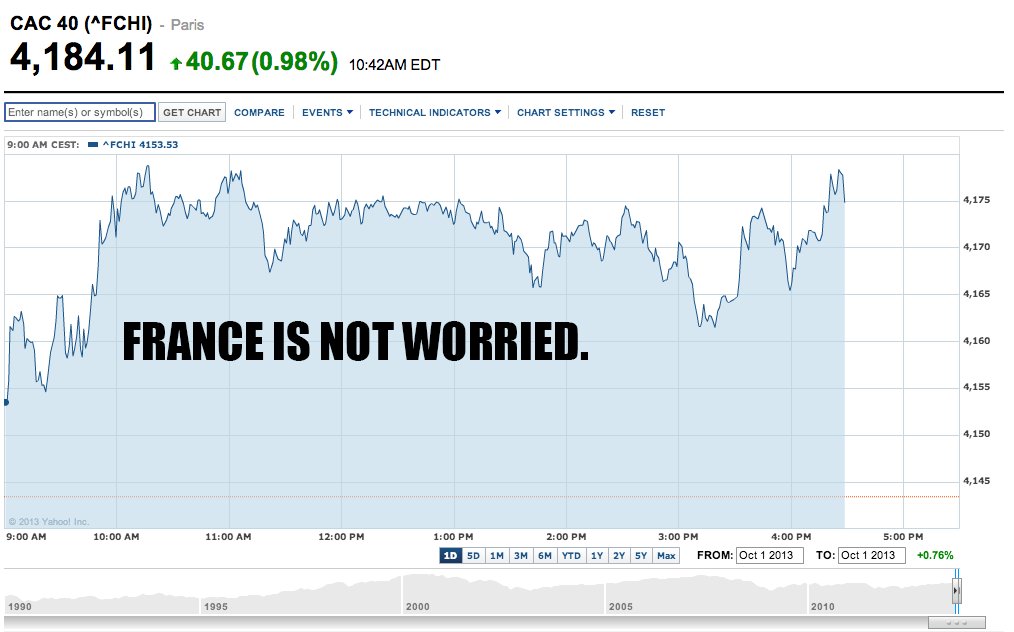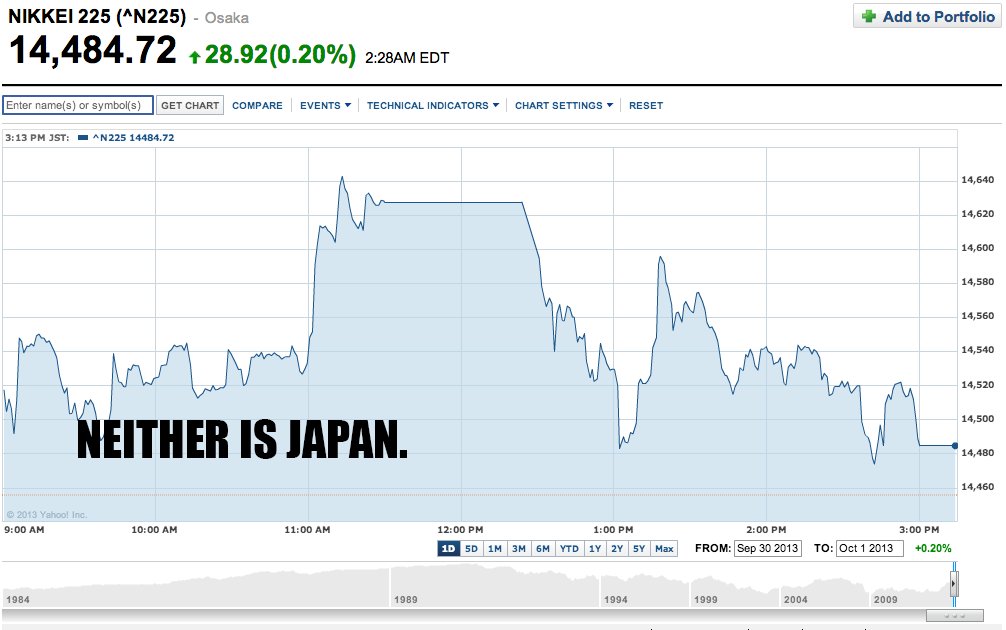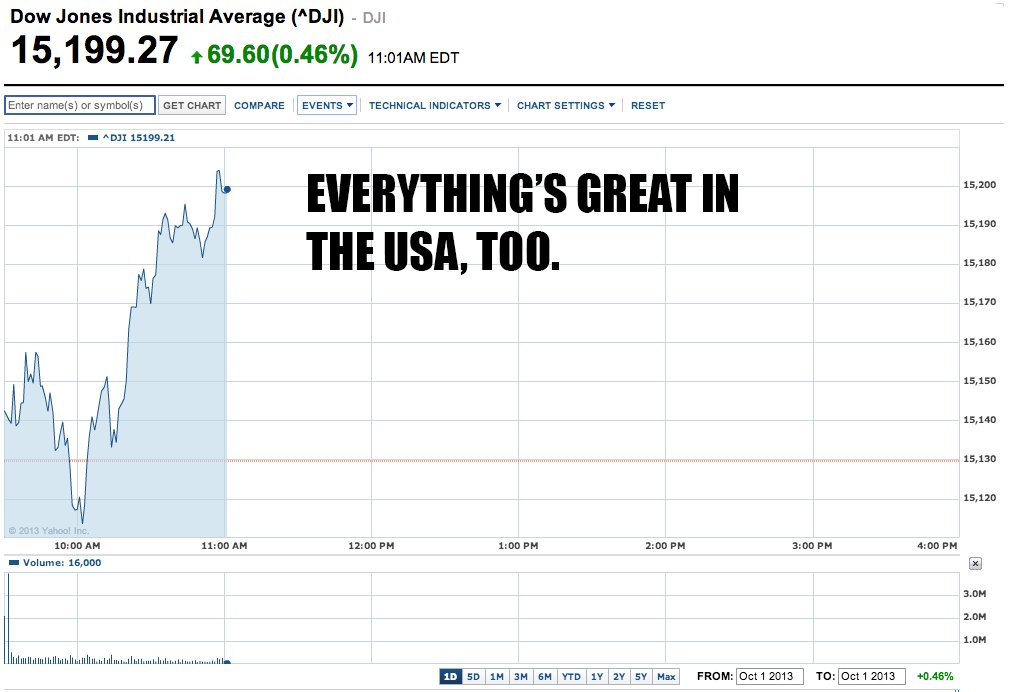 In the bond market, where traders typically register signs of impending doom, interest rates rose slightly, consistent with the higher stock prices.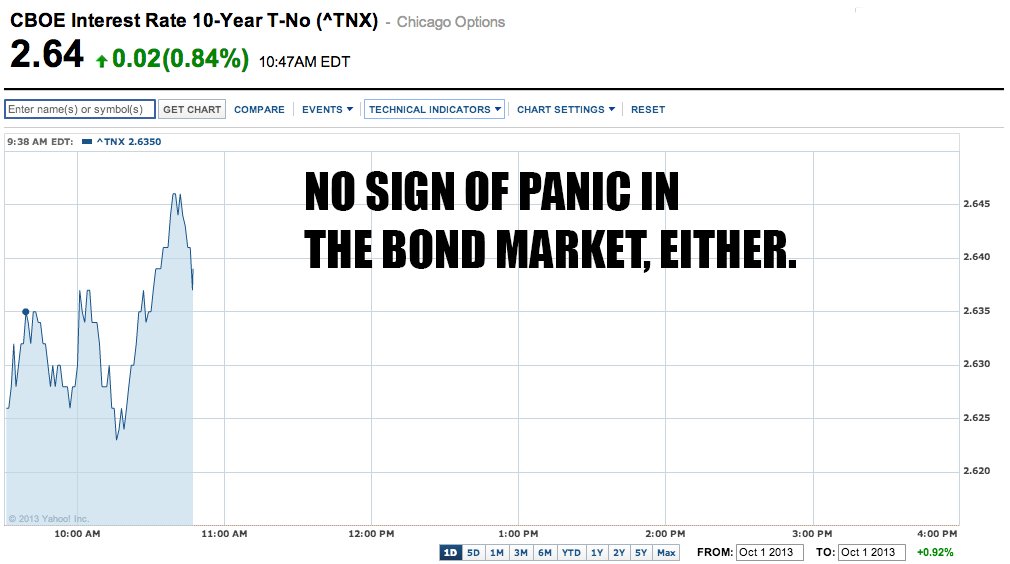 In short, traders around the world are going about their business despite the $300 million per day the shutdown will cost the U.S. economy at a time of slow growth.
Some on Wall Street think a shutdown now will help House Republicans blow off steam and make them more willing to compromise to avoid a far more disastrous crisis in a couple of weeks. That's when the government is expected to hit its borrowing limit. Without an increase in the debt ceiling, the government won't be able to pay old bills and could default on its debt -- a cataclysm for global financial markets that could be a replay of the 2008 crisis.
In that view, today's shutdown is actually good news.
Many more on Wall Street are taking their cues from history, which suggests that short shutdowns have virtually no impact on markets. Buy the dips! was pretty much the message of every market strategist in the world on Monday.
The risk, notes Quartz's Matt Phillips, is that House Republicans take the market's calm reaction to the shutdown as encouragement to keep digging in their heels, bringing us closer to the brink of real disaster.
But markets probably won't hesitate to freak out if they see a debt-ceiling breach coming. Take a longer-term view of the stock market, for example (in the chart below), and you can see that stocks have been falling fairly steadily since mid-September, in part because of worry about this budget folderol.
The government shutdown may be an historic event, but it is only the first day in what could be a very messy October for markets.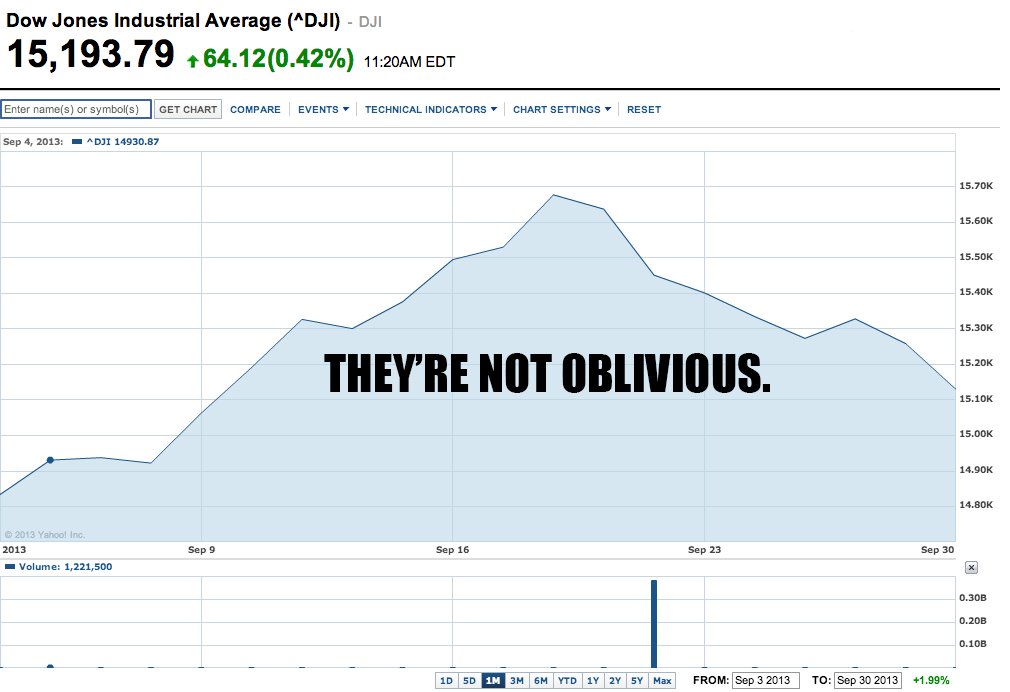 ALSO ON HUFFPOST:
PHOTO GALLERIES
The Most Popular Stocks In Congress