A religious group in Kansas is once again trying to get an artistic statue removed from a public park, arguing that the work of art violates the state's obscenity laws.
Phillip Cosby, director of the American Family Association of Kansas and Missouri, told The Huffington Post over the phone on Thursday that the group is currently gathering signatures to convene a grand jury. The hope, Crosby said, is that the Overland Park, Kan., statue, which depicts an "act of sexting," will be deemed "harmful to minors."
(Story continues below.)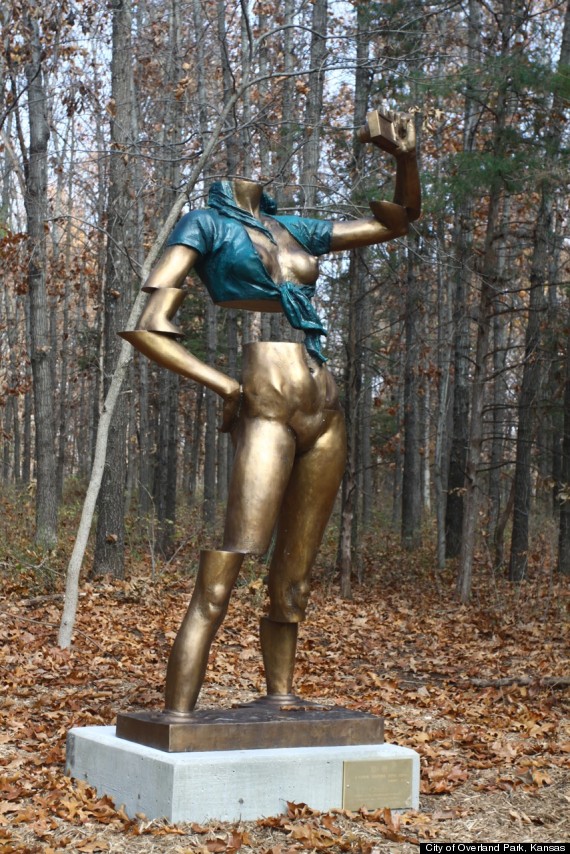 Here's the statue that the American Family Association of Kansas and Missouri wants moved to an "adult venue."
"Why is a city agency putting in front of children an act, that if they mimicked, would be the illegal manufacture of child porn by children?" Cosby asked in a comment on the website Watchdog.org.
Titled "Accept or Reject," the statue was donated by Chinese artist Yu Chang and sits in the Overland Park Arboretum, a 300-acre garden and arboretum on the outskirts of Kansas City.
The American Family Association, a Christian non-profit group whose mission is to "strengthen the moral foundations of American culture," mounted a campaign against the same statue last year (at a cost of $35,000 to taxpayers) but failed to get an indictment. Cosby called that result a "hijacking" by Johnson County District Attorney Steve Howe, and says if he can summon a grand jury over the next few months, he will also have Howe investigated for obstruction of justice and witness tampering.
The American Family Association needs about 3,800 signatures in order to convene a grand jury, Cosby said. The group began collecting signatures Oct. 1.
(Hat tip, Right Wing Watch)
ALSO ON HUFFPOST:
PHOTO GALLERY
BEFORE YOU GO
Damien Hirst Statue
PHOTO GALLERY
Damien Hirst Statue