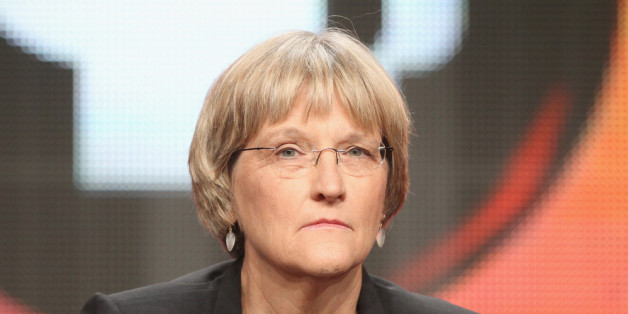 Harvard's multibillion-dollar endowment will continue to include investments in the fossil fuel industry, university president Drew Faust affirmed in a letter this week. Her statement is the first official declaration that divestment is off the table at Harvard after more than a year of protests from student groups.
Divestment has become a hot-button issue on college campuses over the past year as students seek to address climate change. At Harvard, students have tried to encourage university officials to remove fossil fuel investments from the school's massive $32.7 billion endowment, according to reports from the Harvard Crimson.
Yet Faust says to do so would not be in the university's best interests:
Climate change represents one of the world's most consequential challenges. I very much respect the concern and commitment shown by the many members of our community who are working to confront this problem. I, as well as members of our Corporation Committee on Shareholder Responsibility, have benefited from a number of conversations in recent months with students who advocate divestment from fossil fuel companies. While I share their belief in the importance of addressing climate change, I do not believe, nor do my colleagues on the Corporation, that university divestment from the fossil fuel industry is warranted or wise.
Petitions launched by the student-run Divest Harvard resulted in 72 percent of students voting in favor of divestment in an on-campus referendum last November. But those attempts have largely fallen on deaf ears and it has been made plain in the past that divestment wasn't of interest to Harvard's governing body.
Faust's formal announcement has drawn the ire of many environmental activists, including Tim DeChristopher and Bill McKibben's 350.org.
"Leadership requires courage and vision -– President Faust demonstrated neither," Divest Harvard said in a statement provided to the Crimson. "Today, she chose the fossil fuel industry over her students."
Faust went on to criticize the divestment discussion, saying there were "more effective measures" available to tackle climate change, and removing Harvard's investment from the industry would only "diminish the influence or voice we might have with this industry."
Because I am deeply concerned about climate change, I also feel compelled to ask whether a focus on divestment does not in fact distract us from more effective measures, better aligned with our institutional capacities. Universities own a very small fraction of the market capitalization of fossil fuel companies. If we and others were to sell our shares, those shares would no doubt find other willing buyers. Divestment is likely to have negligible financial impact on the affected companies. And such a strategy would diminish the influence or voice we might have with this industry. Divestment pits concerned citizens and institutions against companies that have enormous capacity and responsibility to promote progress toward a more sustainable future.
You can read Faust's letter in full here.
ALSO ON HUFFPOST:
PHOTO GALLERIES
"Coolest Schools": Sierra Magazine List Of America's Greenest Colleges 2013