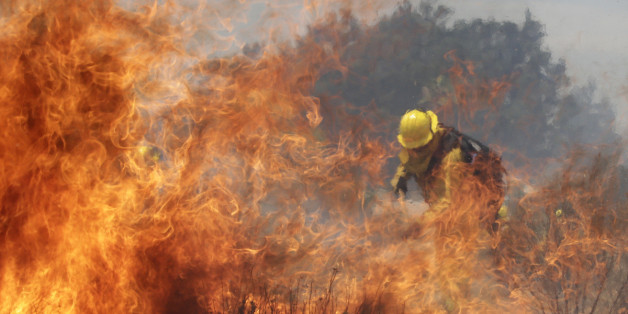 Ventura County has wrapped up one of its driest rainfall seasons on record, threatening water supplies and raising fire dangers to extreme levels.
Rain totals throughout the county were less than half of normal in the 2012-13 season, which ran from Oct. 1 to Sept. 30. Some areas of the county received only a third of normal rainfall, according to preliminary figures from the Ventura County Watershed Protection District.
The lack of rain and expected Santa Ana winds prompted a red-flag warning about high fire risks through this weekend.
The National Weather Service said the combination of high winds, low humidity and warm temperatures posed the most significant fire weather threat in five years. Combined with the already dried-out vegetation, the forecast led fire officials to bring in extra staff and stage equipment throughout the county.
"It's added to our concern all year," said Capt. Mike Lindbery of the Ventura County Fire Department. "We're at a point now where our brush is literally at the critical level."
County fire officials track the moisture content in vegetation -- one of the best predictors of fire danger. Numbers over the past two years have shown vegetation drying faster than normal. When the early-season Springs Fire tore a path from Camarillo to the Pacific Ocean in May, the brush was as dry as what's typically seen during hot summer months.
The county's latest report, released this week, shows all areas far below essential moisture levels, increasing the risk of large wildfires.
"When you look at the vegetation, it has a look that we have not seen before," said county fire Capt. Brendan Ripley. "Dry would be a poor term. It just looks stressed. It looks dead."
Drought-stressed oak trees have fallen over. Firefighters have been called out multiple times to clear downed trees and other brush from fire roads.
When it gets this dry, firefighters expect to see fire behavior not normal for this time of the year, Lindbery said. Even normal fire behavior can get pretty extreme this time of year, he said.
Fire officials initiated a "Plan 1" brush response Friday that likely will last through the weekend. They have added staff for an additional helicopter, hand crew, bulldozer crew and three water tenders. Division managers and other personnel were put on standby.
This season's rainfall totals ranged from just under 5 inches in Camarillo -- its driest year on record -- to just over 9 inches in Ojai, its sixth driest year on record, according to the watershed district.
Ventura County's wettest years had rainfall totals five times that, from 25 inches in Port Hueneme to nearly 44 inches in Ojai.
The lack of rain has left Lake Casitas near Ojai at only two-thirds full. Lake Piru on the eastern edge of the county has dropped to 20 percent of capacity.
"That's as low as I've ever seen it," said Mike Solomon, general manager for the United Water Conservation District, which manages groundwater supplies and the Lake Piru dam.
In late summer, the district usually releases water from the lake into the Santa Clara River, recharging groundwater supplies and helping farmers through one of the driest periods of the year.
For the first time in years, the district canceled the release, Solomon said, because the lake was just too low. "The groundwater levels are very low and they're continuing to decline," he said.
Groundwater shortages in the Oxnard Plain pose a serious threat to strawberry crops, said John Krist, CEO of the Farm Bureau of Ventura County. They are preparing fields for strawberries this time of year -- work that requires lots of water, he said.
The dry year has been a financial hit to farmers and ranchers throughout the county, who had to run their pumps and irrigate more, Krist said. A lack of rain allows salts to build up in the soil, which can damage plants.
In June, the U.S. Secretary of Agriculture declared Ventura County a drought disaster area because of this year's losses by local farmers and ranchers, he said.
It's unclear what the new rainfall season will bring. Experts have said it could be dry again, or normal or even above normal, said Scott Holder, a hydrologist with the watershed district.
The county also had below normal rainfall in 2011-12, but it was much closer to normal.
An extended dry period is not unusual.
"We do live in a desert here in Southern California, even though we're right along the coast," Holder said.
With Southern California's imported water sources also stretched thin, the county will be hurting for water next year without some good rain, he said. "We'll hope for a good amount of rain, but not too much too quickly."
EARLIER ON HUFFPOST:
PHOTO GALLERIES
Southern California Hit With Multiple Fires (Aug. 2013)