Now that summer is over, there's officially no excuse to ignore those fix-it projects -- and if the packed aisles at home improvement stores prove anything, everyone feels the same way. But if your list is so long that you don't really know where to start, here are a few DIY ideas to get you going. What will you be working on this weekend?
Paint The Front Door
on color choice or process, check out This Old House
.
Aerate The Front Lawn
comprehensive overview on aerating, visit DIY Network
.
Power Wash Your Walkways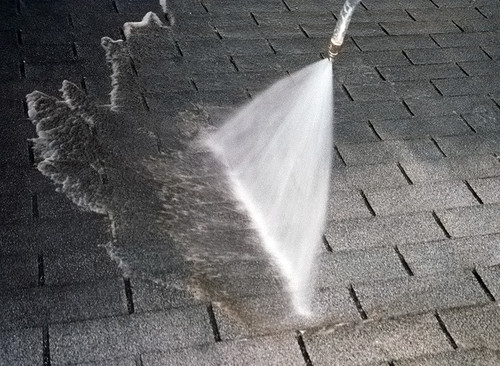 a great primer on power washing
.
Install A Floodlight
installing a floodlight over at This Old House
.
Plant Spring Bulbs Now
simplified instructions for planting spring bulbs
.
Replace Any Broken Screens
show you how to replace a damaged or broken window screen
-- even if you're a novice DIYer.
Looking for more DIY inspiration? Check out these curb appeal projects.
Improve your home's curb appeal with new house numbers. Metal numbers can match any style, from vintage to modern, and adds a refined look. All you have to do is drill into the masonry with a specialized bit to anchor the numbers.

Because gravel driveways and paths can get "potholes" too. The good news is that all you'll need are a few bags of gravel, a 2x4 (or something to "tamp" the gravel into place) and, if on a driveway, a car. Simply fill, tamp and then run over the filled-in spot. For a more detailed how-to, visit TLC.

If your backyard fence has never been stained, or the color has faded from the sun, adding a fresh coat is sure to brighten it up and protect the wood. First choose your stain and make sure your fence is clean and dry. Using a roller with a long attachment, coat about 3 feet of fence at a time. It is best to roll in the same direction as the wood grain. Then, move to the next section. Staining the fence in small sections will help make sure you cover each area completely. Allow to dry and apply a second coat if needed.

Bring new life to your old rug with a little spray paint. We love how blogger Kinsey Mhire of Sincerely Kinsey used masking tape to create a chevron pattern. She also used adhesive lettering, which is available at your local craft store, to personalize her mat with a message. For the full tutorial, visit Sincerely Kinsey.

Installing window awnings is a good way to give your home some curb appeal if it's looking a little tired and they'll also keep the summer heat from beatingbeaming in. First, using a power drill and the supplies provided in a window awning kit, center and mount your brackets above the window. Then slide the bead of the curtain in the mounting bar, allowing the curtain to hang down. Center the curtain on the mounting bar and use pliers to squeeze the ends, locking the awning into place. Next, attach the support beams to the bottom piece of the awning and twist to lock them into place. Afterward, attach the support arms and secure them into the wall brackets using screws. For a full tutorial, visit Nuimage Awnings.

Take advantage of the beautiful weather with an outdoor DIY project. A sitting wall is a stylish addition to any backyard and a great way to add some flair to your landscaping. You'll need to do some measuring and digging before you get started. Once the area is dug out, lay the bricks. Use construction adhesive to make sure the wall is secure. Visit DIY Network for an in-depth tutorial.

Add serious curb appeal by fixing up your mailbox. If it's looking a little weather-worn or isn't standing straight, a few quick and easy fixes will ensure you're giving off a positive first impression to passers-by. Replace the stand or repaint the box with a fresh, vivid coat. If it's damaged beyond repair, buy a new mailbox and start fresh. Then, add accents and decorations to personalize. Learn how to replace your mailbox and create a nautical design and more at GMC Trade Secrets.