Christopher Cruz--the motorcyclist who slowed down the SUV in Manhattan last Sunday, causing it to bump into him, and setting off a high-speed chase and then the group assault of the SUV driver--says the portrayal of the incident is unfair.
28-year-old Cruz, who's been charged with reckless endangerment in the incident, told ABC in an exclusive interview that he tries to "stay away from trouble as much as possible."
He also said all the attention the story has received has turned his life "upside down."
More shocking details have also emerged in the story. Good Samaritan Sergio Consuegra, who intervened in the assault of the SUV driver Alexian Lien, told ABC one of the bikers also attacked Lien's wife, Rosalyn Ng, "grabbing her by the arms, real hard" until bystanders yelled at him to stop.
A new photo released by the NYPD also shows the passenger side window of the black Range Rover, where Rosalyn had been sitting, was also smashed. The couple had their two-year-old child in the backseat.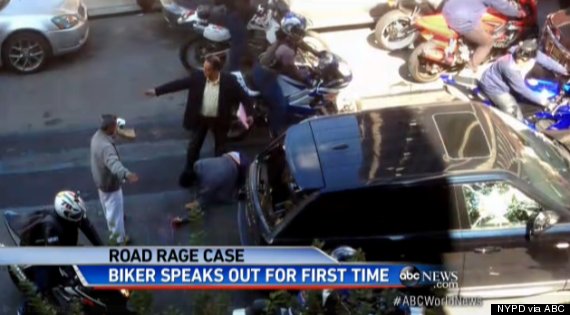 Meanwhile, two other bikers this weekend were charged in the assault. Robert Sims and Reginald Chance are accused of gang assault, among other charges.
Edwin Mieses, the motorcyclist run over by Lien's SUV, suffered two broken legs, bruised lungs, and spinal fractures, The New York Daily News reported.
ALSO ON HUFFPOST:
PHOTO GALLERIES
Caught On Camera