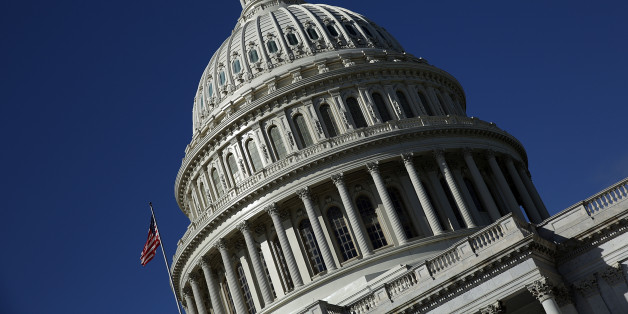 It's been a bad week for Congress and a worse week for the Republicans. Everyone is angry at everyone in Washington. And PPP says a Democratic majority of the House is now "in reach," but we've heard this before. This is HuffPollster for Monday, October 7, 2013.
CONGRESS' APPROVAL RATING FALLS - Frank Newport: "As Congress' inability to agree on compromises that would reopen the partially shut-down government and raise the looming debt ceiling continues, Americans give Congress an 11% job approval rating, down eight percentage points from last month and one point above the worst rating in Gallup history….While Congress as a whole gets dismal job approval ratings, Americans are significantly more charitable when it comes to the member of Congress representing their particular district. Americans now give their own representative a 44% approval rating, which is not an extremely high rating on an absolute basis, but is certainly high compared with Congress' overall 11% rating in the same survey. Americans' ratings of their own representative is little changed from Gallup's last measurement in May, when 46% approved. However, fewer Americans approve and more disapprove of their own member of Congress than what Gallup has found in the past, and the percentages who approve and disapprove are now essentially equal. Typically, Americans have been much more likely to approve than disapprove of their own representative." [Gallup]
AMERICANS DISAPPROVE OF LAWMAKERS' HANDLING OF BUDGET - HuffPost: "The government shutdown isn't winning anyone in Washington points with the public -- but Republicans are faring the worst, according to new polls. A Washington Post/ABC poll released Monday found that while the public's ratings for the president and both parties in Congress remain negative, disapproval of Republicans has grown in the past week. Seventy percent of Americans now disapprove of how Republicans in Congress are handling budget negotiations, up from 63 percent last week. A Pew Research poll also released Monday found that 38 percent of Americans blame Republicans more for the shutdown, while 30 percent blame Obama, and 19 percent blame both sides. A third poll by CNN/ORC found that majorities of Americans are angry at everyone involved with the shutdown: Sixty-three percent say they're angry at Republicans, 57 percent say they're angry at Democrats, and 53 percent say they're angry at Obama." [HuffPost]
PPP'S POLLS: SO HOW MUCH DANGER FOR GOP HOUSE? - On Sunday the liberal group MoveOn.org released results from automated polls it sponsored, conducted by the Democratic Party-affiliated firm Public Policy Polling. The polls, of two dozen U.S. House districts currently represented by Republicans, showed 17 of those incumbents trailing their unnamed "Democratic opponent" by a percentage point or more. "In four other districts," the PPP release says, "the incumbent Republican falls behind a generic Democratic candidate after respondents are told that the Republican incumbent supported the government shutdown. In only three districts do Republican incumbents best generic Democratic challengers after voters are told the incumbent supported the government shutdown. Democrats must pick up 17 seats to win control of the House. These poll results make clear that if the election were held today, such a pickup would be well within reach" [MoveOn]
Partisan sponsorship - The drop in congressional approval measured by Gallup will likely lead to drops in the "reelect" numbers for incumbent Republicans. However, skepticism is in order for the MoveOn/PPP results mostly because they were conducted by a Democratic pollster and sponsored by a liberal advocacy group. Our analyses have shown that polls with partisan sponsorship typically exhibit a bias of 3 to 4 percentage points in favor of their sponsor on vote preference questions. [HuffPollster on partisan polls]
An 'additional grain of salt' - Frequent PPP critic Nate Cohn noted on Monday that the "generic" question (which pits incumbents against an unnamed challenger) overlooks the importance of viable challengers: "Democrats aren't yet poised to mount serious challenges to a clear majority of the Republicans running on competitive turf, let alone actually win. So you should probably take this morning's PPP poll with an additional grain of salt: it's about how House Republicans would fare against a 'generic' Democrat, not the mediocre one they'll face in 2014." [New Republic]
Past Bias? - How good a predictor are these sorts of early polls? Consider a similar batch of PPP House polls conducted two years ago, in October 2011, that were sponsored by the Democratic House Majority PAC. PPP surveyed voters in a dozen "targeted Republican house districts" and asked a "reelect" question that pitted the incumbents against "someone else" of no specified party. Their headline: "Polling Shows Democrats Can Take House in 2012." In all 12, PPP reported, "we found the same thing- voters would like to replace the Republican incumbent with someone else." [PPP, House Majority PAC]
Three months later, the PAC released a batch of 8 more polls, including five which tested Republicans against specific Democratic challengers. The conclusions were similar. Under the headline "Pick up opportunities abound for House Democrats," PPP reported: "These districts, along with 12 that PPP polled back in October, make it clear that there is a very wide playing field for Democrats in 2012 that will give them a serious chance at winning back the House." [House Majority PAC]
In November 2012, Democrats did not win back the House, though they did gain a net eight seats. More to the point, the generic House ballot as measured by PPP not only proved to be a weak predictor of the ultimate outcome, it also showed a consistent bias in favor of the Democrats. In 18 of 20 cases the early polls were too rosy for the Democrats. These included all five that tested a named Democrat against the incumbent Republican. The median bias across the 20 polls was roughly six percentage points in the Democrats favor.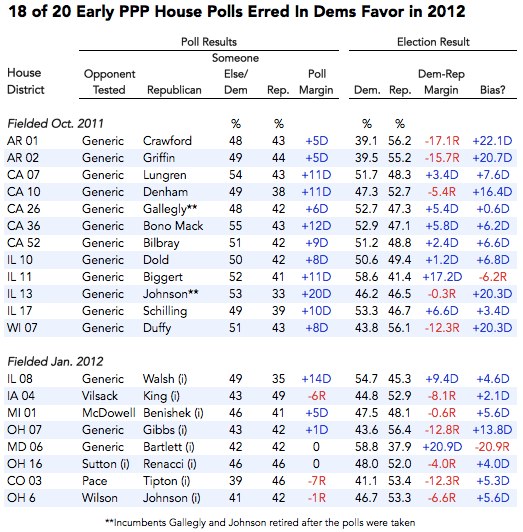 Again, it should come as little surprise that a generic measurement taken as much as a year before an election would show a lot of error. Two of the incumbents tested (Gallegly and Johnson) opted to retire and the early polls came before many challengers were selected. They issue is why 18 of 20 erred in the Democrats favor.
Jensen responds In an email to HuffPollster, Jensen says the different wording in his earlier polls could have led to higher anti-incumbent sentiment: "A lot of those polls aren't particularly comparable. In the October 2011 polls we were testing the Republican incumbents against a generic 'someone else,' NOT a generic Democrat. So you have plenty of voters on the right who might be willing to vote for someone else in a primary but who will ultimately vote for the incumbent if a Democrat is the only alternative who fall into that 'someone else' category. Note the generic ballot polls referenced in that memo from Reuters and NBC/Wall Street Journal that showed Democrats up by 8 and 4 points at that point as well. As I recall that was when Herman Cain was leading our national Republican polling so that was perhaps a stronger point overall for Democrats than November 2012 ended up being. More broadly why did the election results for House Republicans turn out better than the generic ballot polling in January? For the same reason Obama outperformed all his polling against generic Republicans: [ RCP link] Often times a generic opponent is stronger than who actually ends up being the candidate. What the Move On polls show is that voters are extremely unhappy with their incumbent Congressmen and open for a change, and now Democrats need to recruit strong enough candidates to take advantage of that anger and vulnerability."
HUFFPOLLSTER VIA EMAIL! - You can receive this daily update every weekday via email! Just enter your email address in the box on the upper right corner of this page, and click "sign up." That's all there is to it (and you can unsubscribe anytime).
MONDAY'S 'OUTLIERS' - Links to more news at the intersection of polling, politics and political data:
-A Suffolk University/Boston Herald poll finds John Connolly leading Martin Walsh. [Boston.org]
-Dan Balz traces the roots of the government shutdown to political polarization. [WaPost]
-Matthew Dickinson disagrees with Balz, says voters have not become more polarized. [Middlebury]
-John Sides and Lynn Vavreck opine on whether the 2014 elections will mean anything. [CNN]
-Carl Bialik reviews the challenges of calculating the costs of a government shutdown. [WSJ]
-Harry Enten sees Wendy Davis and Texas as problems for Democrats. [Guardian]
-Liberal comment trolling enrages conservatives (but not vice versa). [WaPost/Monkey Cage]