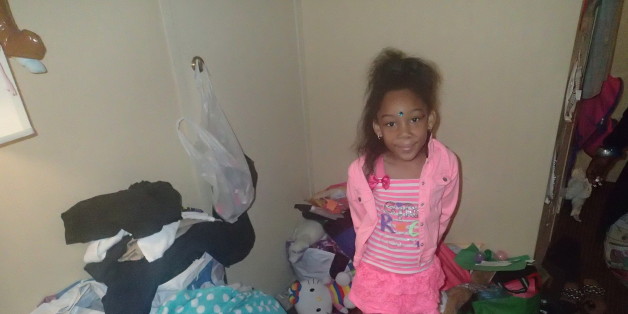 NEW YORK -- Gwendolyn Bethea has been living in a small room at the Park Central hotel in Midtown Manhattan with her adult son, Gabriel Sanya, since Hurricane Sandy destroyed their Far Rockaway apartment almost a year ago.
The federal government covered the cost of their hotel stay until Sept. 30, when funding ran out. The city paid for a few more days, through Friday. Unable to afford the room themselves, Bethea, 58, and Sanya, 27, faced limited options.
"I'm not going to lie," Sanya told The Huffington Post. "I was starting to panic."
Then they received a phone call from an attorney at the Legal Aid Society, which has represented some Sandy evacuees in state court this year. The attorney told them that an anonymous donor had made a last-minute $1 million contribution to pay for the hotel stays of nearly half of nearly 300 New York City Sandy evacuees still displaced. Bethea and Sanya were among the lucky ones.
"This is what you call a miracle," said Bethea.
Bethea, Sanya and the other Sandy evacuees still living in more than two dozen hotels throughout New York City have uncertain futures now that the government has stopped picking up the tab for their rooms. On Friday afternoon, as the funding expired and hotel staff and relief agencies tried to sort out who the surprise donation would apply to, many of the evacuees decided to stay put.
Tenants' rights laws protect hotel guests from being thrown out of their rooms as long as they have lived there for at least 30 days. Even if they never pay another dime to the hotel, it can take months for a hotel to win an eviction order in housing court.
Meanwhile, some evacuees have adopted defensive tactics to ensure they can maintain access to their rooms and belongings. At Park Central on Friday, Sanya and Bethea made sure one of them was in their room at all times, in case their room keys were deactivated.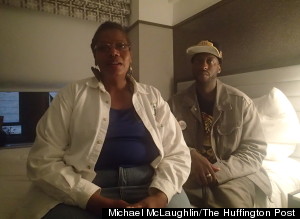 Gwendolyn Bethea and Gabriel Sanya in their hotel room.
The surprise last-minute contribution, given to the New York Disaster Interfaith Services on Thursday, only applies to Sandy victims who have what the charity called a "sustainable recovery plan," Peter Gudaitis , the disaster aid group's chief response officer, told HuffPost. About 140 people working with a case manager who have been accepted into a government housing program such as Section 8, or who are rebuilding their own homes will continue to have the cost of their hotel rooms covered.
"We're trying to do the best we can for the clients we have," Gudaitis said. "The goal is to get clients to be self-sufficient," Those not meeting the charity's standard will have to go back into the city shelter system and work with public services to navigate their options. "That may sound harsh, but the scale of this disaster is way out of our league," he added.
After Sandy, the city got federal funds to pay for hotel rooms for more than 3,000 New York City residents, mainly from Queens, Brooklyn and Staten Island, who were displaced from their homes and needed temporary emergency shelter. Most of those evacuees have found new housing.
The Federal Emergency Management Agency has reimbursed the city for more than $73 million for hotel bills. But FEMA notified the city in August that its funding for the hotel program would dry up at the end of September. (The termination of funding is unrelated to the partial government shutdown, though the shutdown may affect other recovery efforts.)
Without Washington's aid money, the Bloomberg administration wouldn't pay the $2 million a month to cover the rooms for the remaining 300 evacuees. A state Supreme Court judge on Sept. 27 allowed the city to end the program after city attorneys argued the shelter system could absorb the people still in need. A member of every household was notified in person about on the day of the judge's decision about the imminent closure of the hotel program, a Department of Homeless Services spokeswoman said.
"For over 10 months, the city has dedicated tremendous effort and resources to more than 3,000 individuals displaced by Hurricane Sandy," City Corporation Counsel Michael Cardozo, the Bloomberg administration's top lawyer, said in a statement Sept. 27. "Interim housing, along with intensive case management services, was provided, but [it] was never intended to be a permanent solution."
A FEMA spokesman declined to explain the aid cutoff, beyond telling HuffPost that "state and city programs for temporary at-risk populations are being reimbursed for all eligible costs."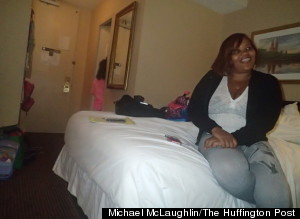 Cherell Manuel in her hotel room.
Relocating to a city-run shelter is a grim prospect for many evacuees.
"One is in the Bronx, one is in Brooklyn and the one in Staten Island is, from what I understand, a God-awful place," said Carol Hefty, a widowed retiree on Staten Island. She's rebuilding her home that was destroyed by floodwater and is staying at a Ramada Inn on Staten Island.
Compared with other Sandy evacuees who still have no housing lined up, Bethea and Sanya are in a good position. Although they've barely been able to make ends meet with disability payments from a knee injury Bethea suffered, they expect to move into a new apartment in Far Rockaway with a Section 8 voucher as soon as this week. And when Sanya resumes his job as a cab driver on Monday, they expect their financial position to improve.
Evacuees said living indefinitely in a hotel is no vacation. Many of the rooms are filled with boxes and garbage bags holding belongings salvaged from waterlogged homes, leaving barely any open floor space.
It's a 90-minute commute for Cherell Manuel to bring her 7-year-old daughter Najh-ja to her second-grade class in Far Rockaway from the Manhattan Hotel in Midtown. Just preparing a home-cooked meal is something Manuel hasn't done for Najh-ja and her two other daughters, both in their early-20s, for almost a year. They expect to move into a Section 8-subsidized three-bedroom apartment in the Rockaways this week
Manuel and her daughters were relieved that the donor's gift would cover their hotel stay. Still, Manuel said she was outraged that the government would cut funding for the hotel program.
"This hasn't been easy for us," Manuel said. "This has been a real journey. Being in a hotel is no treat. This is not like being in a home. This is a small space. We had a tragedy up here in New York City, and they're ready to throw us to the curb."
ALSO ON HUFFPOST:
PHOTO GALLERIES
Politicians React To Sandy