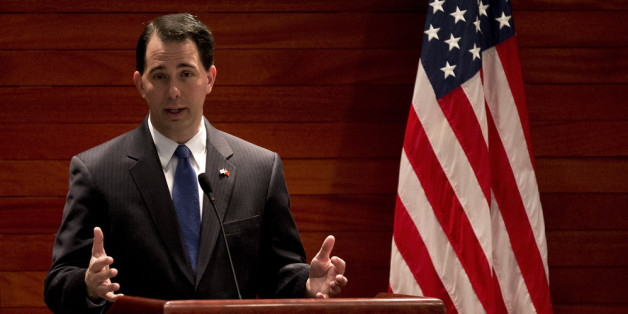 Wisconsin Gov. Scott Walker's Republican administration has agreed to eliminate a permit requirement for groups demonstrating inside the state Capitol and to pay more than $88,000 in legal fees to settle an American Civil Liberties Union lawsuit, the Milwaukee Journal Sentinel reports.
The settlement lets the Wisconsin Department of Administration maintain some permitting rules, while allowing demonstrators to protest inside the Capitol for five days if they give the state two days' advance notice. According to the Journal Sentinel, the state has agreed to create a notice system that allows groups to gather inside the Capitol without a permit.
The permit law was enacted in November 2011 amid daily Capitol protests against Walker's anti-union crusade. The demonstrations in 2011 and 2012 forced Walker to face a recall election, which he won. The law, requiring groups as small as four people to obtain advance permission from the government before demonstrating inside the Capitol building, led to hundreds of arrests. Gathering inside the building for ceremonies, presentations, rallies or meetings without a permit also was prohibited.
The ACLU sued in federal court in February, claiming the permit process violates First Amendment rights to freedom of speech and assembly. Attorney A. Steven Porter and the ACLU filed the suit on behalf of Michael Kissick, an assistant professor at the University of Wisconsin-Madison School of Medicine and Public Health, who "sometimes participated in demonstrations inside the Capitol" before "police began arresting and citing people who exercised free speech there without a permit," the ACLU said in a statement at the time.
"This is a victory because giving notice is significantly different from forcing people to ask the government for permission to exercise free speech," Larry Dupuis, legal director of the ACLU of Wisconsin, said in a statement. "The state can't deny use of the Capitol to anyone giving notice, unless someone else has reserved the entire space by obtaining a permit for the same time."
Under the settlement, the state agreed to pay $88,271 in legal fees for the protestors who sued.
ALSO ON HUFFPOST:
PHOTO GALLERIES
United States Governors