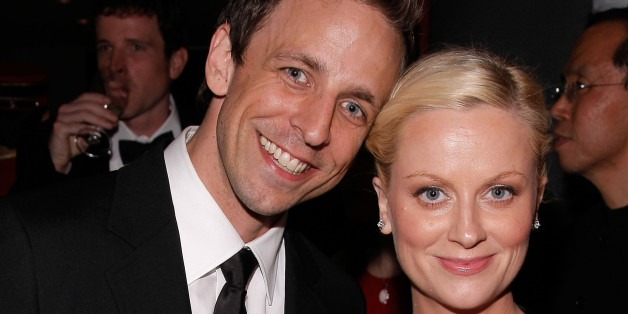 When Seth Meyers starts hosting "Late Night" next February, he has one pick for his first guest: Amy Poehler, his old Weekend Update co-anchor on "SNL."
In the newest issue of Gotham Magazine, Poehler interviewed her friend Meyers about many things, namely his upcoming gig taking over from Jimmy Fallon when Fallon starts his new "Tonight Show." The "Parks and Recreation" star asked him who he wants his first guest to be on the show, and he jumped at the chance to get Poehler to break in the guest couch.
Amy Poehler: Is there anyone you really would love to interview on your show?
Seth Meyers: I want to get verbal confirmation now that you're going to be the first guest.

AP: Yes, dude, of course. Are you kidding? I'm going to come on your show and never leave; I'll hide under your desk.
SM: I want you to be the first guest and the second guest to be huge. I want to offer it to Tom Cruise; I want him to have to fathom [someone asking], "Would you like to be Seth Meyers's second guest?"
If Tina Fey and Jimmy Fallon's long-running chemistry is any signal, reteaming Weekend Update co-anchors on "Late Night" is never a bad idea.
Although Meyers is busy launching his new show, he will remain in the Weekend Update chair on "SNL" at least through December, alongside Cecily Strong. Lorne Michaels has expressed interest in Meyers staying at "SNL" even when he launches "Late Night."
To read the rest of Poehler's interview with Meyers, head over to Gotham.
ALSO ON HUFFPOST:
PHOTO GALLERIES
Weekend Update Hosts Through The Years