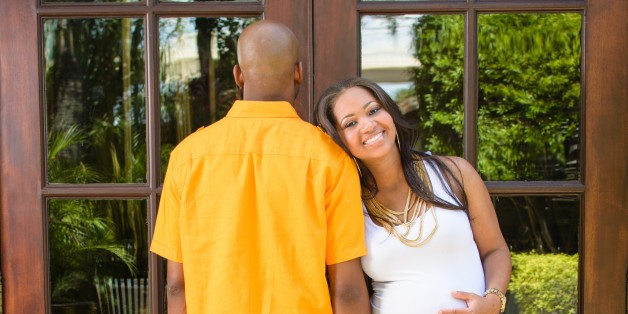 Mom-To-Be: YaShyna Goudy, 33
Dad-To-Be: Terrell Goudy, 33
Hometown: Houston, TX
Due Date: December 7, 2013
How many months were you at the time of the shoot? 6
Boy/girl/it's a surprise? Boy
Mom: How did you tell him you were pregnant? I embroidered our son a shirt that said "BIG Brother" on the front. Then I put the pregnancy test in a zip-lock bag. I put the shirt on my son and gave him the bag and told him to tell daddy to come here, that he had something for him. As soon as he came in, my son handed him the bag and then he saw the shirt!
Dad: What were your first thoughts when you heard the news? Yes!! We did it!! We have another little "Goudy" on the way!!
What are you looking forward to most about being a mom and dad?
YaShyna: Just being able to love and care for him and watch him grow up to be a successful young man.
Terrell: Teaching them life lessons and how to be men. But at the same time, re-living my childhood through them.
What's your biggest fear about parenting?
YaShyna: Being able to show equal love to our children. Also, raising them to have a sound mind and judgement with all the craziness going on in the world.
Terrell: Not being able to protect them from everything and having to watch them make mistakes to grow and learn.
What's the worst advice you've gotten about being pregnant? Best advice?
Worst: "Stop believing what you read in books; people have been doing this for years."
Best: "Enjoy every moment of it."

What message do you want these photos to convey to your baby-to-be? That he is truly loved and wanted and mommy, daddy and big brother, Dylan, are extremely excited that he will be joining our lives!
Expecting? Share your #BVBabyLove with HuffPost Black Voices via Instagram or Twitter (or email us!) and be featured on the site!
PHOTO GALLERIES
Baby Love: YaShyna & Terrell Goudy