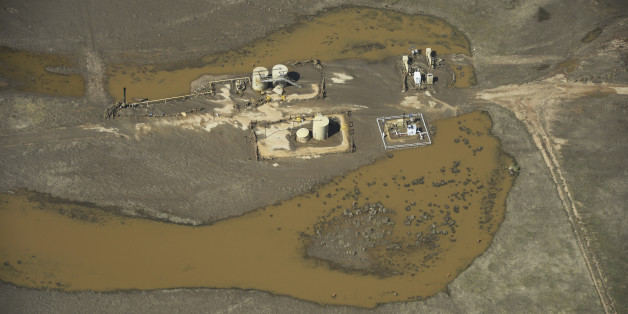 The amount of released wastewater from oil and gas drilling sites being tracked in Colorado increased again, after floodwaters inundated one of the most densely drilled regions in the United States last month.
A total of 17 "produced water" releases -- or 26,385 gallons of wastewater collected at the surface of an oil and gas drilling well -- are now being monitored by the Colorado Oil and Gas Conservation Commission as of Tuesday. That's up from last week's 13 sites with a total of 18,060 gallons.
COGCC also announced that the number of oil spills classified as "notable" has decreased in the state. The agency is currently tracking 13 notable releases of oil -- a cumulative total of 43,134 gallons. Although the number of spill sites being tracked is down from 15 last week, the total gallons spilled remains the same.
According to COGCC, the decrease in oil spill sites is the result of updated information from two locations that have damaged facilities, but no confirmation of notable oil spills currently.
The volume of oil released due to flooding remains small by oil and gas industry standards. "In the context of this historic event, these spills are not an unexpected part of many other sources of contamination associated with the flood," the COGCC wrote in a statement. "Those include very large volumes (millions of gallons) of raw, municipal sewage and other hazards associated with households, agriculture, business and industry."
U.S. Rep. Jared Polis (D-Colo.) announced in September that he is calling on the House Resources Committee for a hearing on the spills caused by the floodwaters.
"We are concerned that these spills and leaks may pose health risks to individuals who are already dealing with damage and destruction to their homes and property," Polis said in a letter to Rep. Doc Hastings (R-Wash), chairman of the Resource Committee.
COGCC inspectors have evaluated 1,355 sites, approximately 80 percent of sites in the flood-impact zone.
At the peak of the flooding, 1,900 wells were shut down out of more than 51,000 operating in Colorado.
Although much attention has been spent on oil spills, a recent report from the Water Quality Control Division of the Colorado Department of Public Health and Environment showed that Colorado's rivers and streams showed no evidence of oil and gas pollutants. However, high levels of E. coli were found at sites across the state.
Samples collected in 29 locations in eight rivers in the flood zone showed high levels of E. coli in the Boulder Creek, Big Thompson River watershed and South Platte Basin all the way to the Nebraska state line, according to the state Health Department.
State officials estimate that about 20 million gallons of raw sewage and about 150 to 270 million gallons of partially treated sewage mixed with Colorado's floodwaters.
Colorado's historic floods resulted in the deaths of nine people and over $2 billion in damages.
Five public drinking water systems still remain on boil or bottled water advisories: Jamestown, Lyons, Mountain Meadow Water Supply, Lower Narrows Campground and Sylvan Dale Ranch.
EARLIER ON HUFFPOST:
PHOTO GALLERIES
Colorado's Historic Flooding