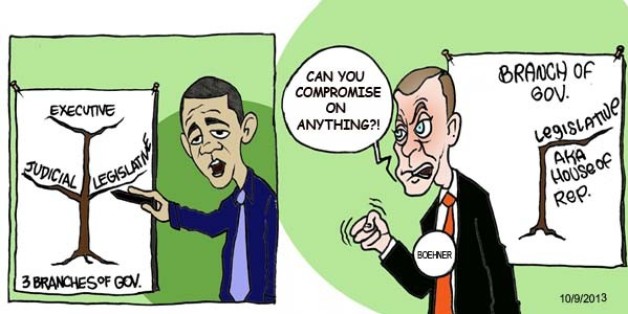 As the government shutdown reaches its ninth day, Americans have been left with news of one meeting after another as it seems the budget deadlock will never end.
Although last week's reports of no end in sight were dismal, this week a bipartisan meeting between House Speaker John Boehner and House Minority Leader Nancy Pelosi may shine a glimmer of hope towards a resolution.
This news is hopefully a step in the right direction after a series of failed attempts at negotiation between Boehner and President Obama. But who is being more unreasonable out of the two?
Cartoonist Kevin Eason thinks that title belongs to Boehner as the house speaker has repeatedly displayed resistance toward meeting any kind of agreement. And the American people agree. Although most of the country is unhappy with lawmakers in both parties, Republicans have borne the brunt of the blame for the government shutdown, according to a recent poll.
What do you think? Is Boehner being unreasonable? Is he and the Republicans responsible for the ongoing budget gridlock? Take a look at the cartoon and share your thoughts in the comments section below.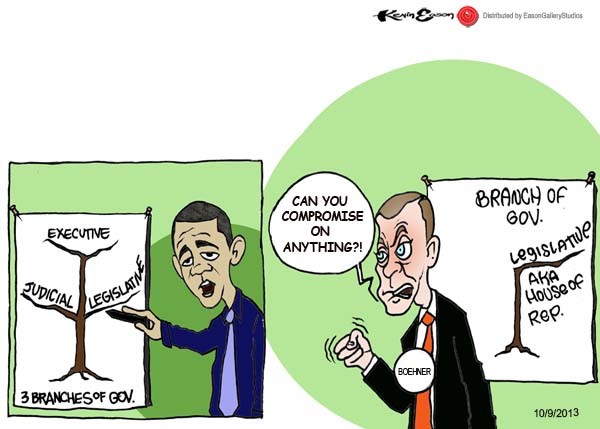 About the artist:

Kevin Eason is a freelance editorial cartoonist and illustrator from New Jersey. His brand of satire covers news events in politics, entertainment, sports and much more. Kevin's work features include: Gannett, TVOne, Uptown, The Urban Daily, NAACP, Cengage Publishing, Bossip, WBLS_107.5FM, and various newspapers and magazines throughout the country. Follow him on Facebook.
The Political Satire Comedy Of Kevin Eason