Aerosmith has become the latest group of people to be charmed by Latin America's most humble head of state.
The American rockers met up with Uruguayan President José Mujica on Tuesday for three hours, where they sang his praises and offered an autographed guitar as a gift. Mujica said the next day that he'd auction off the guitar to raise money to build housing, Mexican news site Sin Embargo reports.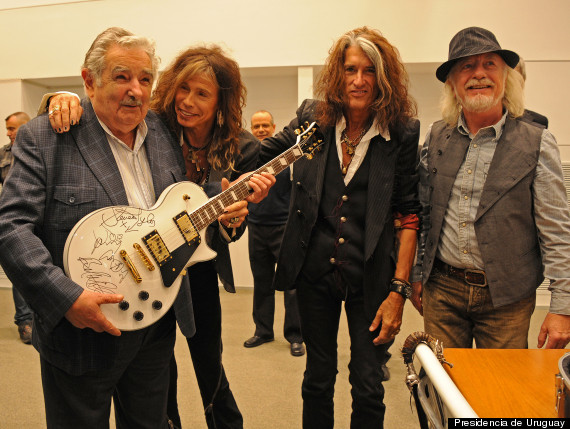 "It's signed by all of them and that surely has a lot of value," Mujica said, according to Sin Embargo, noting that he's not much of a guitar player. "That instrument must have been invented by an anarchist who was also drunk, because it's very difficult."
Mujica has inspired people across the globe with his austere style of governing. Dubbed the "world's poorest president" by the BBC, Mujica lives on a modest flower farm with his wife outside the capital of Montevideo and donates 90 percent of his salary to charity.
"Your president is a freedom fighter," Aerosmith frontman Stephen Tyler said in a video after meeting with Mujica. "In many ways we fight for freedom ourselves, with music -- it transcends all languages."
Aerosmith has penned such classics as "Dude (Looks Like a Lady), "Dream On," and "Love in an Elevator."
The band's admiration for Mujica seems to stem more from the lifestyle that has symbolized the president's commitment to public service, rather than his leftwing politics. The U.S. rockers lean farther to the right than Mujica, a one-time guerrilla who spent 14 years in jail and endured torture for his activities with the Tupamaros during Uruguay's military dictatorship. Aerosmith lead guitarist Joe Perry describes himself as an "old school Republican" whose favorite president is nevertheless Democratic icon John F. Kennedy.
"This band has always had a policy, we're all pretty much on the same page when we start talking politics," Perry told website NoiseCreep.com last year. "We all came up in that era when you were taught that you can do anything you set your minds to and by God we walked on the moon, just like JFK said we would."
Aerosmith played a concert in Montevideo Wednesday as part of the band's tour of Latin America.
PHOTO GALLERIES
27 Reasons Why U.S. Shouldn't Lead War On Drugs