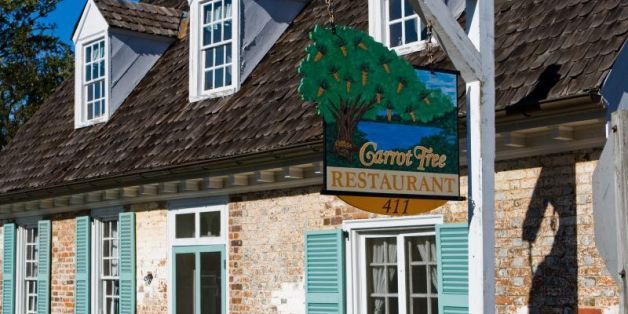 Glenn Helseth, owner of Carrot Tree Kitchens in Yorktown, Va., has reopened his restaurant to serve a customer on her 100th birthday and to help his employees, defying a government order to close his doors.
Helseth learned on Oct. 1 that he had just 48 hours to shutter his restaurant, located in a National Parks Service building closed as a result of the government shutdown. He complied briefly, but news of the important birthday of long-time customer Antoinette "Mama" Betourne this Tuesday was one of many reasons he chose to defy the government and reopen.
"Her daughter told me...that 'Mama' was turning 100 on Tuesday and that all she wants to eat is Brunswick stew, a ham biscuit and carrot cake," Helseth told HuffPost. Betourne has celebrated her birthday at the restaurant every year since it opened in 2003, he added.
Helseth says he also reopened out of concern for his employees. "My staff members have been coming to me and asking if they should buy food or medicine," he told HuffPost.
The government shutdown, which began Oct. 1, couldn't have come at a worse time for Helseth. "October is one of the busiest months of the year," Helseth explained, because tourists flock to the area for the anniversary of the American victory in the Battle of Yorktown, which ended the Revolutionary War. And though the building is closed, Helseth still has to pay rent, utilities and insurance, according to Fox News. He owns another restaurant in the national park on Jamestown Island, Va., which remains closed, he said.
Carrot Tree Kitchens isn't the only small business suffering from the government shutdown, which has cost the U.S. economy an estimated $1.6 billion so far. A Philadelphia tavern was also forced to closed because it is located inside a federal building, NBC 10 reported. Park rangers forced an innkeeper in North Carolina to close his doors, as well, according to Fox News. The innkeeper has since reopened, despite the orders.
Helseth says he faces legal consequences, possibly including arrest, but he's determined to stay open as long as possible.
"I'm open, I intend to remain open. If asked to closed, I intend to remain open unless I am physically forced to do so," he told HuffPost. "I owed my customer a meal on her 100th birthday. I have employees. I don't have any regrets."
Betourne doesn't appear to have any regrets either. "She wiped the bowl clean," Helseth said.
Hat tip: Policymic.
ALSO ON HUFFPOST:
PHOTO GALLERIES
States Hurting The Most From The Shutdown