During World War II, the influx of women taking on jobs traditionally held by men presented a unique problem: How does one keep a lady safe while she's, say, riveting her way to freedom? The answer apparently was in the form of a plastic bra.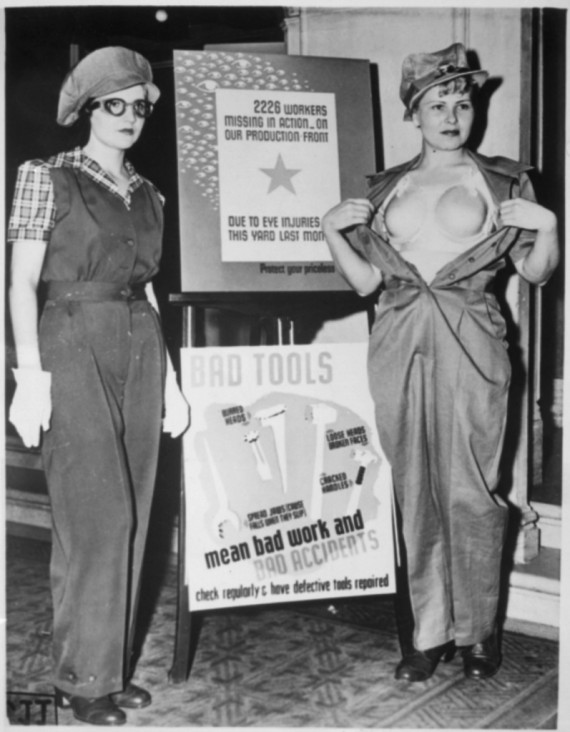 Flickr photo via The U.S. National Archives
Dubbed the "Saf-T-Bra" (and helpfully demonstrated by a not-shy war worker in this photo, circa 1943), the plastic molded domes were thought to reduce the risk of occupational hazards. However, if you consider horrible localized sweat in the boob area a hazard, this bra can't help you. Our main question is... why not just wear a vest?
For those of you who are planning some really intense DIY or just value protection more than things like comfort or support, you can always invest in the more modern version, typically used by fencers."
Other peculiar products whose existences we question:
This stunning creation was presumably designed based on the perception that no woman wants to leave home without a day-long supply of boxed wine. Fortunately, Jakob Wagner's Baggy Winecoat solves that problem for us all.

Bust Up Gum promises to give women, among other things,"Larger, fuller, firmer breasts," "healthier menstruation," provide "relief of menopausal symptoms," "reduce stress," make women "look younger" and give us "increased vaginal secretion" -- wait, come again? If this product does even half of what marketers claim it does on its website, all of the deepest desires and concerns of the female population can be met by chewing pink bubblegum. Up next: World peace?

If regular flesh-colored bandages have always struck you as a little too drab, you're in luck. The discerning wounded can now purchase Brandages. For $7.95 a pack, your scabs can wear Gucci, Louis Vuitton and Chanel, even if you can't. Phew.

Camping? Running errands with no Starbucks in sight? Afraid of making contact with that Greyhound toilet seat? Do what the men do: P-Mate lets you pee standing up. (Unfortunately, it looks like this.) The manufacturer promises that P-Mate is small enough to fit into your purse -- if it's not already filled with boxed wine.

Every beer lover knows that adding red food coloring enhances a good brew, especially if you are trying to get women to buy it. As a bonus, Molson promises their pink Anime beer is low in calories and "bloat-resistant." If you needed another reason to drink wine, this might be it.

Love getting pedicures but hate limping around in flip-flops in January? "Bootie Pies" adopt that classic removable cast shape -- warm ankles, exposed toes -- and puts it to use for post-pedicure warmth, proving booties aren't just a knitted item for babies anymore." Question: Since when is a "classic removable cast shape" a selling point? Also, isn't the safest route to stay under the dryer at the nail place until the polish is dry enough to put on your shoes without ruining the paint job?

Remii Underwear's motto is "protection meets quality." Their undergarments feature "... patented technology that allows it to be breathable yet waterproof. No more stains to clothing, sheets, or furniture. No more ruining your pretty panties." Furniture?

For those who want to pleasure themselves in the most dangerous way possible. (source)

Perfect for moms who want to look like that guy from "Total Recall." (source)

Everyone will notice your enhanced behind, but probably not in the way you'd like. (source)

Because for the last 2,000 years large-chested women haven't gotten any sleep at all. (source)

Because there's no way women will pick up a wrench if it isn't the color of roses. (source)

This is one treat you must be REALLY careful not to go overboard on, unless you want to be an A-cup at dinner and a D-cup after dessert. (source)

Whatever happened to popping a squat? (source)

We honestly don't understand how this works. What's more confusing is how she managed that weird smile/frown combo in the "before" photo.

For $286, you can wear earrings with long strands of real human hair attached. Yeah, we don't get it either. (source)

At $94.29 a pair, these are quite possibly the most expensive route to looking as cheap as possible. (source)

Tone your face with this rejuvenating mask! If you haven't already scared everyone away by looking like a serial killer, people will think you look great. (source)

Color for the hair "down there." Sure to freak out your partner! (source)
Want more? Be sure to check out HuffPost Style on Twitter, Facebook, Tumblr, Pinterest and Instagram at @HuffPostStyle.