As Rihanna can certainly attest after her lawsuit with Topshop, few things are worse for a person or brand than having its image used without consent. Today's big name fighting an unwarranted association? Christian Louboutin.
The luxury shoe label was irked to discover its signature red sole adorning the posters of Flemish anti-Islam group Women Against Islamisation, and it won an injunction in court on Monday in Antwerp, the Guardian reports. See the offending ad below: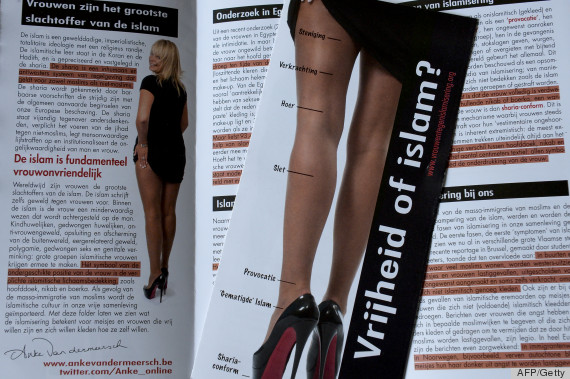 Posters featured a back view of former Miss Belgium and current senator Anke Vandermeersch's bare legs, outfitted in Louboutin's signature red-soled stilettos. The photo's caption, per the Guardian:
Beside the image of [Vandermeersch] wearing the shoes, a key showed what it claimed was Islam's view of a woman, as measured by the length of her skirt, from "sharia compatible" at floor level to "whore" just above the knee and "stoning" at the top of the thigh.
According to BBC News, Louboutin claimed the campaign "tarnished its image" and courts agreed; Women Against Islamisation must remove all signage within 24 hours of the court's ruling. The group will be replacing posters with the alternative below:
Rechtbank verbiedt 'Vrijheid of islam'-affiche omwille v/ gebruik Louboutin-schoenen! Nieuwe affiche is al klaar! pic.twitter.com/44e0WgGRkK
— Filip Dewinter (@FDW_VB) October 14, 2013
We already know that Christian Louboutin prides itself on its brand -- it's even trademarked the signature crimson sole to keep competitors from mimicking the distinct look. We're not surprised the French designer wants to stay as far from controversy as possible in order to avoid sullying its reputation.
But not everyone seems to agree. "It seems that not only Islam is intolerant," a spokeswoman for Women Against Islamisation wrote as soon as Louboutin threatened legal action in September.
More ads that stirred up drama:
100 Ads That Got People Talking
Want more? Be sure to check out HuffPost Style on Twitter, Facebook, Tumblr, Pinterest and Instagram at @HuffPostStyle.