Have you ever found yourself digging through your closet, desperately looking for something to wear? Does it seem like your wardrobe needs an upgrade? If you're like us, then you could definitely use some organization in the fashion department.
Ever since we saw Cher Horowitz's amazing virtual closet, we've craved something similar. And it turns out, our dream of a high-tech closet is closer than we think.
Today, there are countless apps and websites that can help you sort your clothes, keep track of all your garments and ensure that you never run out of new and interesting combinations. Though apps can be really useful, they are also overwhelming, as there are so many. But don't worry, because we've done all the work and narrowed it down to the best five applications to help you organize your closet -- and trust us, there really is something for everyone.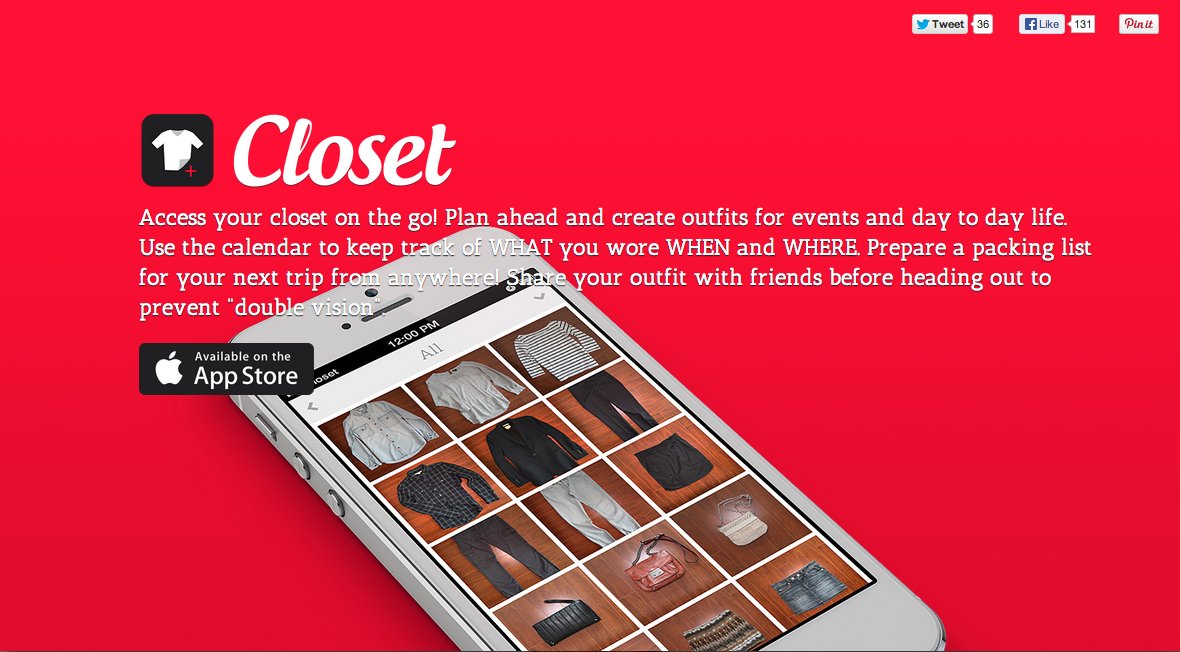 If you're looking to create your own digital closet, then this app is for you. Closet helps you categorize your outfits and keeps you up-to-date on what you've already worn.
PROS: Very simple and user-friendly. Great for helping you look at your own closet without feeling overwhelmed.
CONS: No social interactions (aka your friends can't share their opinions). This app is strictly for having a mobile version of your closet.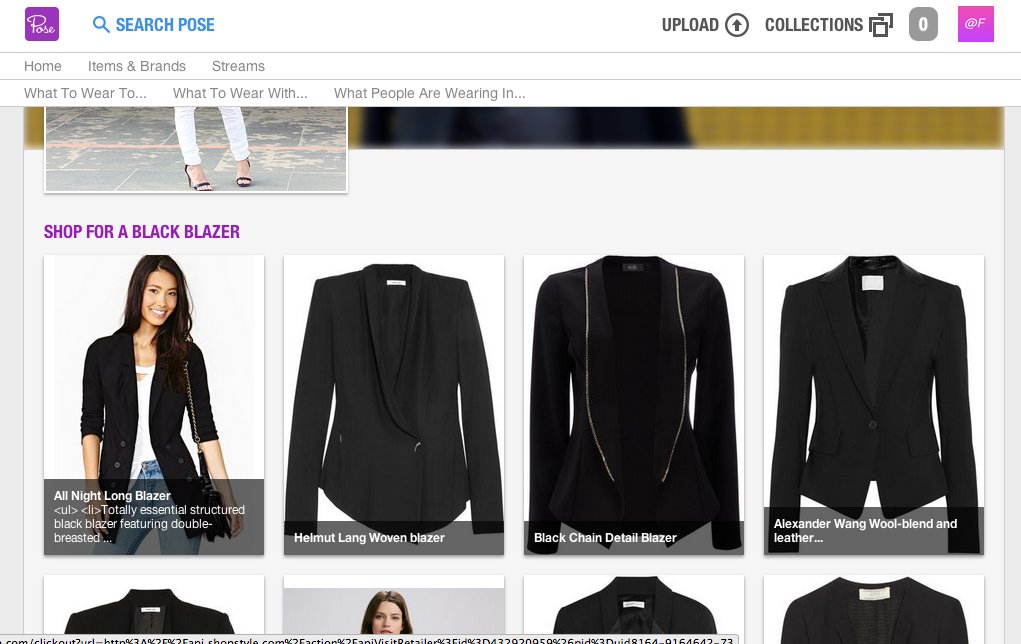 The Pose app makes things insanely easy for the indecisive shopper. When you're in the dressing room, all you need to do a snap a photo of your outfit and other users can immediately weigh in. So if you're debating whether or not to buy something, you can get a second opinion (that's not from the pushy salesclerk). The site/app also gathers photos of items you wish to buy and items you already own, so they are all in one spot.
PROS: When you sign up, you fill out a short survey that helps identify your personal style and subsequently finds people with similar taste that you can follow for inspiration. And if you follow your favorite retailers, you can get a heads up about upcoming sales and specials.
CONS: The phone application is more visually appealing than the actual website.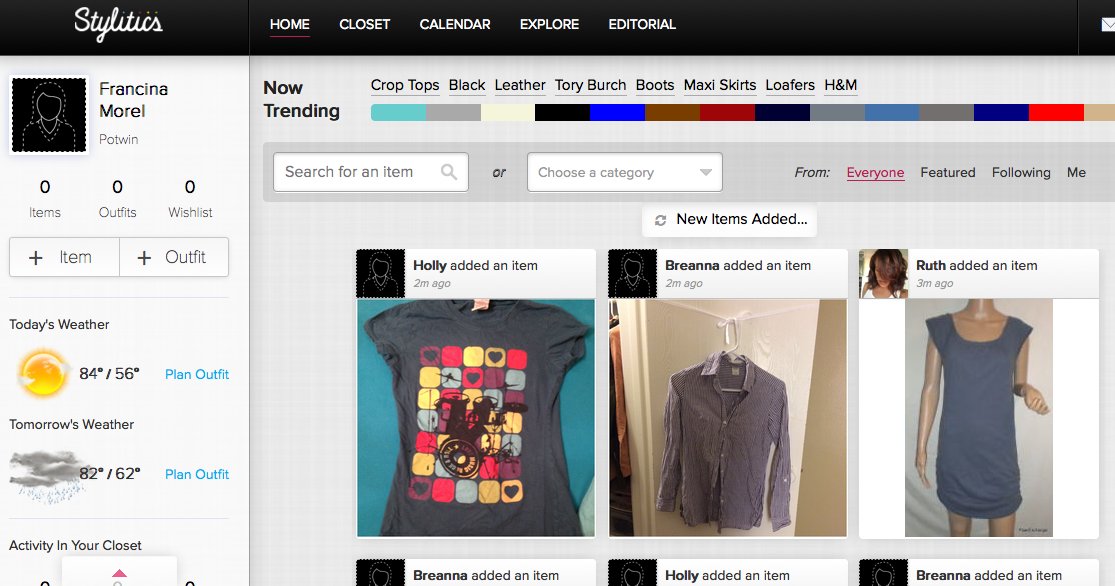 Stylitics is a great app for those of you who want to color coordinate your closet. The app allows you to categorize your clothes by color, brand, pattern and more. And if you're wondering whether you already wore an outfit, simply check your style calendar. On top of all those fun perks, you also get style, trend and weather alerts.
PROS: The app comes with a "Today In Fashion History" tip so you can brush up on your style knowledge.
CONS: You can't view your style profile using the app yet, so if you want to see who's following you or check out what your followers are up to, you'll need to log on to the site.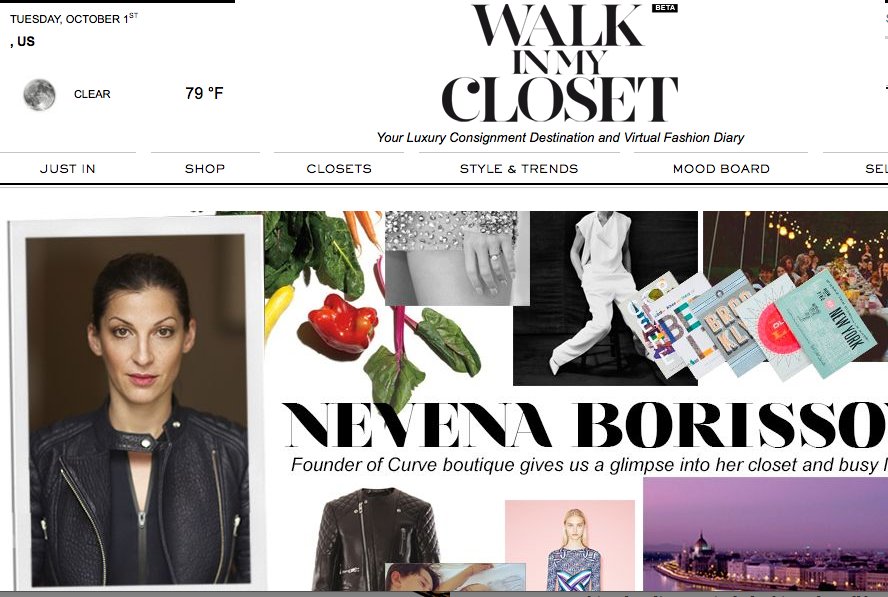 Walk In My Closet combines both shopping and organization. If you're browsing the Internet, looking for something to buy, you can instantly add the item to your virtual closet, so your wish list items are all in one place. Besides sharing your closet with other users, you can also sell items you no longer want.
PROS: The "Moodboard" is a great way to gather inspiring looks you like from other users and fashion experts.
CONS: The luggage feature, which allows you to prepare outfits for an upcoming trip, is only available on the site; it would be useful if it were on the app.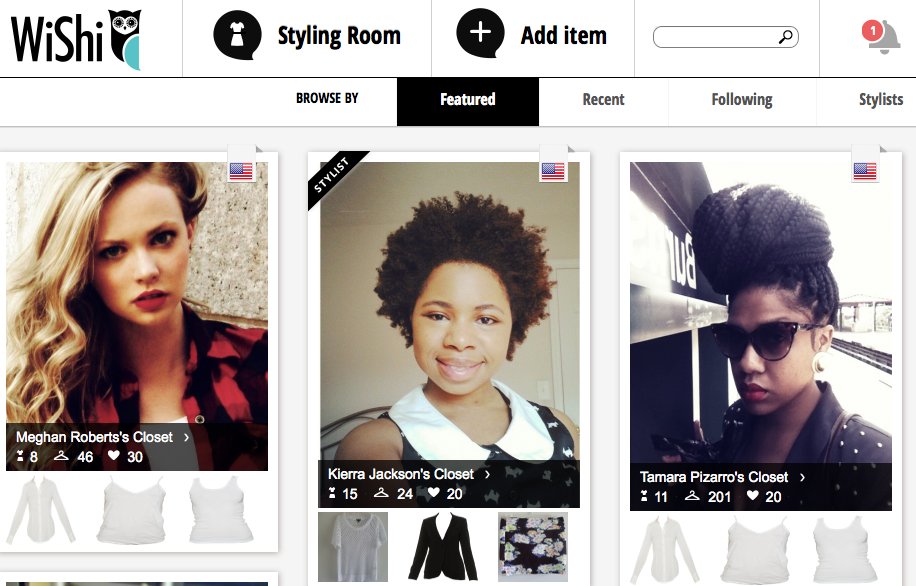 WiShi is a new start-up site that's all about bringing social media and fashion together. Users help style one another by using their virtual closets and putting together outfits, while the WiShi Cam app helps you upload the clothes from your closet quickly and easily.
PROS: The site allows for a very engaged user experience and makes it easy for anyone to become an instant stylist.
CONS: The WiShi Cam app can can be finicky to log into.
More fashion technology we love:
Fashion Apps You've Got To Download
A highly-rated wardrobe-organizing app, Stylebook allows you to upload photos of all of your clothing and edit out the backgrounds for easy collaging. With additional features that help users with packing for trips and tracking their outfit trends, the app is easily worth the $3.99 price tag. The comprehensive closet management tool was named the "Best wardrobe organizer ever" by the 2012 Wired App Guide.

Ever been out shopping alone and needed a second opinion? There's an app for that. This app allows you to upload something you're considering and get opinions from other Go Try It On users -whether it's your friends or strangers from across the globe - never leave a store second guessing your latest find. Time to say bye-bye to dressing room melt downs. Cost: Free

Navigating beauty aisles to find products that are safe, healthy and cruelty-free can add another level of difficulty to your beauty routine. Stay informed with minimal hassel using the free app GoodGuide, which allows you to scan barcodes to find product details and rating for health, sustainability, social responsibility and more.

If you're looking for a quick manicure, blowout or massage on the go, the free SpaFinder app will make your life a whole lot easier. Users can use their current location to track down nearby salons and spas, and immediately book appointments. Includes access to customer reviews, as well as special deals and promotions.

This free app by Clothes Minded just might be your new best friend. Use your phone to upload photos for your favorite outfits and various pieces in your wardrobe, and keep track of them via practical tags to create a master database of your entire wardrobe. If you're an aspiring fashion blogger, the app also allows you to share your ensembles across social platforms.

Not sure about your outfit? Get a second (and third, and fourth...) opinion using the free app Go Try It On, a mobile style social network. Post your look and get feedback from the network's community on how it really looks before you purchase (or just before you leave the house).

Are you always carrying around crumpled-up hair inspiration photos torn out of magazines for your next trip to the salon? Try upgrading to Bangstyle, a free app that allows users to browse images and save favorites on a profile, upload hair photos, and locate salons.

Does dressing for the weather stress you out? Let the Feather Report (fashion and weather -- get it?) app give you tailored outfit suggestions based on the current climate. Add outfits to your favorites to keep on file for the whole season. You can also input other qualifications (height, occasion, etc) to get the perfect outfit for your needs.

We've all had those days when you're running out the door in a rush, forced to apply lipstick and mascara in the subway using your camera on selfie mode as a mirror. Get a better reflection on your iPhone with the free Mirror app, which allows you to choose from different settings, including office and night to get a better sense of how your makeup will look in different lightings.

Mix and match pieces from your own wardrobe with Gap items with the retailer's popular app, Gap StyleMixer ($0.99). Once you find a new piece to complement your existing outfit, use the app to locate stores, find discounts, and purchase.

If a lack of inspiration is your fashion dilemma, the free Polyvore app has everything you need so you don't have to spend hours browsing through personal style blogs. Mix and match piece from the app's extensive catalogue to create your own shoppable outfits, and find styles that are currently trending.

D'orsay shoe, wing collar, boleros -- fashion terminology getting you confused? Then we have the perfect app for you. Fashion Terms explains basic fashion terminology, differentiating silhouettes, garments and fabrics. Although it is intended for the fashion novice, it is a fairly comprehensive guide for soon-to-be fashionistas. Cost: 0.99¢

There's nothing worse than missing out on a great deal. Luckily for us, Gilt Groupe has come up with the perfect solution. Access all their sales instantly, using their user-friendly app. The best part is the intense zoom feature that allows you to scrutinize an item before you hit purchase. Cost: Free

The fashion industry moves fast, but there is no reason you shouldn't be able to keep up. The Style.com app makes it a cinch for you to be in the know, allowing easy access to the latest party photos and runway images. Since this app is owned by Condé Nast you can rest assured that you'll be getting the most important and up-to-date information. Cost: Free

Trendabl is an app that tries to create a fashion-specific social network. Like Instagram and Facebook you can upload pictures of yourself, however with Trendabl you can tag what you're wearing based on label, price point and availability. You can also browse others' outfits (celebs included!), shop the look and comment to your hearts content. Cost: Free

ASOS.com has so much merch, it's hard to keep up. But have no fear, there's an app that will ensure you'll never miss that perfect item. The ASOS Magazine app lets you browse all the items for sale and view them in 360 degrees. That's what we call happy shopping. Cost: Free

Today everyone is a blogger, so how do you keep up on all the amazing street style snaps? Enter Chicfeed. This app gathers photos from all your favorite blogs and compiles them in one place, giving you more time to ogle the latest posts. Cost: Free

Similar to Chicfeed, the ShopStyle app brings together all your favorite stores and brands into one place. Say you're in the market for a new pair of jeans, ShopStyle will curate a list of different pairs you might be interested in from all over the Internet. And to make your life even easier this app lets you shop by price, color, brand and store --all from your cell screen. Cost: Free
Want more? Be sure to check out HuffPost Style on Twitter, Facebook, Tumblr, Pinterest and Instagram at @HuffPostStyle.