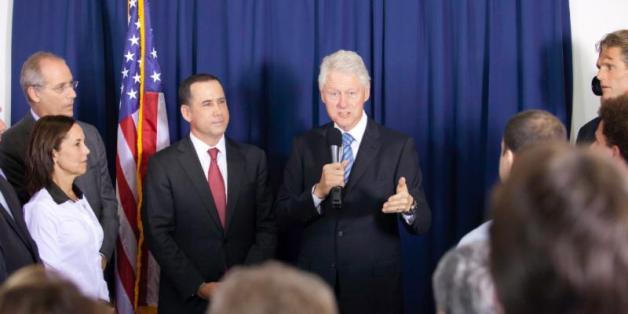 With a mayoral race complete with rapping candidates being trailed by MTV cameras, it's tough for the rest of the ticket to grab the media's attention.
Yet Philip Levine has found a way to turn heads away from eccentric long shot candidate Steve Berke in the race for Miami Beach Mayor.
Monday former President Bill Clinton spoke at a luncheon rally for Levine in an official endorsement.
"I would be for Philip if we weren't friends, because he puts a premium on cooperation across party lines," President Clinton said according to a release. "America is being damaged by conflict, and we need people who will show up for work everyday. Philip will show up to work and get things done."
A recent debate erupted into a shouting match of alleged racial slurs after Levine commented that if elected, he'd change the culture of "mañana" in Miami Beach politics.
Many of those present considered the comment offensive to the Latin community.
Although Berke's antics (from sky gondolas to parody videos) continue to grab attention, Levine's main competitor in the November 5 election is Michael Gongora.
Meanwhile Clinton made quite the stir when he walked Miami Beach's Lincoln Road, stopping to lunch at the Cafe at Books & Books:
Fmr. Pres. @billclinton lunches on #SouthBeach Lincoln Rd., greets fans on way to Books&Books Cafe @wsvn viewer pic pic.twitter.com/1EJKqrEr0K

— liz nagy (@liznagy) October 14, 2013
The former president then headed upstate to Orlando to talk shutdown politics at a convention of the National Community Pharmacists Association.
"I worry that our politics has gotten impractical," Clinton said. "That's about the nicest word I can think of."
ALSO ON HUFFPOST:
PHOTO GALLERIES
Celebs At Prime 112