Even though it wasn't her big day, a bridesmaid got a big surprise from an elephant at a wedding in Thailand.
The adorable (and undoubtedly surprising) moment went down at a wedding on the island of Phuket on Sunday, according to News.com.au. Outside the venue, a 3-year-old Indian elephant brought to the ceremony stood beside guests on the grass with a handler. One lucky bridesmaid apparently caught his attention, and the elephant reached his trunk around her neck and put his mouth around her head and torso.
"She wasn't injured. It just licked her face and breathed down her throat. She just got this horrible elephant breath in her lungs," said cinematographer Abraham Joffe, who captured footage of the event, per News.com.au. "Everyone was laughing. She was a bit shaken up."
In the video, onlookers can be seen taking photos of the hilarious moment in the background, while the woman cringes.
Joffe could not be immediately reached for further comment.
While some headlines say the elephant was trying to "eat" the bridesmaid, we think he might've just been trying to give her a kiss.
Elephants are important in Thai culture, but controversy still surrounds the use of these animals.
The Food and Agriculture Organization of the United Nations states that elephants are threatened in Thailand by human exploitation, which includes ivory poaching and logging.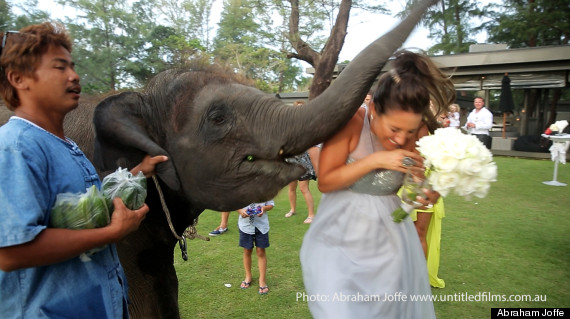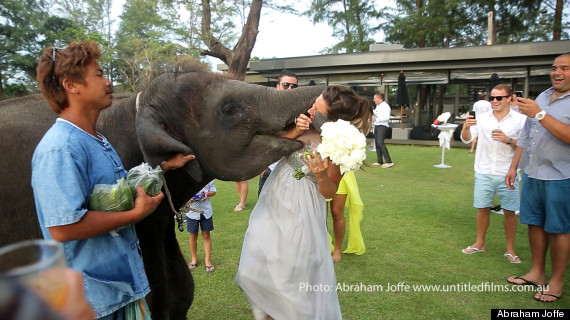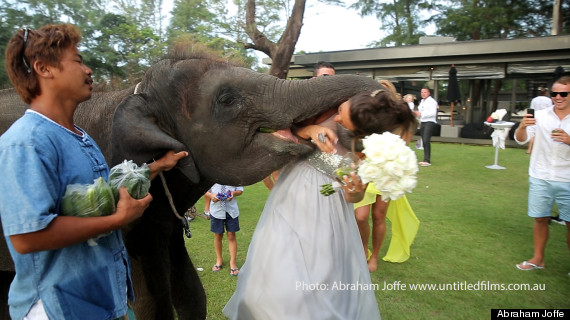 ALSO ON HUFFPOST:
PHOTO GALLERIES
Elephant Overload