 Pew Research confirms increasing economic anxiety and a record high anti-incumbent mood, but finds less change in perceptions of Republicans than other polls. Esquire/NBC finds a lot of Americans in the center. And tomorrow's Election Day in NJ, so for old times' sake: a poll shows Cory Booker with a big lead. This is HuffPollster for Tuesday, October 15, 2013.
PEW RESEARCH CONFIRMS GRIM MOOD - Pew Research: "Despite deep frustration with national conditions, the public's views of Washington political leaders have shown only modest changes since before the government shutdown began. Approval ratings for President Obama (43% approve), Democratic congressional leaders (31%) and GOP leaders (20%) all are at or near all-time lows, yet are not substantially more negative than they were in early September, a month before the shutdown started...Over this period, the percentage of Americans who say they are very concerned about the economic impact of the government shutdown has risen, from 48% to 57%...81% say they are dissatisfied with the way things are going in the United States, while just 14% are satisfied. The percentage saying they are satisfied with the state of the nation has fallen 13 points since July and is now at its lowest level since the financial crisis in late 2008.[Pew Research]
Anti-incumbent sentiment surges - Pew Research: The grim public mood is reflected in the record share of voters who want most members of Congress defeated in next year's midterm elections...the share saying they do not want their own representative reelected – 38% – is as high as it has been in two decades. At this stage in the 2010 and 2006 midterms, fewer wanted to see their own member of Congress defeated (29% in November 2009, 25% in September 2005)...An early read of voter preferences for the 2014 midterm shows that the Democrats have a six-point edge: 49% of registered voters say they would vote for or lean toward voting for the Democratic candidate in their district, while 43% support or lean toward the Republican candidate...[But] while Republicans take more blame for the shutdown than Democrats, there is little sign that the GOP has hurt its position relative to Democrats on a range of traits and issues. Overall, 42% view the Republican Party as better able to manage the federal government, while about as many (39%) say the Democratic Party is better described this way"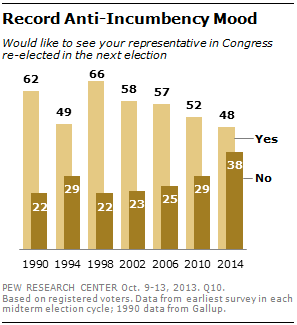 But finds less blame of Republicans than NBC/WSJ - Pew Research: "Republicans continue to get more blame than the Obama administration for Washington's fiscal policy stalemate [by a 46 to 37 percent margin], but the balance of opinion has not changed in the past week." Last week's much discussed NBC/WSJ poll found the public blaming Republicans for the shutdown rather than President Obama by a 22-point margin (53 to 31 percent).
HuffPost: "What's the story here? The slight differences in question wording and format play a role, to be sure, but the bigger problem may be that many Americans are hesitant to assign all responsibility for the shutdown to one side or another. As evidence, consider the Reuters/Ipsos poll, which found that nearly half the respondents (46 percent) opted for "all of the above" when it was offered as a choice. The apparent inconsistency among the surveys may be the result of pushing people to assign blame when many see plenty of blame to go around." HuffPost]
A NOTE OF CAUTION ON THE SHUTDOWN'S POLITICAL EFFECTS - Political scientist John Sides: "I'm not suggesting that this shutdown has been great for the GOP. It hasn't. They may even think it's been worse for them than I do! If that spurs them to make concessions so the government can reopen and we avoid possible default, I think that's a good outcome, policy-wise. But in the meantime, it seems to me that the prevailing commentary has been too quick to suggest that the GOP will suffer major consequences in the eyes of voters — now, in 2014, and beyond." [WaPost's Monkey Cage]
NEW NJ POLL FINDS BOOKER HOLDING STEADY - "One day before the special election for New Jersey's U.S. Senate seat, Newark Mayor Cory Booker, the Democrat, leads former Bogota Mayor Steve Lonegan, the Republican, 54 - 40 percent among likely voters, according to a Quinnipiac University poll completed last night and released today. This is virtually unchanged from a 53 - 41 percent Booker lead in an October 9 survey." [Quinnipiac]
ESQUIRE/NBC - Tony Dokoupil: "It's the most conventional wisdom in Washington, the unchallenged idea that America is a divided nation, a country ripped into red and blue factions in perpetual conflict. The government shutdown this fall would seem like only the latest evidence of this political civil war. But is the idea of two Americas even true? Not according to a new Esquire-NBC News survey. At the center of national sentiment there's no longer a chasm but a common ground where a diverse and growing majority - 51 percent - is bound by a surprising set of shared ideas." [NBC writeup, interactive results, crosstabs]
What exactly is the center? - Philip Bump: "All of the graphs and data and reporting swirls around this idea that just over half of America is part of this beautiful purple mountain's majesty. But why these four slices of the eight-slice pie are in the center is far from clear. For example, how would you describe a person that supports gay marriage, a carbon tax, choice, raising taxes on the wealthy, and gun control and who is part of a group that voted two-to-one for President Obama in 2012? The correct answer, according to a rational person, is 'a Democrat.' According to Esquire and NBC, this person, a 'minivan moderate,' is in the center. Why? Who knows! More than a third of the Esquire-defined 'center' self-identifies as Democrats and a fifth as liberals — but the pollsters decided they weren't really Democrats or liberals. The rationale for this is never articulated." [The Atlantic]
Is the poll taking on a strawman? Alex Pareene: "No one was claiming that America was strictly divided between dedicated arch-leftists and reactionary right-wingers. That's only a thing dumb pundits ever said and not even very many of them said this, because most of them have spent years running around talking about the importance and size of 'the center.' And when you look at the actual poll results, it's clear that this 'new American center' is mostly soft-liberal Democrats, some of whom refer to themselves as Independents, lumped together with some conservatives who don't share many of the same beliefs but who aren't as conservative as the far right." [Salon]
More Twitter reactions [compiled on Storify]:
-Marist Institute analyst Natalie Jackson: "The awesome NBC News infographic on American Center survey--seriously one of the best presentations I've ever seen. "
-Washington Post columnist EJ Dionne: "(1) I'm skeptical about the new "center" in NBC poll; 4 groups with diverse views don't count as a coherent center...(2) It's true that many Americans hold views that don't map precisely on accepted liberal/conservative spectrum. But...(3) ... they don't agree with each other. @PewResearch has also found multiple groups in electorate, but they lean left or right, GOP or Dem."
-Political scientist Brendan Nyhan: "Survey typologies may seem useful, but they're often problematic as social science - beware...More specifically, claiming to say what "the center" thinks based on some arbitrary classification scheme is dicey...Per Esquire/NBC survey, it is true that voters are less polarized than Congress - better study [link]...But contrary to Esquire/NBC, feelings about parties/candidates highly polarized, esp. among pol. active/knowledgeable [link]."
-Pollster Logan Dobson (R): "Looking at the 'Segment Summary' (the first page) of NBC/Esquire 'Center' survey, I spot one rather glaring problem...NBC/Esquire divide people into 8 "groups" and they call the middle 4 groups "The Center"...Except that there are 28% of people who are in the groups to the RIGHT of the Center, and just 21% in groups to the LEFT of the center...Which is to say that their Center is not, well, centered...So The Center, per NBC/Esquire's grouping, is ~7% left of where the actual, uh, center is."
-Journalism professor Jay Rosen: "'Everything we are told about politics in America today... is wrong.' It actually says that."
-Pollster Kristen Soltis Andersen (R): "Too bad there wasn't a group in NBC/Esquire poll for 'Tebow monarchists.'"
UNDECIDED VOTERS AREN'T CREATED EQUAL - Pollster Jill Normington (D): "Assuming the same outcome for all undecided voters in every poll is superficial and frankly lazy. Why lazy? Each poll knows things about the undecided voters in it. All you have to do is ask. Who are they voting for up or down ballot? With which party do they affiliate? What kind of opinions do they hold of the candidates in question? Most of these are knowable and yet ignored by those who write about and aggregate polls." [HuffPost]
HUFFPOLLSTER VIA EMAIL! - You can receive this daily update every weekday via email! Just enter your email address in the box on the upper right corner of this page, and click "sign up." That's all there is to it (and you can unsubscribe anytime).
TUESDAY'S 'OUTLIERS' - Links to more news at the intersection of polling, politics and political data:
-Chris Christie has a commanding lead over Barbara Buono. [Monmouth]
-Harry Enten says low turnout won't help Lonegan beat Booker in New Jersey. []
-Patrick Murray compiles turnout benchmarks for the New Jersey election. [Politicker NJ]
-Jennifer Agiesta examines apparent conflicts on whether raising the debt ceiling will lead to economic crisis. [AP]
-Nate Cohn says Republicans have no path to victory without the Tea Party. [New Republic]
-An startup backed by Google Ventures plans to create real-time, daily inflation data "using hundreds of people snapping photos of store shelves and produce carts around the world." [WSJ]
-Haaretz rounds up opinions and analyses of the Pew Research study on American Jews. [Haaretz]
-Millward Brown sends its online panelists to healthcare.gov, find few that enrolled. [Millward Brown]
-50 years later, JFK remains the most popular ex-president. [Politico]
-The Washington Post maps generic ballot polls against the threshold Democrats need to retake Congress. [WaPost]
-A Christopher Newport University poll finds Terry McAuliffe leading in Virginia, but with no candidate above 50 percent. [CNU]
-SSI finds one in five survey respondents are doing "something else" at the same time they take surveys. [Survey Magazine via @JoshdelaRosa1]
-A nonprofit dedicated to trees maps out where to find DC's prettiest fall colors. [Casey Trees]
-The French word for pollster is "le sondeur." [@PollsterPatrick]