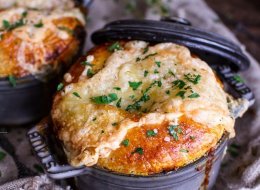 Tremendous news: you can turn anything into a pot pie. We know, we know, chicken pot pie is such a great recipe -- we couldn't agree more. Steak and mushroom pie is so homey and traditional -- that is so right. But there is a whole world of things just waiting to be turned into a stew and topped with a flaky pastry crust.
Pot pie recipes are a great way to use up leftovers -- be they Thanksgiving turkey or a thick soup. They are also kind of like presents, wrapped up in pastry waiting to make you happy. Here are a few of our favorite ways to mix it up for pot pie season, plus all the classics because you're going to need those, too.
Lobster Bisque Pot Pies

How Sweet It Is

Cast-Iron Skillet Chicken Pot Pie

Bev Cooks

Jalapeño Popper Chicken Chili And Cheddar Polenta Pot Pies

Half Baked Harvest

Mushroom, Stout And Goat Cheese Pot Pie

The Beeroness

Butternut Squash And Beefy Mushroom Pot Pies

Half Baked Harvest

Three Bean Chili Pot Pies

How Sweet It Is

Chicken Pot Pie Soup

How Sweet It Is

Coconut Curry Chicken Pot Pie

Completely Delicious

Mushroom And Lentil Pot Pie

The Red Spoon

Beef And Barley Pot Pie

I Will Not Eat Oysters

Butternut Squash, Mushroom And Chicken Pot Pie With Biscuit Topping

Bitchin' Camero

Tamale Pie With Cornbread Topping

Brown Eyed Baker

Chicken Guinness Pot Pie

Heather Christo Cooks

Cornbread Chicken Pot Pie

Full Bellies, Happy Kids

Winter Vegetable Pot Pies

Eat Live Run

Beef Pot Pie

One Lovely Life

Turkey Pot Pie For Another Day

James Ransom/Food52

Potato, Spinach And Sweetcorn Chowder Pie

Veg Hot Pot

Beef, Beer And Blue Cheese Pot Pies

Edible in Ireland

Cajun Turkey Pot Pie

Simply Recipes

Steak And Mushroom Pot Pies

Simply Delicious

Vegetarian Pot Pies With Feta Scallion Biscuits

Annie's Eats

Portuguese Sausage And Clam Pie

thirschfeld/Food52

Individual Tofu And Vegetable Pot Pies

Not a Leaf

Biscuit-Topped Chicken Pot Pie

On Just A Couple Acres

Celebration Pot Pie With Pumpkin Biscuit Crust

Fat Free Vegan

Steak and Guinness Pie

The Cutting Edge of Ordinary

Lamb Pot Pies With Peas And Mint

Souvlaki for the Soul

Butter Bean Chili Pot Pie

Carrol Luna



Want to read more from HuffPost Taste? Follow us on Twitter, Facebook, Pinterest and Tumblr.