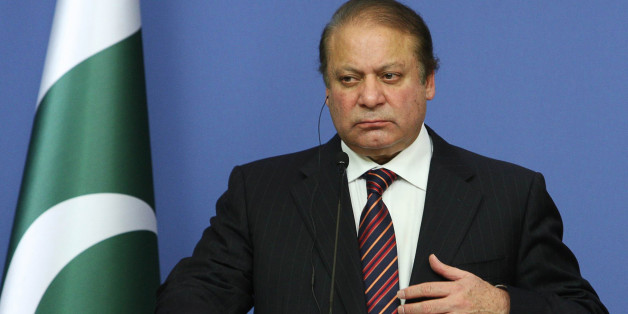 WASHINGTON -- Pakistani Prime Minister Nawaz Sharif plans to put Afghanistan at the top of the agenda when he meets with President Barack Obama in Washington, D.C., on Oct. 23.
Specifically, Sharif wants to discuss Pakistan's reservations about the state of its war-torn neighborhood after NATO troops withdraw, as well as the expected security pact between the United States and Afghanistan.
Many top officials in Pakistan worry that such a security agreement would allow Afghanistan to seek U.S. help for military action inside Pakistani territory. Likewise, there are concerns about how security problems in a post-withdrawal Afghanistan could spill over into Pakistan, which shares a border of some 1,600 miles.
Obama is expected to seek cooperation from Pakistan on the withdrawal of troops and military equipment from land-locked Afghanistan, and Islamabad plans to seek a greater role in Afghanistan, as well as compensation for withdrawal-related damages to roads, which are already in a dilapidated condition.
Additionally, according to Pakistani media reports, Sharif intends to take up the issue of Afghan intelligence officials' alleged support for banned terrorist outfits operating inside Pakistan and carrying out attacks in the country, and to urge the United States to sign a civil nuclear pact with Pakistan, to end drone strikes and to establish greater cooperation in the energy and trade sectors.
Pakistani newspaper Nawa-e-Waqt reports that Sharif will likely discuss new military appointments -- the head of the Pakistani Army and the chairman of the Joint Chiefs of Staff Committee -- which are expected to be announced next month.
The current army chief, Gen. Ashfaq Parvez Kayani, who is set to retire on Nov. 29, is said to enjoy close relations with the United States and has played a key role in anti-terrorism operations inside Pakistan. The slot of chairman of the Joint Chiefs of Staff Committee has been vacant since Oct. 8 when Gen. Khalid Shameem Wynne retired. For the moment, Kayani has taken on the latter job's additional responsibilities.
Officials with the Pakistani government were not available for comment due to the Muslim holy feast of Eid al-Adha.
James Dobbins, the U.S. special envoy for Pakistan and Afghanistan, met with senior officials in Pakistan on Monday to finalize details for the meeting between Sharif and Obama.
White House press secretary Jay Carney said in a statement last month that Sharif's visit will "highlight the importance and resilience of the U.S.-Pakistan relationship and provide an opportunity for us to strengthen cooperation on issues of mutual concern, such as energy, trade and economic development, regional stability, and countering violent extremism."