The grass is always greener, they say, and nowhere is that truer than in the world of hair debates. Curly hair girls always lust after straighter, flatter, more manageable locks (hence the booming industry around hair relaxers, chemical straighteners and a zillion different kinds of flat irons).
But all those straight hair girls inspiring envy don't have it so easy. Herewith, a rant list of 12 universal truths only women with straight hair will understand.
Flyaway hairs ruin every picture.
Winter is the worst season for one simple reason: static.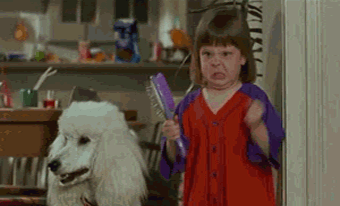 Updos simply refuse to do their one job, which is to stay up.
Ditto braids, which refuse to stay braided.
Curling irons require gallons and gallons of hair spray.
Photos taken from side angles are the worst, because they'll show your ears poking through your hair.
Your worst nightmare: going away for the weekend and forgetting to bring a brush.
All those suggestions to skip a few days between shampooing? Yeah, not going to happen.
You can go approximately 6 hours without it getting oily.
Suggestions to "just use mousse and scrunching gel" are idiocy -- those only work when there is something to scrunch.
Beachy waves? Yeah, more like beachy tangle.
This is the most aggravating sentence in the English language: "OMG, I hate you -- I wish I had your hair!"
Then there are some hair truths all women can agree on:

Loading Slideshow
Mistake #1: You Have An All-One-Length Cut

Without layers, your hair won't have that magical, youthful quality that stylists call "movement." Long layers remove weight from the bottom half of your hair so your style can swing and bounce. And while blunt edges accentuate lines in your face, layers have a softening effect. Consider side-swept bangs if you want to make your face look a bit rounder and your cheekbones stronger, says <a href="http://evascrivo.com/salon/">New York City hairstylist Eva Scrivo</a>, author of <i><a href="http://www.amazon.com/Eva-Scrivo-Beauty-Techniques-Knowledge/dp/1439164711">Eva Scrivo on Beauty: The Tools, Techniques, and Insider Knowledge Every Woman Needs to Be Her Most Beautiful, Confident Self</a>.</i>

Mistake #2: You Have Shelves Full Of Styling Products

If you're using more than one styling product in an effort to make your hair look fuller, your plan may be backfiring. "Mousse and gel and hairspray can give the hair lift for a few hours, but they also make it look stiff and sap its shine -- a very aging combination," says Scrivo. If you have a well-layered haircut that's not too heavy at the bottom, you won't need to load up on styling products to achieve volume. One dollop of lightweight mousse will do the trick; once hair is dry, use a drop of silicone serum to add shine.

Mistake #3: You're Very Blond

Your skin loses color with age, and over-bleached hair compounds that natural washout by draining the warmest tones from your complexion. Instead of going all-over blond, try a darker base color with golden strands woven throughout, says <a href="http://www.lisachiccine.com/">New York City hairstylist Lisa Chiccine</a>. When you talk to your stylist about highlights, ask for warm colors like butter and honey; avoid cool, ashy tones like platinum and beige, which can make skin look tired and sallow.

Mistake #4: You Have Dry, Frayed Ends

As you get older, your hair loses not only pigment but also its ability to retain moisture. Keeping it smooth and glossy -- hallmarks of youth -- requires a little more effort. Do a deep conditioning treatment at least once a week, don't shampoo more than every other day, and get frequent trims to avoid split ends.

Mistake #5: You Have A Deep, Dark Hair Color

Solid black or brown hair can highlight shadows on the face, drawing attention to lines and bags. If you're fair-skinned, a dark hair color also accentuates the contrast between your hair and scalp, which makes thinning more noticeable. A few highlights around the face and at the crown of the head add softness and make a dark hair color appear more natural. "You don't want to look like you're wearing a wig," says Chiccine. Her rule of thumb: Don't dye your hair as dark as it was in your teens and 20s; a shade or two lighter will be more flattering in your 30s and beyond.

Mistake #6: Your Hair Is Super-Straight

A lank hairstyle makes your face look long and drawn. (Plus, if you have naturally wavy or curly hair, the hot tools required to achieve straightness leave your hair dry and dull.) If you have naturally fine, straight hair, ask your stylist for long layers and comb a lightweight mousse through damp hair from roots to ends before airdrying or blowdrying (avoid heavy styling creams or serums). If you blowdry, use a round brush to create soft curls at the ends of the hair; setting dry hair with Velcro rollers will also create softness and add volume to offset any drooping in the lower face.
Want more? Be sure to check out HuffPost Style on Twitter, Facebook, Tumblr, Pinterest and Instagram at @HuffPostStyle.