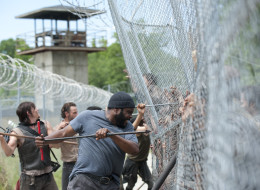 On "The Walking Dead," we knew the prison gang was facing a threat from within. We had no idea how many threats.
Rick Grimes and Co. now have three huge problems. One: Someone was feeding rats to the walkers on the fence causing them to crush in. Two: A new deadly flu strain threatened to wipe out everyone or, at the very least, keep creating walkers inside the prison. And Three: Someone torched the bodies of people they think have the flu.
So many questions, and as TV.com points out, very few answers.
"Is the King of the Rats also the same person who took a couple bodies and torched them outside? Were these bodies dead when they were set ablaze? Or is someone attacking the problem before it can be a bigger problem?"
Still, TV Fanatic considers this episode significantly better than the season premiere.
"This was an episode full of turning moments, setting up another threat, giving the characters some time to grow and develop."
"The Walking Dead" airs Sunday nights at 9 p.m. ET on AMC.

Carl Grimes (Chandler Riggs)

Carl Grimes (Chandler Riggs)

Merle Dixon (Michael Rooker)

Governor (David Morrissey)

Daryl Dixon (Norman Reedus)

Governor (David Morrissey)

Rick Grimes (Andrew Lincoln)

Michonne (Danai Gurira)

Andrea (Laurie Holden)

Michonne (Danai Gurira)

Lori Grimes (Sarah Wayne Callies)

Maggie Greene (Lauren Cohan)

Glenn (Steven Yeun)

Carol (Melissa Suzanne McBride)

Beth Greene (Emily Kinney)

T-Dog (Robert 'IronE' Singleton)

Hershel Greene (Scott Wilson)
TV Replay scours the vast television landscape to find the most interesting, amusing, and, on a good day, amazing moments, and delivers them right to your browser.