Sometimes it takes a photograph to remind people of the countless acts of heroism that happen every day all around the world.
In this latest case, Newcastle Herald photographer Phil Hearne captured a group of exhausted Australian firefighters attempting to nap by the side of the road after helping fight one of dozens of bush blazes threatening homes and livelihoods throughout the state of New South Wales.
(Story continues below.)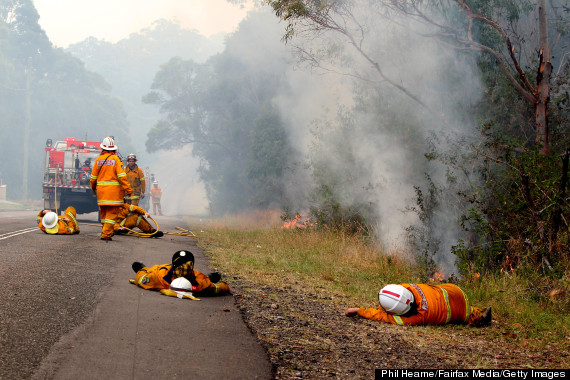 Exhausted firefighters take a rest while fire burns close by, on Crangan Bay Road, on Oct. 18, 2013, in Nords Wharf, Australia. (Phil Hearne/Fairfax Media/Getty Images)
The firefighters pictured were working to contain a dangerous fire in the southeastern coastal region of Nords Wharf and Catherine Hill Bay, reports The Sydney Morning Herald. The photo was viewed by millions of people on Facebook over the weekend, prompting thousands of comments.
Local newspaper The Northern Daily Leader was inspired by the viral snapshot to create its own interactive page, where readers could go and post messages of thanks.
"Firefighters from across Australia are joining fire crews working to battle the New South Wales bushfires," the page reads. "They're our fathers, mothers, sons and daughters, lending a hand to help our communities in their time of need. Send your messages of support."
But the men and women sprawled along the roadside in the photo said they weren't asking for recognition -- and they certainly don't see themselves as heroes.
Matthew Jones-Power, a 24-year-old member of the Wallarah Rural Fire Service pictured in the image, told the Morning Herald that Hearne's photo memorialized the first break many on the brigade had received in close to 24 hours.
Authorities have meanwhile declared a state of emergency in populous New South Wales, and high temperatures coupled with low humidity and strong winds have made containment of the fires extremely difficult, according to CNN.
The strength of the blazes was captured in terrifying detail last week on the portable Go-Pro camera of firefighter Jonathan Mallin. However, the efforts of firemen like Mallin and Jones-Power are also on display in photos such as this one, taken on the outskirts of Sydney on Oct. 18:
an example of how fire fighters efforts helped to save homes near Raymond Terrace pic.twitter.com/E3EpWdryRw

— Barry O'Farrell (@barryofarrell) October 19, 2013
ALSO ON HUFFPOST:
PHOTO GALLERIES
Wildfires Rage Across Australia