UnderTheButton, a student-run blog at the University of Pennsylvania, got a hold of some emails from underground fraternities at the Ivy League school this week.
We've learned two things from the emails: these guys buy a lot of vodka and are worried about which underground frat that girls like the most. Thanks, UTB!

First, a little primer on these fraternities: they are actually not recognized by the university. The university has a giant, bold warning on the Penn Greek life website telling students to "Beware the Renegades":

A number of organizations exist at Penn that claim to be fraternities or sororities. The may think of themselves in that way, but they are not legitimate general social fraternities or sororities recognized or sanctioned by the University of Pennsylvania. Many of them rose out of the remnants of chapters that were closed down for serious disciplinary action, and the dangerous culture that existed then continues to be perpetuated.
Houses like OZ, Theos, Owls and Apes are some of these "nuisance houses," as the university refers to them. And just because they are underground doesn't mean they don't still have rush and house rivalries, as the emails UnderTheButton captured from the Theos listserv show.
Pledges to Theos were apparently instructed to call one brother's girlfriend, mother and father:


UnderTheButton also got some emails from Oz, another underground house, which show these guys apparently spend a lot on vodka: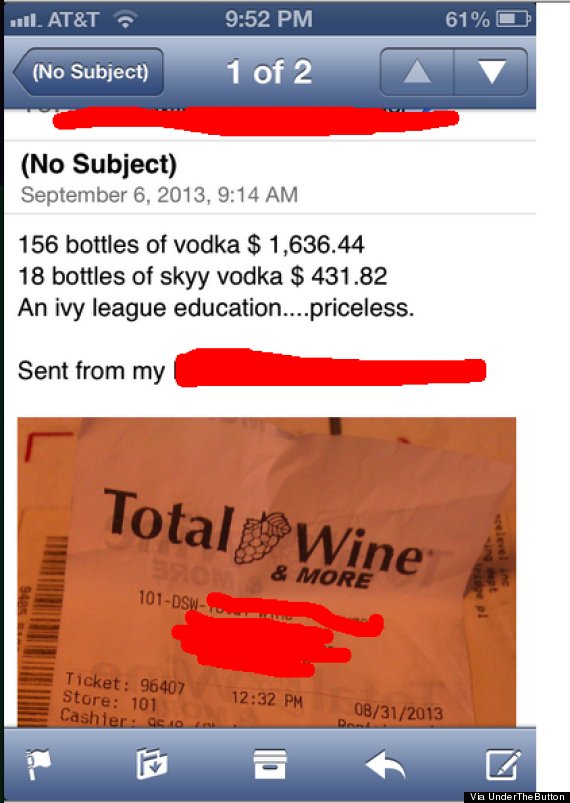 You can read all of the emails over at UTB's website.
Again, since these are underground fraternities, the emails probably won't lead to any punishment. Not to mention, the emails are mostly void of any big, scandalous behavior, much like the recent leak of the listserv from Beta Alpha Omega, an actual fraternity at Dartmouth College that was punished for what members discussed in those emails. The lesson here is fraternities probably shouldn't make their listservs public.
Earlier on HuffPost:
Loading Slideshow
That Time Pi Kappa Alpha At Florida International University Was Dumb Enough To Sell Drugs On Facebook

Florida International University's Pi Kappa Alpha fraternity <a href="http://www.huffingtonpost.com/2013/08/21/fiu-frat-suspended_n_3792534.html" target="_hplink">was suspended and an investigation was launched </a>after screen shots of members posting about hazing, semi nude photos and about selling and using illicit drugs, came to light in August 2013.

'Bloods & Crips' Party

Alpha Delta fraternity and Delta Delta Delta sorority at Dartmouth College co-hosted <a href="http://www.huffingtonpost.com/2013/08/14/dartmouth-bloods-and-crips-party-fraternity_n_3755959.html" target="_hplink">a "Bloods & Crips" party in July</a>. The Greeks said it was meant to be a costume party and not intended to be offensive, but apologized anyway. The college initiated a review of the event after students and alumni complained the theme was racially insensitive.

The Butt-Chugging Epidemic

After a University of Tennessee student was brought to the hospital with a blood alcohol level of 0.448 percent, police wanted to know how anyone could get that intoxicated. Police determined he used an alcohol enema, consuming wine through <a href="http://www.huffingtonpost.com/2012/09/29/butt-chugging-students-ex_n_1925386.html" target="_hplink">a tube inserted in his rectum</a>. The student denied he ever "butt-chugged," as did the Pi Kappa Alpha fraternity where he allegedly used the alcohol enema, but they wouldn't explain how he got <a href="http://www.knoxnews.com/news/2012/sep/28/ut-student-denies-butt-chugging-wont-explain-injur/" target="_hplink">the injuries to his rectum</a>. The frat even brought out their <a href="http://www.huffingtonpost.com/2012/10/03/butt-chugging-alcohol-enema-alexander-broughton-university-of-tennessee-pi-kappa-alpha_n_1935385.html" target="_hplink">lawyer to hold a press conference denying the "butt-chugging" allegations</a>. But still, the university<a href="http://www.wptv.com/dpp/news/world/butt-chugging-alcohol-enema-ut-student-denies-claims-but-cops-say-evidence-tells-other-story" target="_hplink"> suspended the fraternity</a>.

Turkey Torture

<a href="http://www.huffingtonpost.com/2012/12/19/ku-turkey-abuse_n_2324971.html" target="_hplink">Members of Beta Theta Pi</a> at the <a href="http://www.kansascity.com/2012/12/17/3970469/ku-fraternity-investigated-for.html" target="_hplink">University of Kansas allegedly kicked</a> a turkey's cage, then tossed the bird around like a football, choked it, before eventually someone killed it out of pity.

Self-Punishment For Blackface

The University of California-Irvine's <a href="http://www.huffingtonpost.com/2013/04/26/uc-irvine-blackface-video-fraternity_n_3162657.html" target="_hplink">Lambda Theta Delta</a>, the self-described first and largest Asian American fraternity at the school, punished itself for a video showing brothers in blackface. Four brothers were shown in a video for an annual event called "Installs" dancing to the song "Suit & Tie" by Justin Timberlake featuring Jay-Z. One of them dressed in blackface to portray Jay-Z, which was criticized by the UC Irvine Asian Pacific Student Association as "deeply offensive" and "racist." The frat suspended itself for a year after receiving criticism.

Survey Asks Who Would You Rape?

Sigma Phi Epsilon was suspended by the <a href="http://www.huffingtonpost.com/2011/12/14/university-of-vermont-fra_n_1148585.html" target="_hplink">University of Vermont in Dec. 2012 amid allegations they </a> circulated a survey <a href="http://www.dailymail.co.uk/news/article-2074087/University-Vermont-fraternity-Sigma-Phi-Epsilon-suspended-offensive-rape-survey.html" target="_hplink">asking members</a> "If you <a href="http://www.thepetitionsite.com/1/end-rape-culture-now---shut-down-sigma-phi-epsilon-vermont-gamma/" target="_hplink">could rape someone</a>, who would it be?"

Blackface At A Party

Two members of the <a href="http://www.huffingtonpost.com/2012/10/29/university-of-florida-blackface-beta-theta-pi_n_2038326.html" target="_hplink">Beta Theta Pi fraternity at the University of Florida</a> evoked outrage on campus for dressing in blackface at a party. The photo was posted on the NAACP-UF chapter's Facebook page with the caption "the fact that this is seen as acceptable is where the problem lies."

When A Bunch Of College Students Trashed A Mini-Mart And Had Sex At It

The University of Dayton suspended <a href="http://www.abc22now.com/shared/news/top-stories/stories/wkef_vid_11031.shtml" target="_hplink">the Sigma Chi fraternity for two years</a> following an eventful evening at a gas station: Around 80 students in two buses from the <a href="http://www.madison-press.com/2012/11/%E2%80%98partiers%E2%80%99-trash-mini-mart/" target="_hplink">stopped at the Choctaw Lake mini-mart on</a> Saturday, Nov. 17, 2012, and started causing trouble. An employee of the store told police the students were fighting in the store, trashing the place, flashing their genitals, and some were allegedly having sex in a dumpster. Many appeared to be intoxicated.