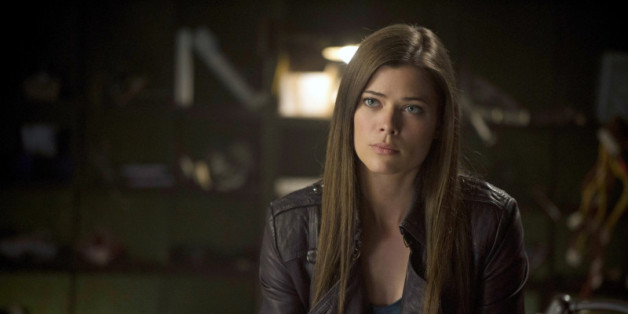 Tonight's episode of The CW's "Tomorrow People" (Wednesdays at 9 p.m. ET) will finally start to shed some light on the enigmatic members of the titular group, starting with Peyton List's Cara.
While we know that the guarded ass-kicker is romantically involved with the team's leader John (Luke Mitchell) and was responsible for bringing newcomer Stephen (Robbie Amell) into the fold, that's pretty much all we know about her. That's about to change with "Girl, Interrupted," a gripping and surprisingly emotional hour that will explain why Cara is so wary of getting involved with humans.
HuffPost TV caught up with List to discuss Cara's meaty backstory and what's ahead in terms of her chemistry with Stephen -- read on for more.
What can you preview about this week's episode?
This is the first time we start our storytelling flashing back, going into the pasts of the people in the subway that we've met. We're going to do that quite a bit this season with different characters, but we start with Cara's character. We won't really necessarily stick to any specific time frame, we sort of jump around within it. It was a really fun episode for us to shoot because we didn't know anything about it until we got the script.
It's an intense look into Cara's backstory -- what was your first reaction when you read about her past?
I think my jaw was on the floor. I actually needed some time to process it after I read it -- I was on a plane and I just sat in my seat for a while in silence. I knew that it was going to be, in terms of production, a very big episode. We're going backwards in time, so you're aging down. Also, my situation as a person, I knew I would have to be in coaching. I was just very, very excited and kind of terrified at the same time. It moved so quickly. I was mostly just excited by that.
Cara's pretty adamant that the Tomorrow People shouldn't use their powers to interfere in the lives of humans, and we discover that she actually hates humans in a lot of ways. Is it as black and white as thinking that none of them deserve to be saved, for her?
I think because of her circumstances, she's in a very dark place in this episode. Her past tends to haunt her around a specific time of year. You can definitely see that she's capable of having a dark side. In a lot of her decisions, I think out of necessity, she goes to black and white, because they don't know a lot of answers to things. To commit to a decision, they have to make things black and white for themselves. We see throughout the episode that [something] reminds her about humanity and reminds her about things not being so black and white. I think all of us struggle to make sense of things. What is an emotional decision and what's a rational decision? I think she's struggling through a lot of that in this episode.
At one point in the episode, Cara gets overwhelmed and her powers momentarily stop working -- are those problems limited to this time of year when she's stressed, or is it going to keep happening to her
We're basically establishing that these "episodes" that happen when you get overwhelmed are just when you are not in control of yourself, maybe your mind is elsewhere. It easily happens this time of year for her because her mind is scattered. But it is something that we open up as being able to happen to any of them if they let go of their control. We establish that with the breakouts as well. When people are just getting their powers, they're not in control and these specific things happen to them. They make things move that they don't want to move. They teleport somewhere when they don't want to teleport. There is this part of the mythology that you do have to have some sense of control over them in order for them not to spin out of control.
Stephen obviously has a bit of a crush on Cara -- will we see that start to come to the forefront in upcoming episodes?
We will see it. We see it grow relatively quickly. [But] the force behind the show is the action and the high-stakes world -- there isn't a whole lot of time where you can let your guard down and deal with things like romance, when all these things are potentially crashing down around you. We do have romantic relationships but ... we push it to the side when we have to deal with the task at hand. I think that's sort of true to life as well.
Next week's episode deals with John's (Luke Mitchell) backstory. What can you tease about that plot?
It is pretty epic. It's probably one of the most action-packed episodes we've had, including the pilot. There's a lot of story, a lot of big twists and a lot of action. We have incredible guest stars. It's, for sure, one you don't want to miss.
"The Tomorrow People" airs Wednesdays at 9 p.m. ET on The CW.
Are you looking forward to Cara's backstory? Why do you think she's so mistrustful of humans?
PHOTO GALLERIES
The CW's New Shows 2013-2014