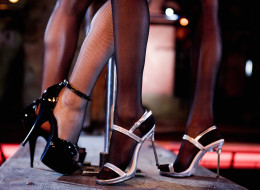 A northwest Indiana teacher must have forgot the parent permission slips when he allegedly took several of his high school students to a strip club.
Travis Lechien was fired Tuesday night from his teaching job at Hanover Central High School in the town of Cedar Lake, an hour southeast of Chicago, after charges were filed in the matter.
According to the Associated Press, the 31-year-old science teacher is accused of taking several students -- some 18 years old, others younger -- to a strip club in nearby Hammond, Ind. to celebrate a student's birthday as well as giving students alcohol at his home.
Hanover Community School Corp. Superintendent Tom Taylor told the Northwest Indiana Times it was another teacher who first reported the activity and added, "There were rumors among the students."
Students often "hung out" at Lechien's house to drink and smoke flavored tobacco, according to a court affidavit. Lechien's defense attorney would not comment to NBC Chicago on the case but did say his client will plead not guilty.
The Times reports the 10-year teaching veteran had been suspended without pay since Sept. 10 (possibly prompting this tweet). Lechien was charged on Oct. 7 with three counts of contributing to the delinquency of a minor, all Class A misdemeanors that carry a jail term of up to one year.