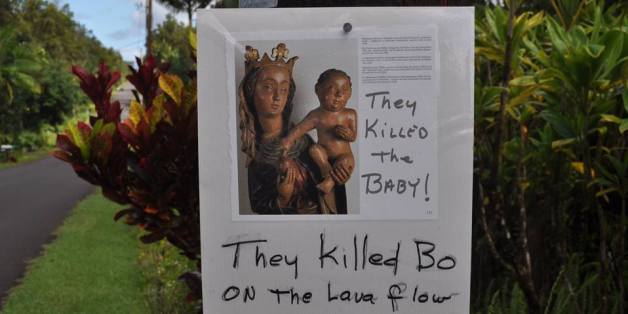 A mysterious Hawaii murder case is turning into something out of a gruesome crime fiction novel, complete with a plot twist featuring an anonymous letter.
On May 28, 25-year-old Brittany Royal's strangled body was discovered by fishermen off the Kalapana shores of Hawaii's Big Island. She was newly pregnant. Her boyfriend, Boaz "Bo" Johnson, was named as the primary suspect in her murder and has been missing ever since.
Recently, however, a local news site received an anonymous letter, claiming that Bo Johnson was also murdered and that racial tensions fueled the motive.
The chilling note lists specifics about the alleged murder. "Bo made 4 mistakes," the anonymous writer explains, detailing Bo's intentions to buy land at Kalapana and conduct lava tours without paying locals a cut of $1,000 a week.
"Haole had to be killed befor (sic) he buy land... said this message 2 haole, stay out of Puna -- Puna is for the pono," the note said. (In Hawaii, "haole" is a term most commonly used for caucasians and "pono" is a Hawaiian word for righteousness.)
According to KITV, Bo was supposed to meet with a realtor before his disappearance. He was going to sign a deal to purchase 10 acres of land on the Kalapana lava fields, but he never showed up.
Weeks before Royal's murder, the couple had traveled to meet Bo's family in Alaska and Brittany's family in California with big news: Brittany was pregnant and they were planning to buy land and start an organic farm. Brittany would be a yoga instructor and Bo wanted to work giving lava tours, which was allegedly causing conflict with an existing tour operator.
The anonymous note goes into further detail about the murder, "Took the two haloes for a boat ride at night, but they never came back."
Court documents reveal that Brittany and Bo were camping together before Brittany was killed. Evidence indicates that Brittany's body was dragged from the campsite. A bundled nylon rope that is consistent with marks found on Brittany's neck was also found at the site, among other evidence.
Brittany's mother, Spahn Royal, has a hard time placing Bo as the murderer. "I've always had my doubts that it was Bo," she told Hawaii News Now.
In an interview with the Big Island Chronicle, Bo Johnson's family said that Bo was in love with Brittany and wanted to start a life with her in Kalapana.
Handwritten posters have also mysteriously popped up near the location where Brittany's body was found, asking the murderer to come clean.
The signs read: "Murders (sic) killed Bo! You killed the baby! They killed Bo on the lava flow! Confess," and "You killed the baby and bo and hui on the lava. Confess to the priest."
Big Island police told Hawaii News Now that their investigation has not changed and that Bo Johnson is still wanted for Brittany's murder.
Spahn Royal continues to receive public support and tips from the community on her Facebook page, "Justice for Brittany Jane Royal."
"Brittany is working in our lives today," she writes on the Facebook page. "She is always near and present. I feel she is at peace but wants a resolution to this, not for her but for us, her family."
Below, the anonymous signs that were posted around Kalapana, courtesy of "Justice for Brittany Jane Royal" Facebook page.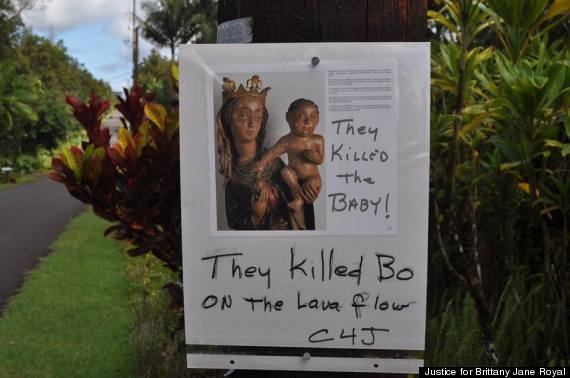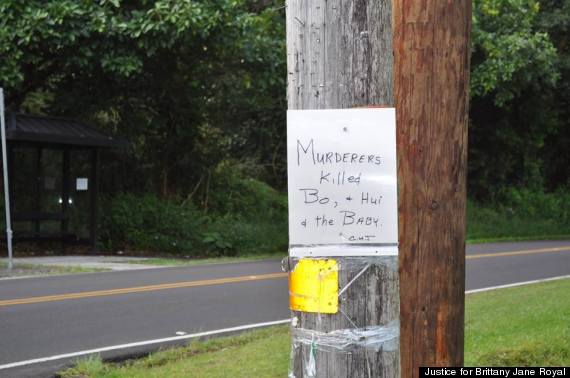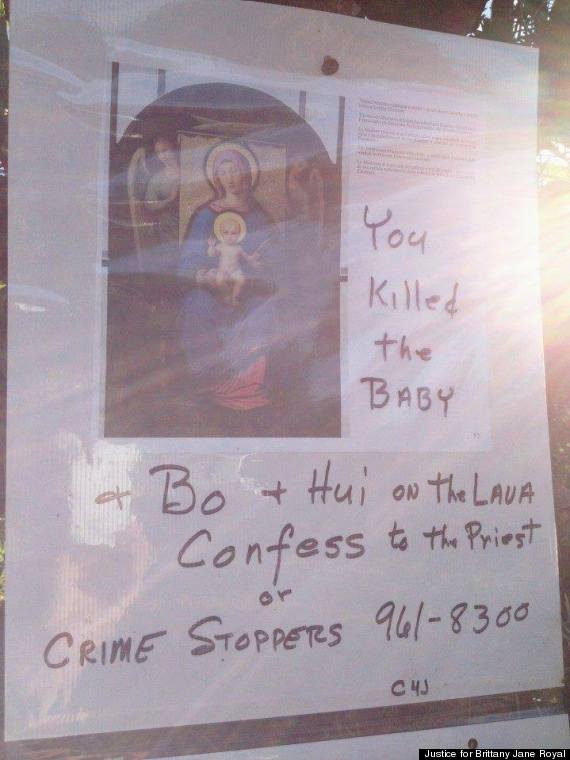 If you have any information on the murder of Brittany Royal or the disappearance of Boaz Johnson, contact Crime Stoppers at 808-961-8300 in Hilo or 808-329-8181 in Kona. There is a potential reward of up to $1,000. Crime Stoppers is a volunteer program run by ordinary citizens who want to keep their community safe. Crime Stoppers doesn't record calls or subscribe to caller ID. All Crime Stoppers information is kept confidential.
ALSO ON HUFFPOST:
PHOTO GALLERY
BEFORE YOU GO
Dangerous Days
PHOTO GALLERY
Dangerous Days