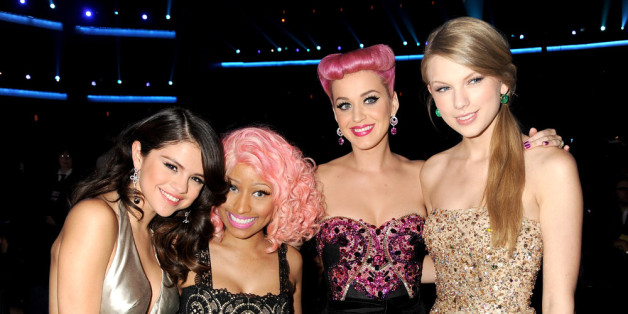 Lana Del Rey-Lady Gaga
"Stefani you suck / I know you're selling 20 million / Wish they could've seen you / When we booed you off in Williamsburg"

Chris Brown-Drake
"They throwin' bottles/ I'm throwin' models / just because I give a b---h long pipe"

Kanye West-Amber Rose
"I do anything for a blonde dyke / And she'll do anything for the limelight"

Taylor Swift-John Mayer
"Dear John, I see it all, now it was wrong / Don't you think 19 is too young to be played by your dark twisted games, when I loved you so?"

Justin Timberlake-Britney Spears
"Your bridges were burned / And now it's your turn / To cry me a river."

Katy Perry-Travie McCoy
"You fall asleep during foreplay / 'Cause the pills you take, are more your forte / I'm not sticking around to watch you go down / Wanna be your lover, not your f--king' mother"

Azealia Banks-Angel Haze
"Who her? I'm a true star/ This b--ch brawl got blue balls / Hard pressed cos I took off / I'm form fresh from New York."

Eminem-Mariah Carey
"Enough dirt on you to murder you / This is what the f--k I do / Mariah, it ever occur to you that I still have pictures?"

Pitbull-Lil Wayne
"You talk Miami, if you talkin' heat / Moral of the story: Don't sh–t where you eat"

Jay-Z-Miley Cyrus
"Feds still lurking / they see I'm still putting work in / 'cause somewhereinamerica, Miley Cyrus is still twerkin', ha! / Twerk, twerk, twerk, twerk, twerk, Miley, Miley, twerk, twerk, twerk, Miley, Miley, Miley, twerk. Twerk, yeah, ugh-huh. Twerk, Miley, Miley, Miley / Only in America."

Kendrick Lamar-Everyone
"And that goes for Jermaine Cole, Big KRIT, Wale / Pusha T, Meek Millz, A$AP Rocky, Drake / Big Sean, Jay Electron', Tyler, Mac Miller / I got love for you all but I'm tryna murder you n---as"

SUBSCRIBE AND FOLLOW
Get top stories and blog posts emailed to me each day. Newsletters may offer personalized content or advertisements.
Learn more