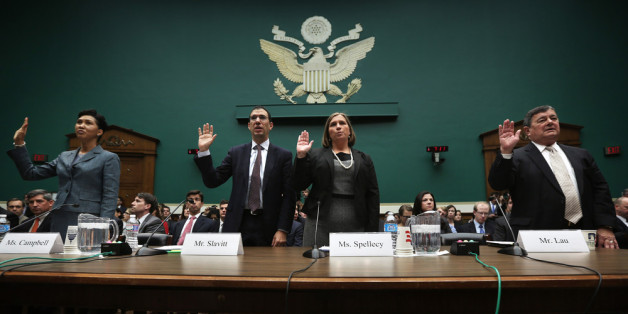 Health-insurance shoppers will be able to use HealthCare.gov, the balky federal portal for Obamacare coverage, in time to have insurance by the beginning of 2014, a federal official and the project's lead contractor said Thursday.
Though the amount of time it will take to fix HealthCare.gov is still a mystery, this is the first time the Obama administration has at least committed to a time frame for improving the website's performance.
Chronic technical problems have hampered insurance enrollment via the website since its launch on Oct. 1, leading to concerns that people could be without coverage next year as a result. But Centers for Medicare and Medicaid Services spokeswoman Julie Bataille said ongoing improvements to the system will ensure access by the Dec. 15 deadline for benefits that begin Jan. 1 and throughout the six-month enrollment period that ends on March 31.
"We are confident that consumers will be able to apply and enroll, certainly by Dec. 15, for that first coverage that begins in January and then through the full duration of the open enrollment period," Bataille said during a conference call with reporters. Cheryl Campbell, an executive with CGI Federal, the main contractor behind HealthCare.gov, gave similar assurances during a congressional oversight hearing earlier in the day.
Over the first three weeks of its existence, HealthCare.gov, the main access point in more than 30 states for new insurance exchanges under the Affordable Care Act, hasn't reliably been able to help people create accounts, browse health plans and apply for financial assistance.
The rocky rollout of Obama's signature domestic policy achievement is under escalating scrutiny from lawmakers, as well as the private insurance companies seeking to enroll as many as 7 million people into coverage this year. House Republicans, who unanimously oppose Obamacare, have vowed to press the administration for answers at a series of hearings that began Thursday.
Obama has pledged fixes for the technical problems, but his administration hasn't offered a detailed accounting of what went wrong, what's being done to correct it or when HealthCare.gov will be fully operational. In the meantime, the administration has let other elements of the online service slip, including the Spanish-language website and web-based Medicaid applications.
The federally run insurance exchanges and those being operated by more than a dozen states are managing to enroll some people despite the problems with HealthCare.gov and less-serious issues at the state level, however. Insurance exchanges have processed about 700,000 applications for financial assistance so far, according to the Centers for Medicare and Medicaid Services. The Obama administration won't reveal how many people have signed up for health coverage until next month, but some states are reporting thousands of enrollments.
At a House Energy and Commerce Committee hearing Thursday, Chairman Fred Upton (R-Mich.) blasted the administration and the private contractors behind HealthCare.gov for promising the website and the federally run exchanges would be ready on launch day, even as evidence of potential difficulties mounted.
"Top administration officials and lead contractors have appeared before this committee, looked us in the eye and assured us repeatedly that everything was on track," Upton said.
Democrats on the panel also criticized the website's failures. "This is unacceptable. It needs to be fixed, " said Rep. John Dingell (D-Mich.).
Executives from four private contractors told the committee that the system behind HealthCare.gov not did get enough testing. But they pointed to the Centers for Medicare and Medicaid Services, also known as CMS, as responsible for ensuring that the components created by numerous private companies would work seamlessly.
CMS did not test the full, integrated system until two weeks before the Oct. 1 launch date, testified CGI Federal's Campbell and Andrew Slavitt, group executive vice president of Optum, which is a unit of the insurance company UnitedHealth Group.
The result has been long wait times, frequent crashes and inaccurate information being presented to consumers using the website, and bad data being sent to insurance companies about some of their new customers.
"Ideally, integrated testing would've occurred well before," said Slavitt of Optum. "Months would be nice." A unit of Optum, Quality Software Services Inc., also known as QSSI, built the data hub linking HealthCare.gov to numerous federal, state and health insurance computer systems and the tool website vistors use to create and manage accounts. It warned CMS about possible problems prior to Oct. 1, Slavitt said.
The CMS spokeswoman acknowledged that more testing should have been conducted. "The system just wasn't tested enough, especially for high volume," Bataille said.
Campbell and Slavitt both testified that their own companies' parts of the federal system are operational and improving. Equifax Workforce Solutions, which is charged with verifying users' incomes, has not experienced problems, said Lynn Spellecy, that company's corporate counsel. Serco, which is handling paper applications, also isn't having difficulties, said John Lau, the program director for Serco's Obamacare contract.
A major design decision made by the Obama administration within two weeks of the launch appears to have contributed to the poor performance of HealthCare.gov, especially during its first week, Slavitt said.
Unlike some of the insurance exchange websites being operated by states, the federal portal requires users to create accounts and apply for financial assistance, if applicable, before they can research the prices they will pay for health plans in their area.
CGI Federal designed HealthCare.gov to allow anonymous window shopping, but CMS decided not to offer that feature and hasn't asked the company to activate it, Campbell said.
Not allowing consumers to browse insurance prices was a "business decision," said CMS spokeswoman Bataille, who would not offer details. Health and Human Services Secretary Kathleen Sebelius and CMS Administrator Marilyn Tavenner are due to testify at House committee hearings next week.
RELATED ON HUFFPOST:
PHOTO GALLERIES
Obamacare Haters