HuffPost writer and investigative reporter Radley Balko is also the author of the new book Rise of the Warrior Cop: The Militarization of America's Police Forces.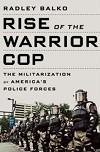 Also on HuffPost:
27 Reasons Why U.S. Shouldn't Lead War On Drugs
SUBSCRIBE AND FOLLOW
Get top stories and blog posts emailed to me each day. Newsletters may offer personalized content or advertisements.
Learn more