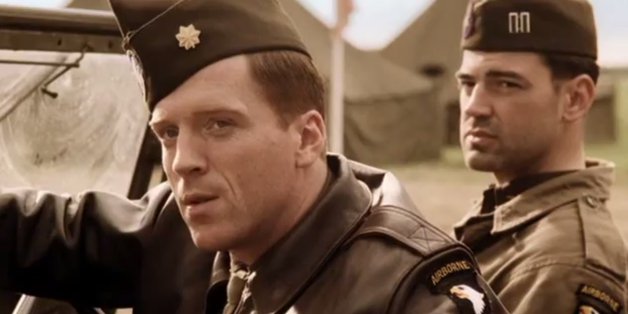 On Wednesday, the 4th Brigade Combat Team, 101st Airborne Division, returned home from a 6-month deployment to Afghanistan. It was a bittersweet homecoming as the return marked the very last time that the unit, which traces its origins to the legendary "Band of Brothers" unit in World War II, will return from war. Along with nine other brigade combat teams, the unit will be disbanded sometime in the next year because of military budget cuts. The soldiers will be reassigned.
"It sucks," Spc. Chris Allen, of Lockhart, Texas, told The Associated Press. "I don't want to go to a different unit."
We can understand his frustration. The men of Easy Company, 2nd Battalion, set the bar pretty damn high. In honor of both the returning soldiers and their heroic predecessors, here are some of the most powerful "Band Of Brothers" scenes and quotes:
1. "We're all scared."
When Ronald Speirs explains to Private Albert Blithe why Blithe hid in a ditch during D-Day.

"You hid in that ditch because you think there's still hope. But Blithe, the only hope you have is to accept the fact that you're already dead. And the sooner you accept that, the sooner you'll be able to function as a soldier's supposed to function. Without mercy. Without compassion. Without remorse. All war depends upon it."
2. "He came back."
When Easy Company's effort to take the Belgian town Foy is struggling because Norman Dike's ineffective leadership and Speirs is sent to relieve him. Speirs gains control of the situation, orders men into position and then races through enemy fire to connect with I Company on the other side of the town.

"At first the Germans didn't shoot at him. At first they couldn't believe what they were seeing. But that wasn't the really astounding part. The astounding part was that, after he hooked up with I Company, he came back."
3. "Why We Fight."
When Easy Company comes across a concentration camp near the war's end. The soldiers realize the extent of Hitler's evil for the first time since the starving and dead prisoners are not thieves or criminals, just Jewish.
"I don't think criminals, sir. ... Doctors, musicians, tailors, clerks, farmers, intellectuals. I mean, normal people."
4. "I served with a company of heroes."
When, in the final scene of the series, Richard Winters recounts a letter he received later in life from Mike Ranney.

"I cherish the memories of a question my grandson asked me the other day when he said, 'Grandpa, were you a hero in the war?' Grandpa said, 'No. But I served with a company of heroes.'"


5. "I hope he hasn't forgotten his laundry."
When Malarkey goes to pick up his laundry in England after three weeks of combat in Normandy, France. Easy Company lost 65 men during that time. The laundry woman has a bunch of extra bundles that haven't been picked up yet so she asks Malarkey if he knows the men whose laundry she's still owed for.
"You couldn't be a dear and help me with a few others, could you?"
RELATED ON HUFFPOST:
PHOTO GALLERY
BEFORE YOU GO
World War II Marine's Diary
PHOTO GALLERY
World War II Marine's Diary