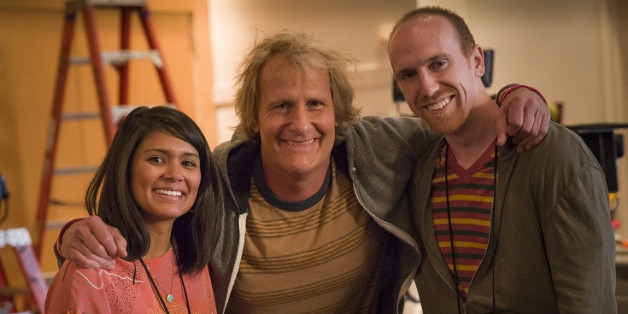 Trent Thomas is not an actor, but he'll become one for "Dumb and Dumber To." Thomas, a native of Tulsa, Okla., was chosen by directors Peter and Bobby Farrelly for a walk-on role in the highly anticipated sequel thanks to six seconds of fandom.
The background: As part of the "Dumb and Dumber To" production process, the Farrellys asked fans to recreate their favorite scenes from the 1994 original film using Vine, the social networking video platform.
"Whenever we make a movie, we always auction off extra roles for charity. We ended up having 30 or 40 people per movie who bought walk-ons," Peter Farrelly told HuffPost Entertainment in an interview from the film's Atlanta, Ga. set. "It's no skin off our back. It's actually good for the movie, because it brings an energy. Every day when you have these extras, they're so excited to be there that it rubs off on the cast and crew. Everyone is excited. It just seemed natural to want to have a contest where we could bring in the biggest 'Dumb and Dumber' fans to be extras."
Thomas would certainly qualify. He's seen "Dumb and Dumber" dozens of times, and watches the film annually with two of his friends. "Last year, when we watched it, one of my friends made up a quiz for us to fill out after the movie," Thomas said. "The winner would take home $10 from each person. That's our idea of having fun."
Over 2,000 people entered the contest, and many of the fans went above and beyond the call of duty. "I wish I could have picked 50 winners," he said. "There were some that were extremely well thought out. We had Vines that did the entire movie in six seconds by doing 10 to 15 short little clips that they did themselves. It was impressive!" (Watch the entries at the "Dumb and Dumber To" website.)
Thomas said he only found out about the contest with days remaining and had to rush to come up with an appropriate scene to stage for Vine. Necessity being the mother of invention and all, Thomas decided to reenact the moment in "Dumb and Dumber" when Jim Carrey's Lloyd Christmas, dressed in ski clothes, tips various valets (and Jeff Daniels' Harry Dunne).
"The guy who won, Trent, it wasn't that he worked the hardest, it was the one that made us laugh the most," Farrelly recalled. "Basically, because he grabbed onto something that nobody else had thought of and it really cracked us up. It's when Jim Carrey, after he does the scene, walks up the stairs. He had this ridiculous wiggle in his step. I don't know why he did it. We never thought about it, but when Trent did it, we cracked up. Of all the things to pick! We debated about it, because the other guys had obviously put a lot of time into, and he could have done his in 20 minutes, but we just had to pick that one because it made us laugh the most."
Watch the original scene and Thomas' winning Vine:
According to Farrelly, Thomas has some prominent placement in the film at the moment. He'll feature in a scene with Carrey and Daniels that takes place at the KEN conference, a thinly veiled stand-in for the TED conference ("The TED people wouldn't clear it, so we have our own," Farrelly said.)
"Jim and Jeff come walking in, and Trent is standing next to Jim," Farrelly said. "They're trying to look smart because they know it's for eggheads, and they come in dressed in a graduation cap and gown. Trent looks them over like, 'What the hell is this?' He gets a real featured look at them."
Production on "Dumb and Dumber To" is set to go through November, not that Farrelly is anxious to get things finished up.
"We're having a ball," he said. "As soon as they put on the outfits, it's like we're back to them. It's magical."
"Dumb and Dumber To" was originally set up at Warner Bros., but when that studio decided against moving forward with the project, the Farrellys worked out a distribution deal with Universal. The time it took for all that to fall into place, however, was well spent by the brothers.
"We were able to make it funnier and funnier and funnier," he said of the delay. "A couple of times, we got together with the 'Family Guy' writers -- we're good friends with those guys. They came in and we did a roundtable with them for a few days. They punched up specific jokes. Then we got together with Jim Carrey and did it again. Then we got back with the 'Family Guy' writers and punched it up some more."
Still, all that work was nothing compared to what happened once the cameras started rolling. "I knew going in that this was a really solid script, but I forgot after not having worked with Jim and Jeff over the years, how much they bring to it," Farrelly said. "Things that are funny on paper are three times funnier when those guys are doing it. The nuances and looks and intonations -- the two of them are geniuses. When we put these two guys together, I thought to myself, 'Why didn't we make eight of these things?' I believe that after this movie comes out, people are going to be like, 'You can't be serious? You have to do another one, because they're so good!'"
At least one person would agree. "After seeing them shoot and where it's headed is incredibly exciting," Thomas said. "It's really great to see that, OK, they're doing a great job with this thing. I shouldn't be so worried.'"
Check out photos of Thomas on the set of "Dumb and Dumber To" below: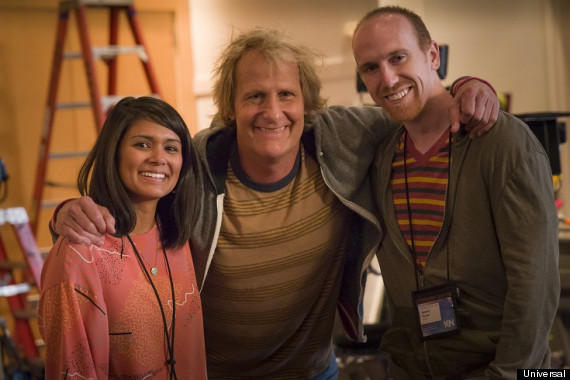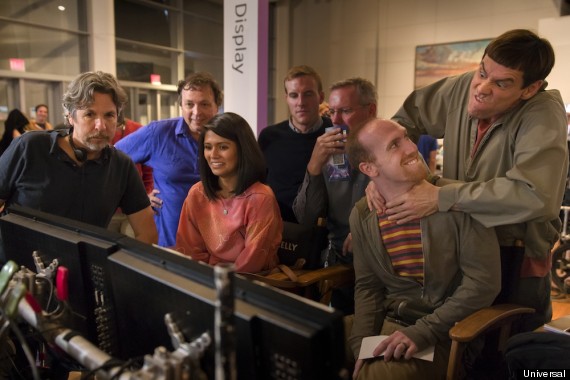 PHOTO GALLERIES
Celebrity News & Photos