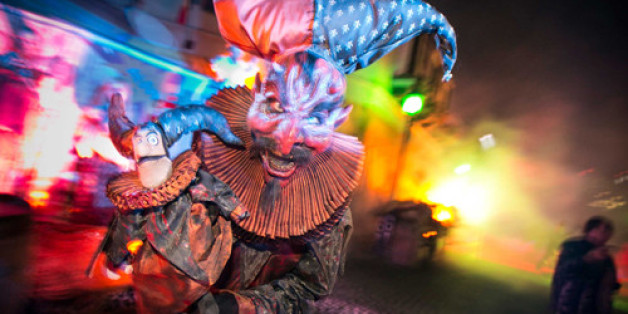 What's scarier than a brain-eating zombie on "The Walking Dead"? Not having any Halloween plans, that's what.
To help you avoid the stigma of being branded a Halloweenie, we've scared up a lengthy list of Halloween events in and around Ventura County.
So grab the kids, get a costume, and get your fright on.
CAMARILLO
Dead Man's Skate Party: This party at the Pleasant Valley Skate Park will offer night skating, a costume contest, a DJ and prizes. Helmets required. 7-10 p.m. Oct. 25, 1030 Temple Ave., Camarillo. Free. 482-1996; pvrpd.org.
The Asylum: Tour a haunted mental asylum, and rock out to live music, at Rock City Studios' Halloween Show and Haunted House. 7 p.m. Oct. 25-27, 2258 Pickwick Drive, Camarillo. Costumes welcome. $10 at the door. 383-3555; rockcitystudios.org.
Old Town Trick-or-Treat: Participating businesses in Old Town Camarillo along Ventura Boulevard and adjoining streets will hand out candy. Noon-5 p.m. Oct. 26. Free. 484-4383.
Ghost Squadron Halloween Party: The Commemorative Air Force Southern California Wing's annual fundraiser at Camarillo Airport will feature a haunted hangar; a costume contest; live music; a DJ; and food and drinks. 8 p.m.-midnight Oct. 26, 455 Aviation Drive, Camarillo Airport. $15 advance, $20 at the door. 482-0064; cafsocal.com.
Fright Fest Halloween Carnival: Guests can enjoy trick-or-treating, carnival games and a costume contest for all ages. 5:30-8:30 p.m. Oct. 31, Camarillo Community Center Park, 1605 Burnley St., Camarillo. 482-1996; pvrpd.org/recreation.
"Witches Night Out" Costume Party: Studio Channel Island Art Center will host a costume party, featuring a haunted backstage, costume prizes, music by DJ Nick Hustle, appetizers and a no-host bar. 8-11 p.m. Nov. 1, Blackboard Gallery, 2222 Ventura Blvd., Camarillo. $25 per person, $40 per couple. 383-1368; studiochannelislands.org.
FILLMORE
Fillmore & Western Railway Co.: Vintage trains carry passengers to Ichabog, the Fillmore & Western Railway's private pumpkin patch, on PumpkinLiner daytime rides offered weekends in October. Ichabog, at the Loose Caboose Garden Center and Gift Emporium, offers pumpkins for sale, craft vendors, a carousel, barbecued food, Jolly Jumps and more. Headless Horsemen family dinner trains include a barbecue dinner and evening visit to Ichabog to search for the Headless Horsemen during a hayride; costumes encouraged. PumpkinLiner trains depart at 10:30 a.m. and 2 p.m. weekends in October; $20 adults and teens, $12 children 4-12, $10 kids 2-3, free lap seating for infants younger than 2. Headless Horsemen trains depart at 7 p.m. Oct. 26 and 27; $47 adults and teens, $32 children 4-12, $24 kids 2-3, free lap seating for infants younger than 2. The depot is on Santa Clara Street near Central Avenue, Fillmore. Reservations: 524-2546 or fwry.com.
MOORPARK
Boo at the Zoo: The annual event at America's Teaching Zoo at Moorpark College will feature trick-or-treating, spooky animal shows, games, face painting and a 3 p.m. costume contest. 11 a.m. to 5 p.m. Oct. 27, 7075 Campus Road, Moorpark. $8 adults, $6 children and seniors; proceeds benefit the zoo. 378-1441; zoo.moorparkcollege.edu.
Trick-or-Treat Village: At this annual event sponsored by the city of Moorpark, kids can collect candy, play games and do crafts. The $2 admission includes trick-or-treating. 5:30-8 p.m. Oct. 31, Arroyo Vista Park, 4550 Tierra Rejada Road, Moorpark. Starting at 8 p.m., the village gets scarier. 517-6300.
NEWBURY PARK
Pumpkin Festival: The Stagecoach Inn Museum's annual event will feature trick-or-treating, crafts, storytelling and games. 1-4 p.m. Oct. 26, 51 S. Ventu Park Road, Newbury Park. $5 adults, $4 seniors and students, $2 children 5-12, free for kids younger than 5. 498-9441; stagecoachmuseum.org.
OAK PARK
Halloween Carnival: The indoor event will feature a trick-or-treat village, game booths, an enchanted forest, face painting and cotton candy. 5:30-8 p.m. Oct. 31, Oak Park Community Center, 1000 N. Kanan Road. $1-$2. 818-865-9304; rsrpd.org.
OJAI
The House of Seven Gables: "This year should be pretty frightening" promise the folks who run this haunted house. 5:30-10:30 p.m. Oct. 31, 922 Grand Ave, Ojai. facebook.com/7gableshauntofojai.
OXNARD
Fears Gate: Fears Gate presents three haunted attractions -- "Deadtime Stories," "Krazed Klownz" and "Mutant Militia" (described as an "interactive paintball experience") -- plus a "double-wide" coffin ride in the old Ace Hardware Building in Oxnard, 816 Ventura Road, Oxnard. Open daily through Nov. 1. Hours are 7 p.m.-midnight Fridays and Saturdays, 7-10 p.m. Sundays through Thursdays. Less scary "Behind the Screams" tours are available 2-4 p.m. Saturdays. Admission is $13 to each attraction; combo tickets cost $20-$30. Coffin rides: $5 singles, $9 doubles. 424-262-FEAR (3327); fearsgate.com.
Pumpkin Fun Day: Channel Islands Harbor will hold its 18th annual Farmers market Pumpkin Fun Day featuring a mummy wrap contest, a costume contest, live music, food, trick or treating and more. 10:30 a.m. to 1 p.m. Oct. 27, Channel Islands Boulevard, Oxnard. Free. 643-6458.
"Haunted Vacations: Places to Enjoy with Ghosts": As part of the Literature, Arts and Lecture series, and in celebration of Halloween, ghost hunter and author Richard Senate will discuss how to investigate and enjoy ghosts in haunted locations in Ventura County. 1-2 p.m. Oct. 30, Performing Arts Building, Oxnard College, 4000 S. Rose Ave., Oxnard. Free. 986-5800, ext. 1951; oxnardcollege.edu.
"Dark Heart of Poe": The Elite Theatre presents this play about Edgar Allan Poe directed by Andrew James. Oct. 30 through Nov. 24, 2731 S. Victoria Ave., Oxnard. $20 general admission, $10 seniors, students and military. 483-5118; elitetheatre.org.
Pumpkin Fun Day: The Downtown Oxnard Certified Farmers' Market will hold its third annual Farmers market Pumpkin Fun Day featuring a pumpkin decorating contest, a costume contest, live music, food, trick or treating and more. 10 a.m. to 1 p.m. Oct. 31, Plaza Park, Fifth and C Streets, Oxnard. Free. 643-6458.
Halloween at Centennial Plaza: Children can hunt for treats at participating merchants and "trick-or-treat" booths at this dining and entertainment center There also will be lots of kids' activities, including pumpkin decorating. Oct. 31, Centennial Plaza, adjacent to Plaza Park, Fifth and C Streets in Oxnard. downtownoxnard.org.
Gull Wings Children's Museum: Children wearing a costume can get in free to the museum on all day on Oct. 31. And from 6-8 p.m. Nov. 1, the museum will host its inaugural Halloween film festival featuring one-minute Halloween-themed films. 418 W. Fourth St., Oxnard. 483-3005; gullwings.org.
SANTA PAULA
Ghostwalk: Presented annually as a benefit for the Santa Paula Theater Center, the hourlong guided tour of Santa Paula features historical and architectural history and spooky encounters with ghosts who tell the stories of their untimely deaths. Fridays through Sundays through Oct. 27, Santa Paula Airport, 28 Wright Taxi Way, Santa Paula. 525-3073; ghostwalk.com.
Halloween Parade: The annual showcase of costumed kids begins at 10 a.m. Oct. 26 at Ebell Park, Seventh and Main streets, Santa Paula. The parade heads east on Main, then right on Mill Street, ending at Veterans Memorial Park. 525-9439; http://www.discoversantapaula.com.
Halloween Carnival: The city's 24th annual carnival will feature games, food and prizes. 6-9 p.m. Oct. 31, Santa Paula Community Center, 530 W. Main St., Santa Paula. Various activities require tickets; $1 for 10. 933-4226.
SIMI VALLEY
Ghost Tour at Strathearn Park: The Simi Valley Cultural Association, Actors' Repertory Theatre of Simi and the Simi Valley Historical Society present the 15th annual ghost tour featuring spooky portrayals of characters and events from Simi Valley's past. Tours depart every 15 minutes and last 90 minutes, ending with refreshments. Fridays through Sundays through Oct. 27, Strathearn Historical Park, 137 Strathearn Place, Simi Valley. $10. 526-6453; simihistory.com.
Howl-O-Ween Pooch Parade and Pet Expo: The Simi Sunset Rotary Club will host this event from 9:30 a.m. to 2 p.m. Oct. 27 at Lemon Park, 3700 Avenida Simi, Simi Valley, to raise funds for the Ventura County Sheriff's K-9 Search and Rescue and local animal shelters. The event will include a parade of costumed canines; talent contests; vendors; a silent auction; food for sale (including Haunt Dawgz); and demonstrations by the Search and Rescue team, Disc Dogs of Southern California and Guide Dogs of America. Parade/contest entry fee: $15 for first dog, $10 per additional dog from the same household; free for spectators. howloweenpoochparade.com.
Youth Halloween Carnival: The Rancho Simi Recreation and Park District's 52nd annual event for children will feature games, a trick-or-treat village, hayrides, shadow dancing, a photo booth and inflatable slides. 5:30-8 p.m. Oct. 31, Rancho Santa Susana Community Park, 5005 Los Angeles Ave., Simi Valley. $1-$4. 584-4456; rsrpd.org.
THOUSAND OAK
Reign of Terror Haunted House: The 10,000-square-foot haunted house features live actors in four scary settings. Some events are not appropriate for children. Through Nov. 1, Janss Marketplace, 197 N. Moorpark Road, Thousand Oaks. For tickets and information, visit rothauntedhouse.com.
Halloween Haunted Trail: The Thousand Oaks Community Center will host a Halloween Haunted Trail and costume contest, featuring a reptile show. 6-9 p.m. Oct. 26, 2525 N. Moorpark Road, Thousand Oaks. $3. 381-2793.
"Nosferatu: A Symphony of Horror": A screening of the 1929 silent horror film will be accompanied by Dr. Timothy Howard playing the pipe organ. 7 p.m. Oct. 27, Ascension Lutheran Church, 1600 E. Hillcrest Road, Thousand Oaks. Donations accepted. 495-0406; alcto.org.
Halloween at The Oaks: Kids can trick-or-treat at participating stores at The Oaks mall. There also will be a display of classic cars, plus DJ music, outside Muvico theaters. 6-8 p.m. Oct. 31, 350 W. Hillcrest Drive. 495-2032; shoptheoaksmall.com.
VENTURA
Haunted Hotel at the Mission: The San Buenaventura Mission Youth Group invites visitors to tour an "old, abandoned and haunted hotel." Kid-friendly hour from 5:30-6:30 p.m., general admission from 7-9 p.m., Oct. 25-26, 211 E. Main St., Ventura. $3-$5.
Something Spooktacular Festival: The free family event features arts and crafts vendors, food and tons of activities for kids including trick-or-treating, costume contests and more. 11 a.m. to 3 p.m. Oct. 26, California Street between Main and Santa Clara Streets, downtown Ventura. downtownventura.org.
"Thriller" Dance World Record: Ventura County residents will join thousands of dancing zombies across the globe as they perform "Thriller" moves in an attempt to break simultaneous worldwide "Thriller" dance records and gather donations for charity. 2 p.m. Oct. 26, Ventura Harbor Village, 1575 Spinnaker Drive, Ventura. 223-0635; register or learn more at thrilltheworldventura.com.
Halloween Party: The Ventura County Blues Society presents this Halloween event featuring a musical performance by Blue Stew, a costume contest, drinks, snacks and dancing. 7-11 p.m. Oct. 26, Poinsettia Pavilion, 3451 Foothill Road, Ventura. $15 general admission, $10 for Blues Society members. 501-7122; venturacountybluessociety.org.
Halloween Improv Bash: The Ventura Improv Company's annual Halloween improvisational comedy show will offer "spine-chilling hilarity." Costumes are welcome, and candy will be served. Reservations recommended. 8 p.m. Oct. 26, 34 N. Palm St. Ventura. $15 adults, $12 youths younger than 18. 643-5701; venturaimprov.com.
Something Spooktacular Fest: The event will feature arts and crafts activities, a kids' zone, a scavenger hunt and, at 3 p.m., an all-ages costume contest. 11 a.m. to 4 p.m. Oct. 26, downtown Ventura. 641-1090; downtownventura.org.
Downtown Trick-or-Treat: Costumed kids can trick-or-treat at more than 50 merchants in downtown Ventura from 4-7 p.m. Oct. 26. Participating stores will have a "spooky stop sign" out front. 641-1090; downtownventura.org.
VENTURA COUNTY
"The Los Angeles Lizard Attack of 1934": The High Street Broadcast's latest old-fashioned radio show will premiere at 11 p.m. Oct. 31 on KCLU public radio. The audio production mixes comedy and music, including such original songs as "In Dear L.A.," "Glitz at the Ritz." "Be Mine Tonight" and "Reptilian Summer." Ryan Keely wrote the book and lyrics; Brent Bain did the music. The cast includes Delvin Connors, Nick Ferguson, Ron Rezac, Anna Graves, Elizabeth Stockton, Will Shupe and Farley Cadena. thehighstreetbroadcast.com.
UP NORTH
Boo at the Zoo: The Santa Barbara Zoo presents its 10th annual Halloween event featuring safe trick-or-treating, a scare zone, a Boo Choo-Choo Train and more. 5:30-8:30 p.m. Oct. 25, 4:30-8:30 p.m. Oct. 26, 4:30-7:30 p.m. Oct. 27, 500 Ninos Drive, Santa Barbara. $14 general admission, $10 children 12 and under; ticket sales at the zoo end at 2:30 p.m. 962-5339; sbzoo.org.
Ghost Walk: The Plaza Playhouse Theater and Friends of Channel Coast State Parks present this spooky ghost walk. Guests are encouraged to bring a flashlight. 7 and 8 p.m. Oct. 25-26, Carpinteria State Beach, 5361 6th St., Carpinteria. $5. 684-2811, ext. 03.
DOWN SOUTH
Six Flags Magic Mountain: The theme park's Fright Fest will feature such scary attractions as "Toyz of Terror," "Weepy Hills Insanetorium," "Black Widow" and "Cursed." Oct. 25-27, 26101 Magic Mountain Parkway, Valencia. For prices and more information, visit frightfest.sixflags.com/magicmountain.
Halloween at Leonis Adobe: The Leonis Adobe Museum in Calabasas will host a Halloween celebration featuring music, games, crafts, face painting, pumpkins and an appearance by Regina the Witch. 1-4 p.m. Oct. 26, 23537 Calabasas Road, Calabasas. $4 admission; kids in costumes get in free. 818-222-6511; leonisadobemuseum.org.
Disneyland: The Happiest Place on Earth gets mildly spooky for Halloween. Visitors can wander through the The Twilight Zone Tower of Terror, a haunted attraction based on "The Twilight Zone" TV series; look at the carved pumpkins on Main Street; and hurtle into a haunted section of the universe on Space Mountain Ghost Galaxy. Through Oct. 31, 1313 S Harbor Blvd, Anaheim. For ticket prices and more information, visit disneyland.com.
Knott's Berry Farm: When night falls, the cheery theme park morphs into Knott's Scary Farm, complete with five scream-inducing mazes and scary shows like "Carny Trash," "Blood Drums" and "The Hanging: A Gothic Fairy Tale." Through Nov. 2, 8039 Beach Blvd., Buena Park. For ticket prices and more information, visit knotts.com.
Universal Studios: The theme park's Hollywood Halloween Horror Nights feature mazes and tram rides based on such iconic movies and TV shows as "The Walking Dead," "Evil Dead," "The Purge" and "Curse of Chucky." 6-9 p.m. daily through Nov. 2, 100 Universal City Plaza, Universal City. $84; $76 for those under 48 inches tall. halloweenhorrornights.com.
Blackout: Elements Haunted House: This haunted house and horror theater experience will feature a half-hour walk through of elaborately designed set pieces and interactions with the characters in a series of twisted scenarios. 7-11 p.m. through Nov. 10, Variety Arts Center, 940 S. Figueroa St., Los Angeles. $65. blackouthh.com.
Dark Harbor: The Queen Mary presents horrifying creatures, mazes, attractions, live entertainment, radio station takeovers and more. Through Nov. 2 with Dia de los Muertos celebrations Nov. 1-2, 1126 Queens Highway, Long Beach. Tickets start at $20. For more information or to purchase tickets, visit queenmary.com/dark-harbor.
KCRW Masquerade Ball: The Legendary Park Plaza will host this 21-and-over Halloween costume ball and dance party featuring food trucks, costume contests, ghost stories and musical performances by Rob Garza, Glasser, DJ Dave Sitek, Har Mar Superstar, The Lions and others. 9 p.m. to 2 a.m. Oct. 26, 607 S. Park View St., Los Angeles. For tickets or more information, visit kcrw.com/masquerade.
"Phantom of the Opera": L.A. Phil presents a Halloween screening of the 1925 silent film starring Lon Chaney accompanied by a live soundtrack performed by organist Clark Wilson. 8 p.m. Oct. 31, Walt Disney Concert Hall, 111 S. Grand Ave., Los Angeles. Ticketmaster, 800-745-3000 or ticketmaster.com. Information: 323-850-2000.
For an online map of local haunts and pumpkin patches, visit http://www.vcstar.com/localhaunts. ___
ALSO ON HUFFPOST:
PHOTO GALLERIES
Women's Halloween Costumes That Are More Clever Than 'Sexy Nurse'