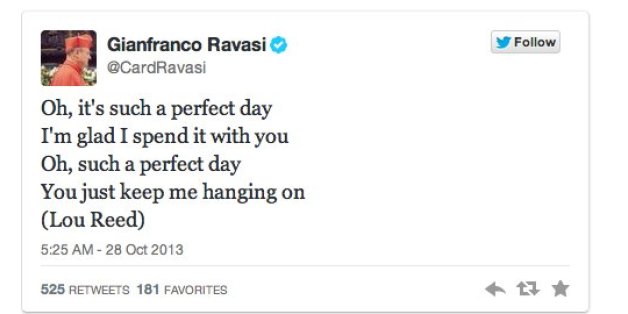 VATICAN CITY, Oct 28 (Reuters) - Cardinal Gianfranco Ravasi, the Vatican's 71-year-old culture minister, paid his own tribute on Monday to the late rocker Lou Reed, tweeting one of his best-known songs before clarifying he was not condoning any reference to drugs some have seen in the song.
Ravasi, an Italian who is the same age as Reed was when he died on Sunday, tweeted the third verse from Reed's song "Perfect Day".
"Oh, it's such a perfect day/I'm glad I spent it with you/Oh, such a perfect day/You just keep me hanging on".
There have been many interpretations of the song's meaning, ranging from drugs to a simple love story.
Just to make sure no-one thought Ravasi was condoning the use of drugs, he later tweeted a Bible passage that warns against "illusions" and noted that Reed quoted from the passage when he spoke in the song about reaping what one sows.
Ravasi is a Bible expert who represents the Roman Catholic Church to the worlds of art, culture, science and even to atheists and says he is a firm believer in the power of contemporary culture.
Reed, whose most famous hit, "Walk on the Wild Side" included themes such as transvestites and prostitution, died on Sunday in Long Island, New York from complications from a liver transplant. (Reporting By Philip Pullella; Editing by Jon Boyle)
Celebrities React To Lou Reed's Death
SUBSCRIBE AND FOLLOW
Get top stories and blog posts emailed to me each day. Newsletters may offer personalized content or advertisements.
Learn more