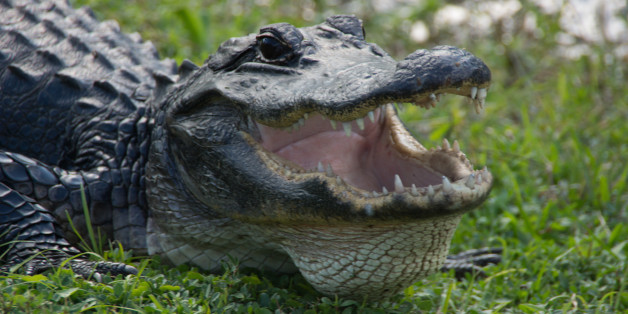 Cats in Temple Terrace, Fla., can breathe easy.
Local officials received reports last week that a huge, cat-eating alligator was tied to a tree on the Hillsborough River. Callers said that a resident "caught [the alligator] and was feeding it cats," licensed trapper Phil Walters told the Tampa Tribune.
Investigators soon found that an 11-and-a-half foot gator was indeed tied to a tree by a parachute cord that allowed it to access the nearby river. Walters was unsure whether or not the gator had really been living on a feline diet.
He told the Tribune he had to shoot the gator because Florida law prohibits relocating an alligator longer than four feet.
Shirley Bobadilla, who manages the nearby property, called authorities after she noticed the gator. She said there have been alligators along the river before, but that she's "never seen one that big."
But the alleged cat-eating alligator was nothing compared to a 13-foot, 727-pound specimen caught in Mississippi last month, which broke the state record.
Also in September, another alligator hunter broke Arkansas state records when he captured a 1,000-pound gator that was nearly 14 feet long.
ALSO ON HUFFPOST:
PHOTO GALLERIES
Awesome Gators & Crocs