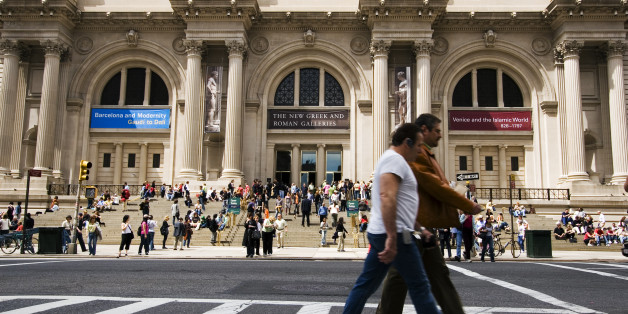 The Metropolitan Museum must have breathed a giant sigh of relief this Wednesday, when Judge Shirley Werner Kornreich definitively ruled in favor of the institute's infamous admission policy.
The New York State Supreme Court decision put an end to parts of two lawsuits plaguing the Manhattan art haven, both of which claimed that the "suggested" $25 entrance fee violated an 1893 law that requires the taxpayer-funded museum to open its doors to the public for five days and at least two nights per week.
According to The New York Times, Judge Kornreich disagreed with the plaintiffs, ruling on the side of the art world's Goliath:
"For those without means, or those who do not wish to express their gratitude financially, a de minimis contribution of a penny is accepted. Admission to the Met is de facto free for all." Judge Kornreich wrote. "To end the suggested admission practice -- visitors pay, on average, around $11 of the full $25 suggested fee -- would cut a large portion of the museum's budget and undermine its mission to provide access and educate the public."
The Met's spokesman, Harold Holzer, released the following in response:
"The Met is delighted with the ruling and trusts this decision once and for all validates its longtime pay-what-you wish admissions policy -- which, as the judge has declared, guarantees fairness and access for visitors of all economic means."
The court decision comes on the heels of a new lease amendment with the city of New York, which acknowledged the museum's right to charge an admission fee. Holzer was quite happy about that as well. Parts of the lawsuits will still go forward, however, regarding allegations that the museum has been deceiving patrons with misleading signage.
PHOTO GALLERIES
Museum Admission Fees Across The Country