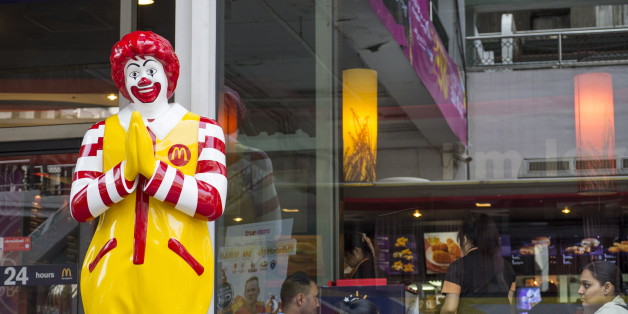 McDonald's has fired back at –- and totally rejected –- a damning report that claims that the fast-food giant gives minimal funds to its charitable arm and just exploits the organization to boost its image.
On Tuesday, Corporate Accountability International released "Clowning Around with Charity: How McDonald's Exploits Philanthropy and Targets Children," a scathing report that claims that McDonald's is downright cheap with its funding of the Ronald McDonald House Charities (RMHC). According to the report, McDonald's provides about 20 percent of the funding globally to the nonprofit that provides support to families with gravely ill children.
But the burger chain was quick to defend itself against the claims.
"This 'report' is shameful and misleading," Bridget Coffing, senior vice president of McDonald's Corporate Relations, said in a statement, according to ABCNews.com. "We hesitate to even dignify it with a comment, but that would be a disservice to the McDonald's employees, franchisees, suppliers and customers who have partnered tirelessly to support the tremendous work of Ronald McDonald House Charities (RMHC). This is a thinly-veiled attack on our brand at the expense of the millions of families and organizations who have benefitted from RMHC. McDonald's categorically rejects this self-serving and biased document and stands proud of the significant financial support and volunteer hours we have and will continue to provide to RMHC and other charities worldwide."
But McDonald's didn't address the specific issues surrounding its small donation sum to the charities, which it doesn't technically own, contrary to popular belief. And the fact that most people assume that that two are inextricably connected is a problem, Michele Simon, president of Eat Drink Politics and author of the McDonald's report, wrote in a blog for The Huffington Post.
"Ronald McDonald Houses report that the name causes many people to assume that McDonald's provides 100 percent of the charity's funds -- and that this 'common misperception' is 'absolutely confusing,'" Simon wrote.
And some say the company seems to be having their fries and eating them, too.
"Our critique is that McDonald's touts the charity as if it were its own, that it wholly funds it, but the reality is the local charities are very much on their own, Jesse Bragg, press secretary for Corporate Accountability International, told ABCNews.com. "McDonald's gives less than a third of 1 percent of revenues to charity."
When asked to respond, RMHC said it doesn't have any qualms with the fast-food chain and its deeply appreciative of all the support it gets from McDonald's.
"[The nonprofit] helps approximately 12,000 families every single night around the world," Sheila Musolino, chief operating officer of Ronald McDonald House Charities, said in a statement to ABCNews.com. "This would not be possible without McDonald's - the awareness they help create, the dollars they donate and the support of its thousands of independent owner/operators, customers and suppliers."
Still, the report begs the question as to whether the charities should be tied to a chain that so often comes under fire for its unhealthy products, especially if its not getting a majority of its funding from the company.
"The findings of the report raise the question: 'Can't the important work of the Charities be done without simultaneously promoting the world's most well-recognized junk food brand and its products?'" Dr. Yoni Freedhoff, a contributor to the report, asked in a press release. "We'd never allow a children's charity to be branded by Philip Morris, yet a corporation with a similar adverse public health impact profits from its brand association with this worthy cause."

ALSO ON HUFFPOST:
PHOTO GALLERIES
10 Things The Fast Food Industry Doesn't Want You To Know