20 Stunning Photos Of Natural Beauty That Your Human Eyes Could Never See
The winning photos of Nikon's annual Small World Photomicrography Competition prove that there is really more than meets the human eye. The 20 winning photographers this year are masters of photomicrography, or photos taken through a microscope. Each photo is an example of the wondrous beauty and detail that can be found in the most unexpected things, like plankton and embryos.
The first place winner, Wim van Egmond, explains how he takes photos: "I approach micrographs as if they are portraits. The same way you look at a person and try to capture their personality, I observe an organism and try to capture it as honestly and realistically as possible." Check out the top 20 photos below.
1. Wim van Egmond, Micropolitan Museum,Chaetoceros debilis (marine diatom), a colonial plankton organism (250x)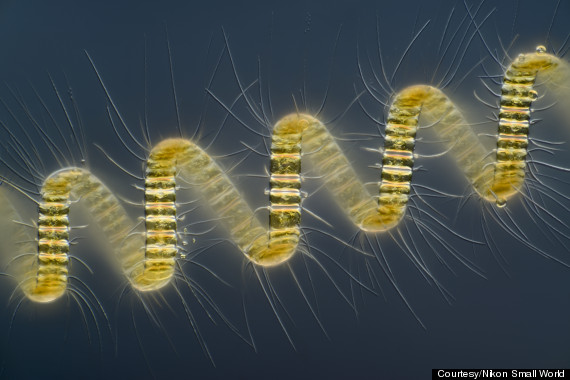 2. Dr. Joseph Corbo, Washington University School of Medicine, Chrysemys picta (painted turtle) retina, 400X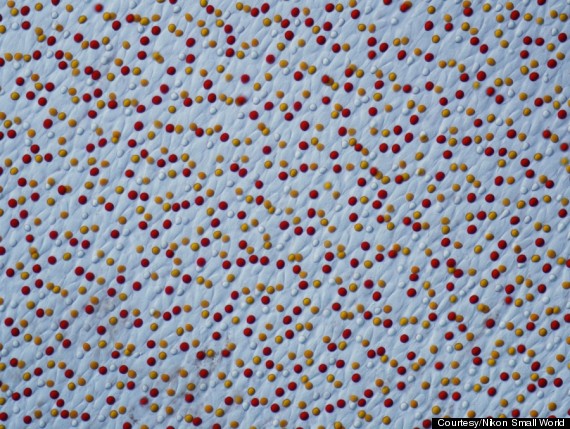 3. Dr. Alvaro Migotto, University of São Paulo, Marine worm (20x)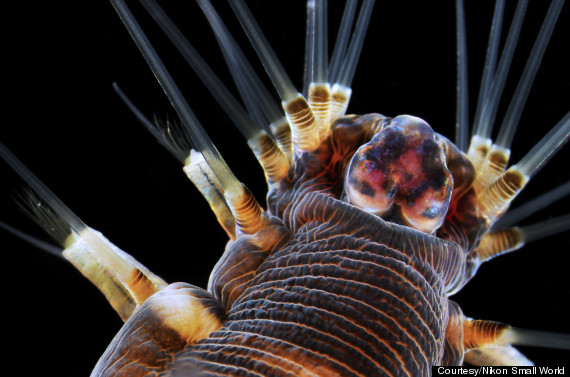 4. Rogelio Moreno Gill, Panama City, Paramecium sp. showing the nucleus, mouth and water expulsion vacuoles (40x)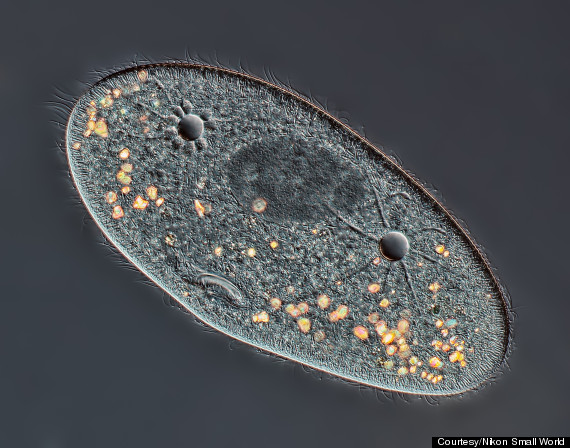 5. Dr. Kieran Boyle, University of Glasgow, Hippocampal neuron receiving excitatory contacts (63x)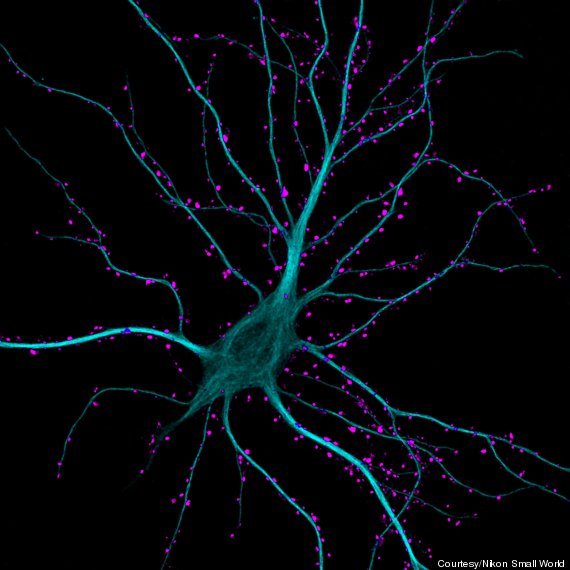 6. Dorit Hockman, University of Cambridge, Chamaeleo calyptratus (veiled chameleon) embryo showing cartilage (blue) and bone (red)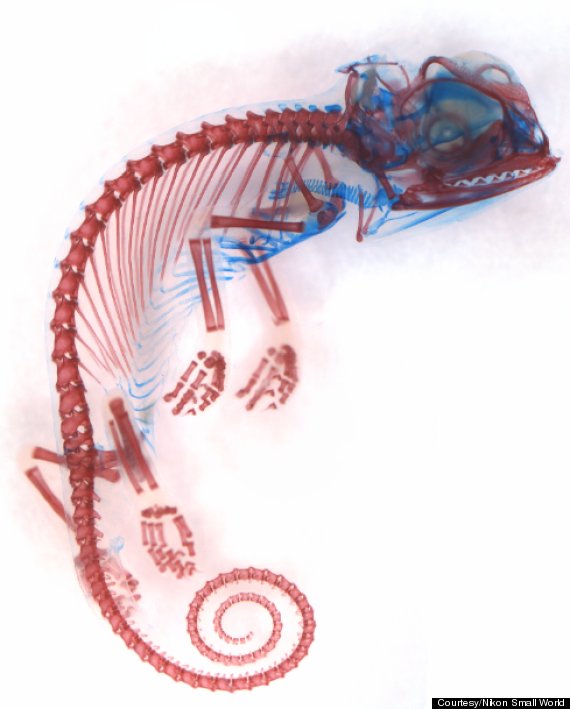 7. Dr. Jan Michels, Christian-Albrechts-Universität zu Kiel, Adhesive pad on a foreleg of a ladybird beetle (Coccinella septempunctata) (20x)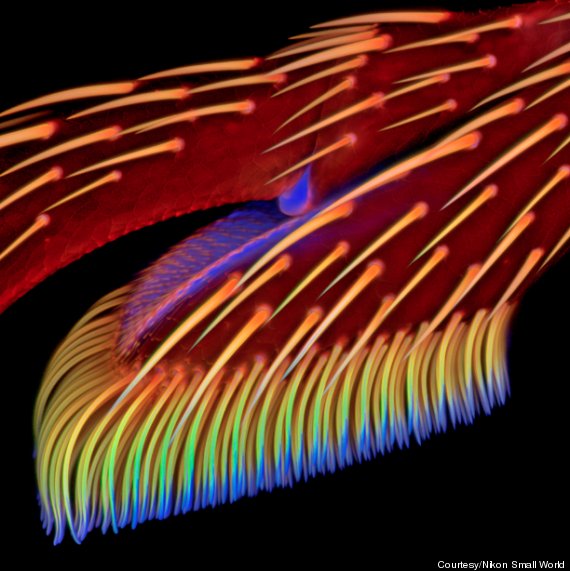 8. Magdalena Turzańska, University of Wroclaw, Barbilophozia sp. (a leafy liverwort, bryophyte plant) and cyanobacteria (50x)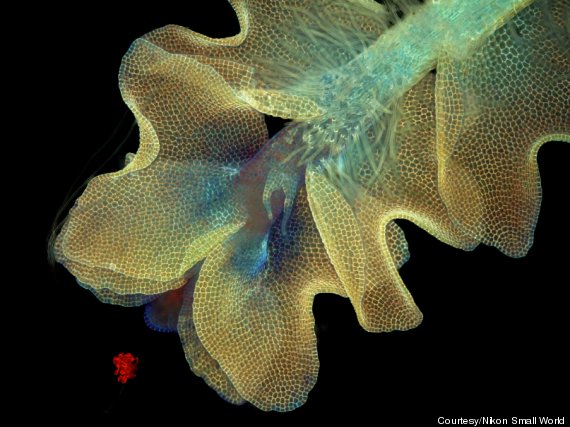 9. Mark A. Sanders, University of Minnesota, Insect wrapped in spider web (85x)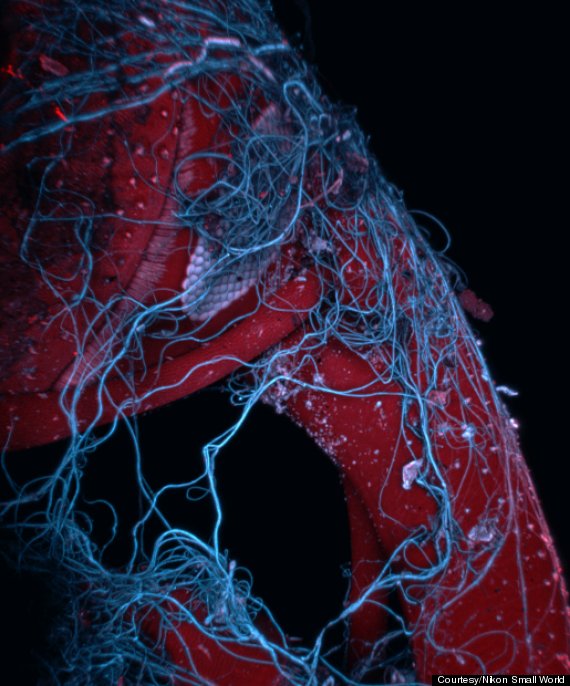 10. Ted Kinsman, Rochester Institute of Technology, Thin section of a dinosaur bone preserved in clear agate (10x)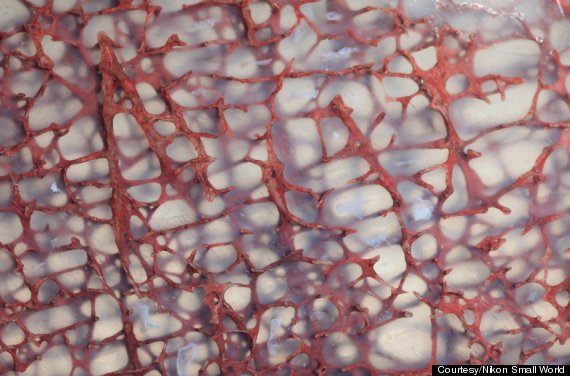 11. Vitoria Tobias Santos, Universidade Federal do Rio de Janeiro, Macrobrachium shrimp (ghost shrimp) eye (140x)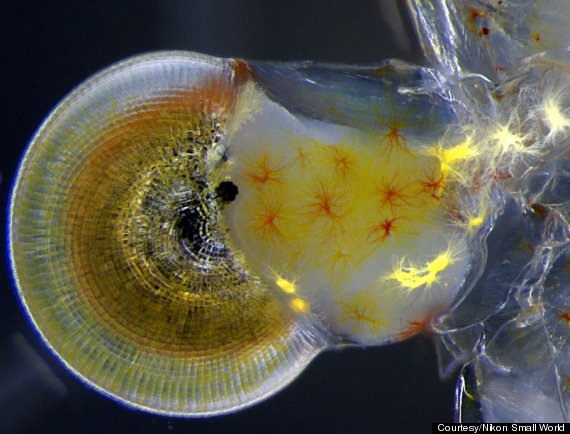 12. Dr. Pedro Barrios-Perez, National Research Council of Canada, Silicon dioxide on polydimethylglutarimide-based resist (200x)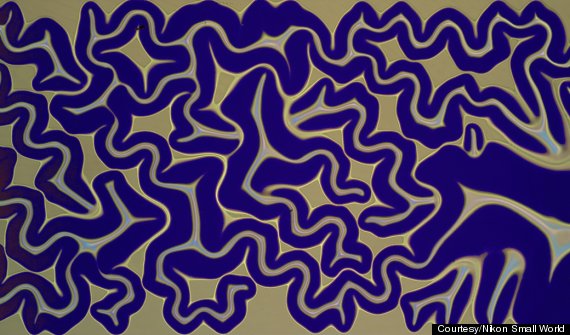 13. Dr. Michael Paul Nelson & Samantha Smith, University of Alabama at Birmingham, Mouse vertebra section (200x)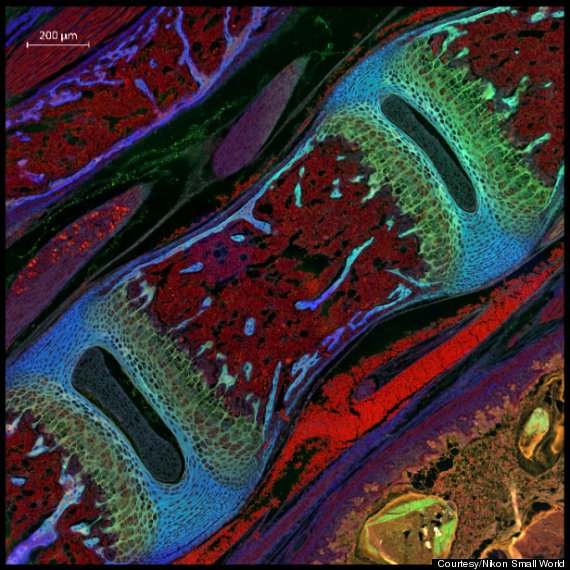 14. Zhong Hua, Johns Hopkins School of Medicine, Peripheral nerves in E11.5 mouse embryo (5x)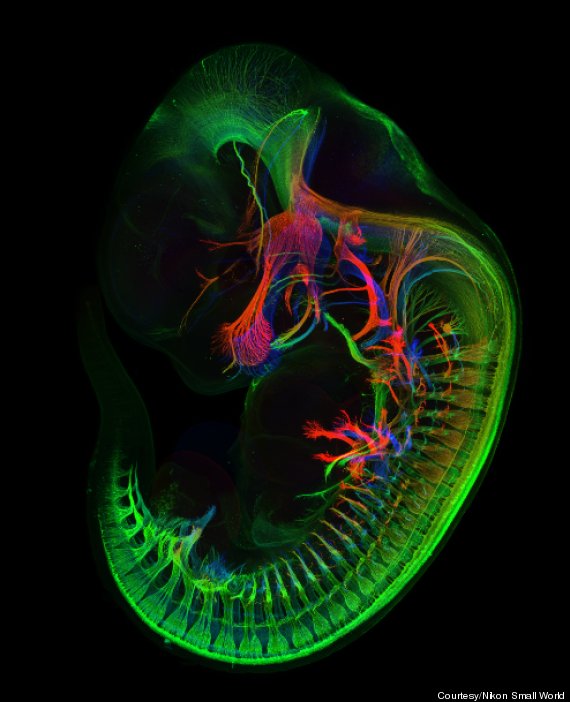 15. Dr. Christian Q. Scheckhuber, Goethe University, Podospora anserina (fungus) filamentous tip cells (630x)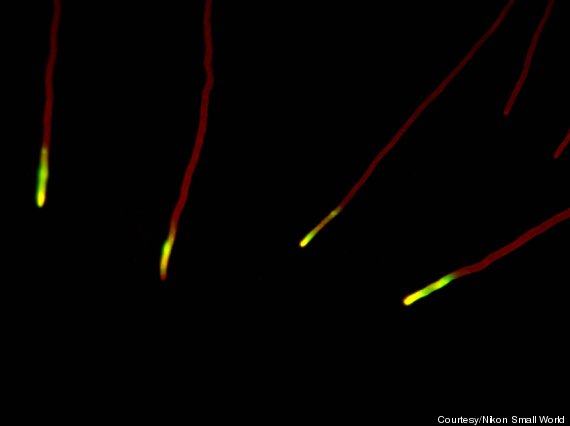 16. Geir Drange, Asker, Norway, Pityohyphantes phrygianus (sheet weaver spider) with a parasitic wasp larva on the abdomen (5x)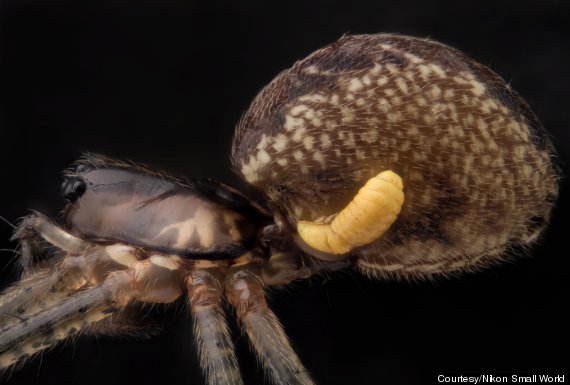 17. Dr. Alexandre William Moreau, University College London, Pyramidal neurons and their dendrites visualized in the visual cortex of a mouse brain (40x)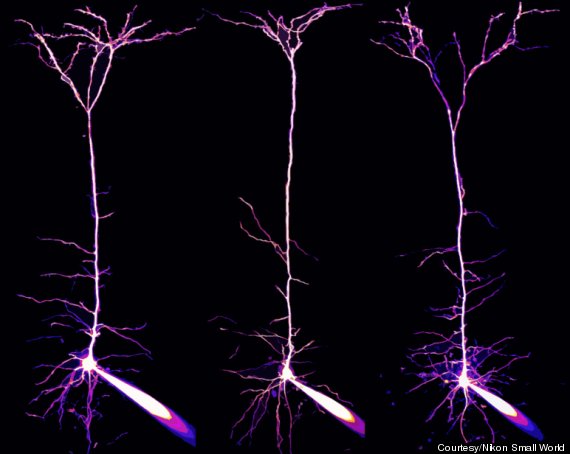 18. Christian Sardet, Centre National de la Recherche Scientifique, Annelid larva (100x)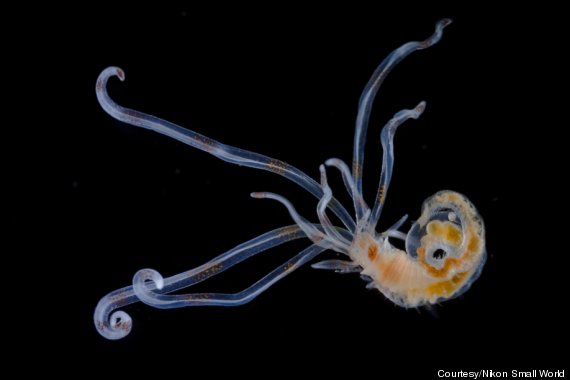 19. Dr. David Ward, Oakdale, California, Nerve and muscle thin section (40x)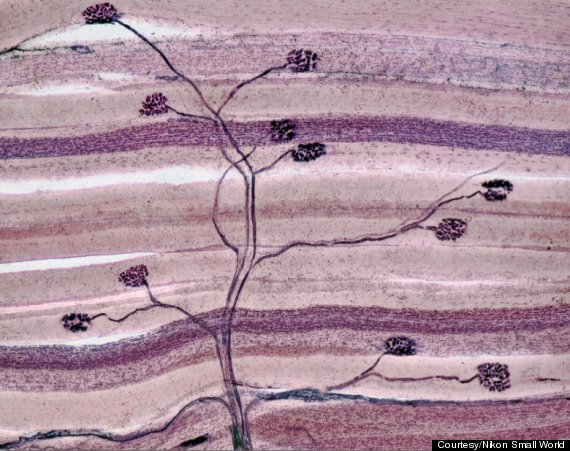 20. Dr. James Burchfield, The Garvan Institute, The explosive dynamics of sugar transport in fat cells