When it comes to royals, the apples don't seem to fall too far from the regal tree. Case in point: Princess Iman Bint Abdullah.
The 17-year-old princess has grown up before our very eyes. Luckily, the Jordanian royal has a stylish mom, Queen Rania, to look up to as she grows into a young woman. We caught a glimpse of Iman yesterday during a throne opening ceremony in Amman, and it's already clear that her elegant mother has influenced her.
Decked out in a traditional embroidered dress, Iman looked like a miniature version of Rania with her cascading golden waves. She may only by 17, but we see a very fashionable future ahead of this little lady. Can't you see the resemblance?
Princess Iman Bint Abdullah yesterday: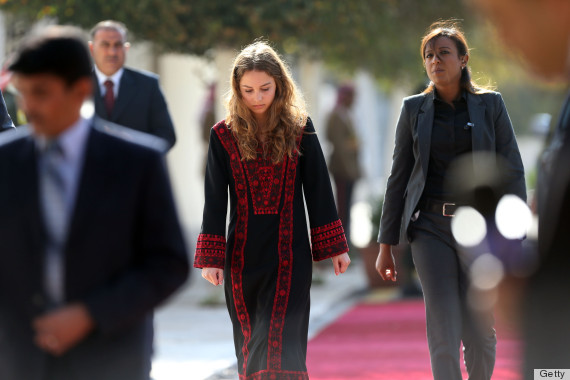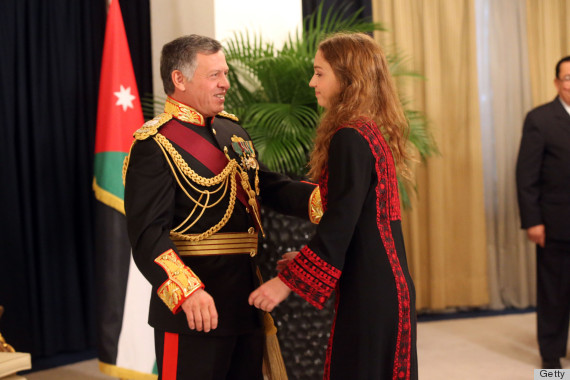 Queen Rania in May 2012: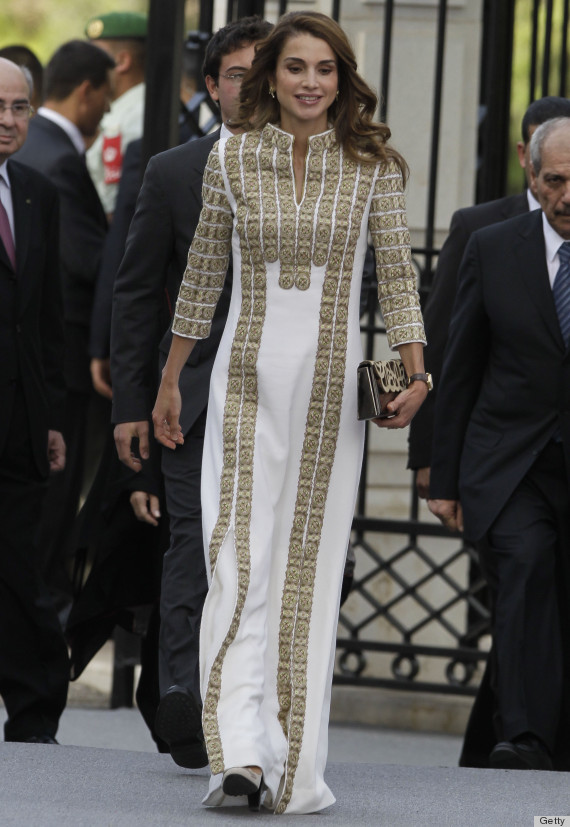 Princess Iman can learn a lot from her mom:
Receiving her degree from the American University in Cairo in 1991.

King Abdullah II marries Rania on June 10, 1993 at the Royal Palace in Amman.

Queen Rania wears her tiara to a banquet hosted by herself and her husband King Abdullah in London in 2001

With Bernadette Chirac, then First Lady of France, at the Elysee Palace on October 1, 2003 in Paris

In Madrid on May 21, 2004 on the eve of the Spanish Crown Prince Felipe of Bourbon's wedding

A pregnant Queen Rania attending the opening of the new session of parliament on December 1, 2004 in Amman.

With US First Lady Laura Bush in Amman on May 22, 2005.

Visiting the Kalawati Saran Childrens Hospital on March 11, 2006 in New Delhi, India.

Speaking at the Mosaic Foundation Benefit Gala on May 9, 2006 in Washington, DC.

Arriving at the al-Zahran Palace in Amman with her husband the King of Jordan to attend a ceremony celebrating the 60th anniversary of independence from Britain on May 22, 2006.

Arriving at Banqueting hall in London on May 31, 2006.

Queen Rania of Jordan, center, with Renee Zellweger and Huffington Post blogger Marian Wright Edelman at the opening session of the Global Women's Action Network for Children Conference on June 11, 2006.

Standing next to her husband while visiting with Prime Minister Tony Blair and his wife Cherie on November 6, 2006 in London, England.

At a luncheon in Tokyo on December 22, 2006.

Attending Time Magazine's celebration of the 100 most influential people on May 8, 2007 in New York City.

Waving to the crowd with Princess Laila Salma of Morocco during the Sacred Musics Festival in Fez, Morocco, on June 1, 2007.

Visiting Beijing Foreign Studies University on September 4, 2007 in Beijing, China.

At the unveiling of (Product) Red Line on October 26, 2007 in New York City.

Speaking at the Sorbonne University on April 6, 2008 in Paris, France.

From left: Queen Sofia of Spain, Queen Rania, King Abdullah of Jordan and King Juan Carlos of Spain at the Zarzuela Palace on October 18, 2008 in Madrid, Spain.

At the Planalto Palace with her husband, Brazil's President Luiz Inacio Lula da Silva, and his wife Marisa Leticia on October 23, 2008.

Celebrating the launch of the second stage of the Madrasati (My School) initiative in Amman on April 13, 2009.

UNICEF correspondent Thomas Nybo reports on Her Majesty Queen Rania of Jordan's visit to a unique school in Brazil.
Want more? Be sure to check out HuffPost Style on Twitter, Facebook, Tumblr, Pinterest and Instagram at @HuffPostStyle.