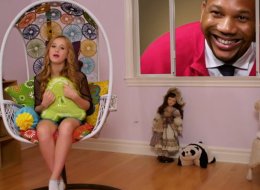 The people who brought you Rebecca Black's "Friday" are back again. Twelve-year-old Alison Gold, the latest protege from ARK Music Factory, released "ABCDEFG" on Monday, a song that finds her continually repeating letters of the alphabet while singing about pre-teen emotions. Gold's last track was
the controversial "Chinese Food."
Rebecca Black - Friday Videos & Parodies
The Christian parody entitled "Sunday."

Jenna Rose was the next kid singer with an awful/amazing song to go viral.

One of the thousands of "Friday" parodies that popped up.

Benni Cinkle, also known as the "awkward dancing friend."

Black's follow up to "Friday."

Rebecca Black's third single.

You know something has jumped the shark when it's used in a Kohl's commercial.